With everyone stuck at home due to the COVID-19 outbreak, Epic has decided to give everyone something to do by announcing a brand new tournament - the Daily Duos Cup.
This event is set to run for 37(!) consecutive days starting from tomorrow, Wednesday 25th March and running until 30th April.
The event will be played between for three hours in an afternoon slot - the European region playing between 2-5 pm in the first week before moving to the later time of 3-6 pm.
In an interesting take, only the daily winners of each region will take home a cash prize which stands at $750. PC and Console/Mobile players will play in separate lobbies. 
The format is also all-new, heavily favouring placement with duos getting awarded on a sliding scale from top 28 all the way to the Victory Royale.
In other news, Epic has decided to amalgamate the Contender Cash Cups, which are currently split between Ghost and Shadow variants, whilst also combining their prize pools.

 
Scoring System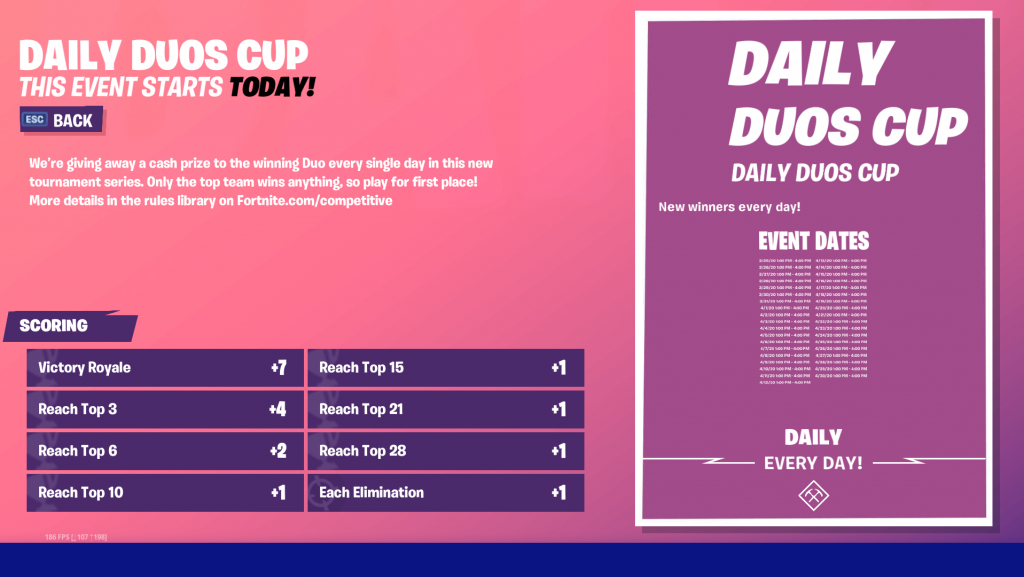 Victory Royale: 13 Points
2nd - 3rd: 11 Points
4th - 6th: 9 Points
7th - 10th: 7 Points
11th - 15th: 5 Points
16th - 21st: 3 Points
22nd - 28th: 1 Points

Each Elimination: 1 Point
This format will heavily favour placement so it will be all about staying alive until the end game. 

It will be interesting to see if players will play that way or still favour "w" keying but those that decide to go all-out attack will likely not be at the top of the leaderboard by the end of the tournament.
Daily Duos Schedule
Daily Duos will run daily for 36 days starting from 26th March and ending on 30th April.
That means some days we will have both the Fortnite Championship Series or Cash or Solo Cups on the same day.
For that reason, the Daily Duos are scheduled for between 1-6 pm in their respective regions timezones. 
Daily Duos: How-To Watch
The Daily Duos will not have an official broadcast but here are some players and their streams who are likely to be competing.
EU:
NAE:
NAW:
Fortnite Daily Duos Prize Pool
Daily Duos is rather unique in its prizing, only the 1st place Duo from each region will take home $750, there are separate tournaments for PC and Console/Mobile players with both having the same $750 prize pool.

With six regions and 70 tournaments each that gives the Daily Duos an overall prize pool of $315,000.