TheGrefg's Fortnite Icon series skin helped the Spanish Twitch streamer make history, becoming the channel with the most concurrent viewers on the entire platform.
The festivities didn't end with the presentation of the skin, as Epic Games revealed Grefg's Floor Is Lava event, a special quads tournament that will grant winners the Icon series skin for free.
Here's everything you need to know about it.
Grefg's Floor Is Lava - Schedule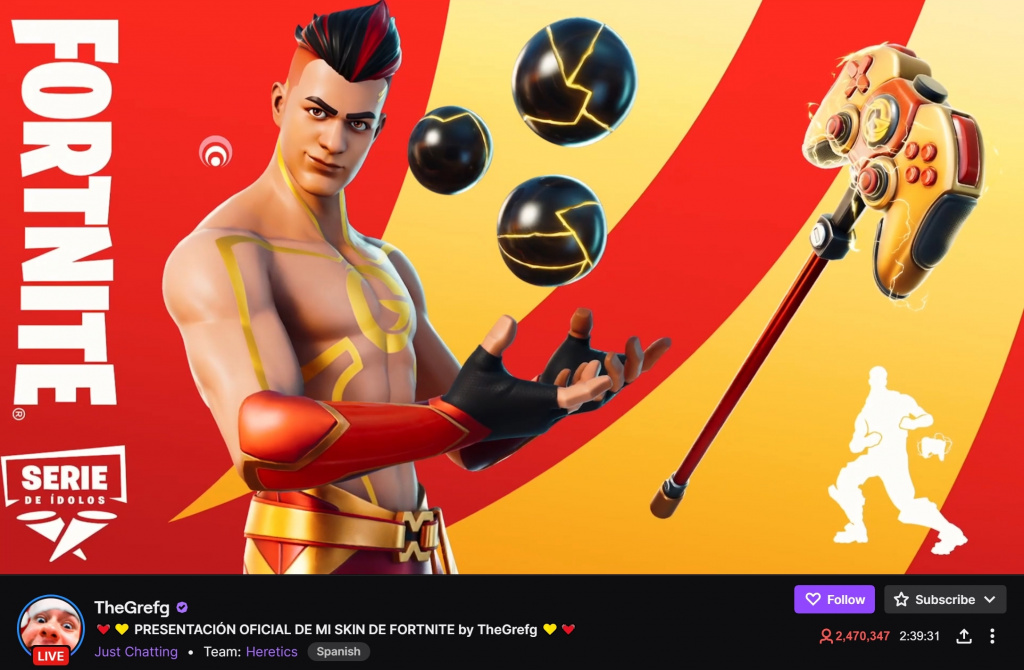 TheGrefg made history on Twitch (Picture: Twitch)  
The event is scheduled for 14th January. All specific times will appear in-game depending on your region, so be sure to login as soon as you can!
Grefg's Floor Is Lava - Format
As we've said previously, the event is a squads tournament, meaning teams of four players will duke it out for bragging rights and a little bit more!
The event's sessions will last three hours, with squads being able to play in a maximum of 12 matches per session. Here's the scoring system.
Victory Royale: 30 Points
2nd: 24 Points
3rd: 21 Points
4th: 19 Points
5th: 17 Points
6th: 15 Points
7th: 14 Points
8th: 13 Points
9th: 12 Points
10th: 11 Points
11th: 10 Points
12th: 9 Points
13th: 8 Points
14th 7 Points
15th: 6 Points
16th: 5 Points
17th: 4 Points
18th: 3 Points
19th: 2 Points
20th: 1 Points

Each Elimination: 1 Point
Any squad will be eligible, but you must remember the account must have Two-Factor Authentication to register. Click here to find out how to do it.
Grefg's Floor Is Lava - Prize Pool
While there are no cash rewards, top placed teams will get the Grefg Icon series skin for free.
Here's the breakdown of how many teams per region will win the skin.
Event Prizes - Europe

Rank            Prize
1st - 800th        "TheGrefg" Icon Series In-game Cosmetic Outfit and Back Bling

Event Prizes - NA East

Rank            Prize
1st - 500th        "TheGrefg" Icon Series In-game Cosmetic Outfit and Back Bling

Event Prizes - NA West

Rank            Prize
1st - 200th        "TheGrefg" Icon Series In-game Cosmetic Outfit and Back Bling

Event Prizes - Brazil

Rank            Prize
1st - 200th        "TheGrefg" Icon Series In-game Cosmetic Outfit and Back Bling

Event Prizes - Asia

Rank            Prize
1st - 100th        "TheGrefg" Icon Series In-game Cosmetic Outfit and Back Bling

Event Prizes - Oceania

Rank            Prize
1st - 100th        "TheGrefg" Icon Series In-game Cosmetic Outfit and Back Bling

Event Prizes - Middle East

Rank            Prize
1st - 100th        "TheGrefg" Icon Series In-game Cosmetic Outfit and Back Bling