The latest Fortnite crossover with Marvel's Hawkeye just went live, and players can now use some of their favourite sharpshooters from the popular film franchise. But, of course, this latest collaboration is not the of its kind in Fortnite Chapter 3, with Spider-Man featuring throughout the last few weeks of action.
Clint Barton and Kate Bishop are joining the fight in Epic Game's battle royale and will each be aiming to take down opponents with surgical precision as part of the new Hawkeye set. So, without further ado, here's how to get exclusive items from the Fortnite x Hawkeye crossover!
How to get the Hawkeye Fortnite items
The Fortnite Hawkeye crossover items will be available for purchase in-game for a limited time. Right now, Fortnite players can purchase individual Hawkeye items, as well as a bundle containing all the items at a slightly reduced price per unit.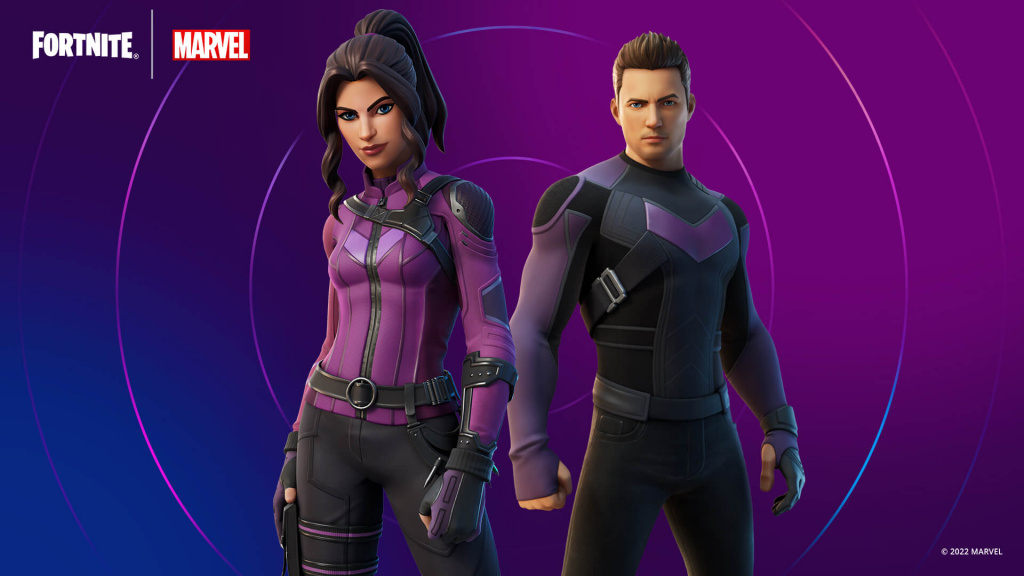 In addition to the Clint Barton and Kate Bishop Fortnite Hawkeye outfits, the following items are available as part of the latest Marvel crossover:
Hawkguy's Arsenal Back Bling (sold with the Clint Barton Outfit): An old-school timeless quiver.

Kate's Quiver Back Bling (sold with the Kate Bishop Outfit): A quiver with a more modern touch.

Taut Slicer Pickaxe: Nocked and ready for action.

Pickross Bow Pickaxe: Built with a distinctive groove on its handle.

Aerial Archer Glider: All that training has gotta be for something.
Here's a visual look at the Fortnite Hawkeye cosmetics: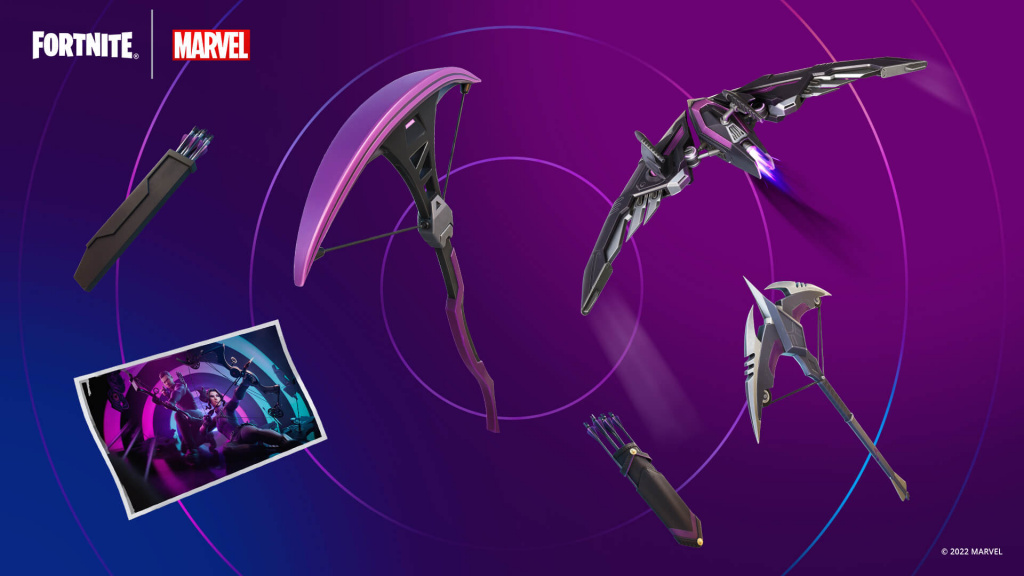 How much do the Fortnite Hawkeye items cost?
Fortnite players can purchase the Clint Barton and Kate Bishop outfits for 1,500 V-Bucks. However, the Taut Slicer Pickaxe and Pickross Bow Pickaxe are significantly cheaper and can be purchased for 500 V-Bucks.
We're getting 3 MAJOR collabs this next 2 weeks, which one are you hyped for the most!? 🔥🔥 (Images via @ralisdumb)

- Hawkeye (Clint & Kate)
- Arcane League of Legends (Vi)
- Marvel / Spiderman (Green Goblin) pic.twitter.com/sx4iFBqYya

— HYPEX (@HYPEX) January 18, 2022
Fortnite players can also buy the Aerial Archer Glider for 800 V-Bucks. Otherwise, players can purchase the entire bundle of items for a cut-rate price of 2,400 V-Bucks.
The Marvel content keeps coming, and Epic Games aims to provide everyone's favourite characters. We can't wait to see what else the developers have in store!
Don't forget to check out our dedicated Fortnite section for news, guides, patch notes, leaks and much more.
Featured image courtesy of Epic Games.
---
For more Fortnite news be sure to check out our dedicated section, or some of our Guides & Tutorials, just below:
Fortnite Guides - All Fortnite Redeem Codes | When Does Fortnite Chapter 3 Season 5 Start?|All Fortnite Twitch Drop Rewards| How To Make Your Own Fortnite Skin |
Fortnite Events - Fortnite Winterfest 2022 | 
The Best Fortnite Creative Codes - Best Edit Course Codes|Best Prop Hunt Codes|Best Zombie Map Codes
Featured image courtesy of Epic Games.