Developer Epic Games has revealed the content of the Fortnite June 2021 Crew Pack, and it might just be one of the best offerings yet. Yes, as you can probably tell from the image above, the Cuddle Team Leader has returned to the island after some "interdimensional travels" as the Mecha Cuddle Master. Here's what you need to know about the Fortnite June 2021 Crew Pack, from all the cosmetics inside, to the release date, time and price.
Fortnite June Crew Pack: Mecha Cuddle Master & cosmetics
Headling the Fortnite Crew Pack for June 2021 is the awesome Mecha Cuddle Master outfit. This outfit has some great accompanying cosmetics as well as three free months of Spotify Premium if you are a new Spotify Premium member. 
The cosmetics in the Fortnite Crew Pack for June 2021 are:
Mecha Cuddle Master Outfit
Psytronic Bow Back Bling
Nuzzle Jet Pickaxe
Cuddle Mech Wrap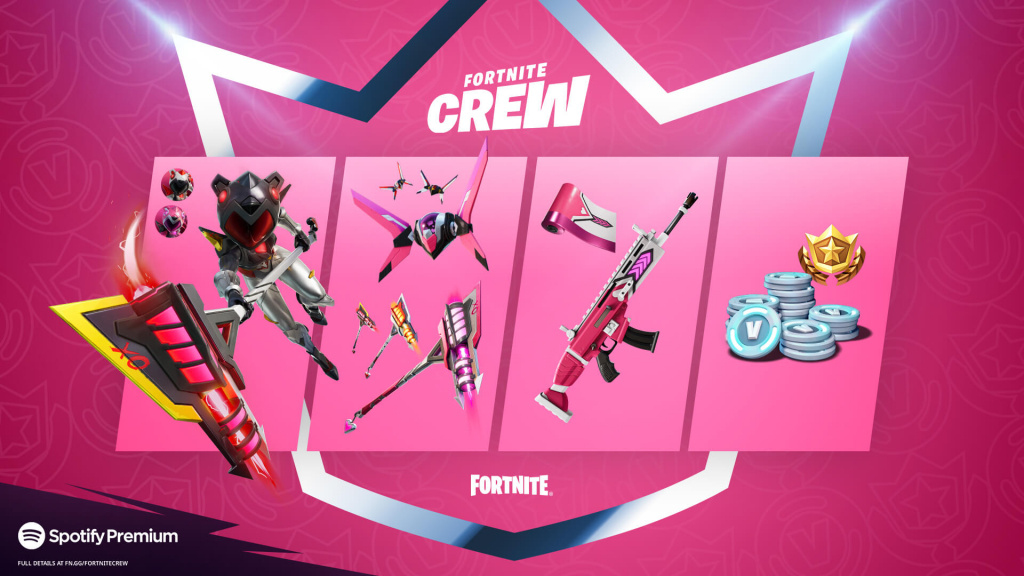 (Picture: Epic Games)
There are multiple styles to this cuddly outfit and accompanying cosmetics. There's the pink default style, as well as the Midnight style, and the Royale Style for players to enjoy.
Epic Games explains the Fortnite June 2021 Crew Pack cosmetic content: "In addition to the Mecha Cuddle Master Outfit, this Pack features the sleek Psytronic Bow Back Bling, the fuel-powered Nuzzle Jet Pickaxe, and the decorative Cuddle Mech Wrap. Multiple editions of the Outfit, Back Bling, and Pickaxe were assembled: the pink default Style, the white and black Midnight Style, and the white and red Royale Style."
Fortnite June Crew Pack: Release date, time & price
If you are an active Fortnite Crew subscriber, the June Crew Pack including the DSFD and cosmetics will be available in your account on 31st May at roughly 13:00 CET. 
The Fortnite Crew subscription service price, however, is $11.99 USD and comes with the Vi outfit, cosmetics, access to the Battle Pass and 1,000 V-Bucks.
To claim the Fortnite June 2021 Crew Pack, you may need to log in from your original purchasing platform if it has been more than 30 days since the last login from that platform. Remember, the 1,000 V-Bucks Fortnite Crew grants are delivered monthly on the day you first subscribed. 
So there you have it, the full details on the new Fortnite June 2021 Crew Pack. 
Check out our dedicated section for everything Fortnite, from news to leaks, guides, drama and more.