There is something out there... well, at least in the world of Fortnite there is a number of hints, teasers, and in-game goings-on that point to UFOs soon making their way to the game.
Epic Games are seemingly firing up the hype train for Chapter 2 Season 7. The most recent stunt is seeing a number of Fortnite-related influencers, including Ali "SypherPK" Hassan, receiving DVDs showing drone footage of crop circles.
The DVDs were sent in DVD + LCD monitor combi's and the DVD themselves have an ominous cover, handwritten it reads: "They're coming".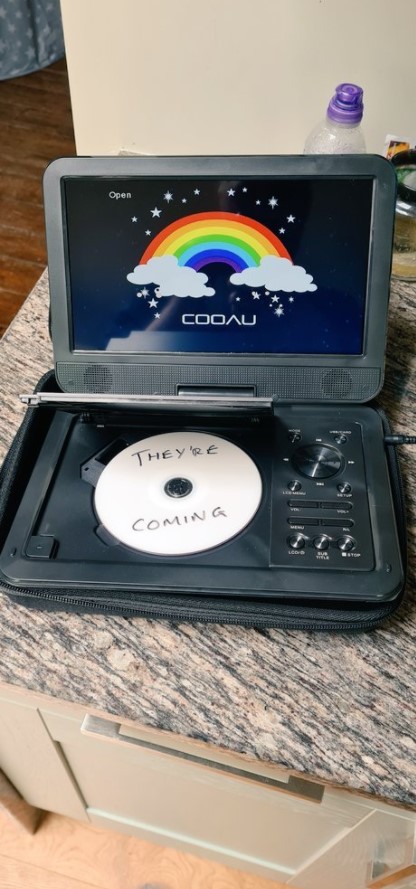 (Picture: Martyn Littlewood)
Is Fortnite getting UFOs?
It's just the latest pointer that things are going extra-terrestrial in the next season of the mega-popular battle royale. The first inkling is a tweet by Epic Games CEO Donald Mustard on 24th May, which suggested that aliens were "out there".

Fortnite received the v16.50 update a day later, which introduced the Foreshadowing Quests that see you repair telescopes, place warning signs at crop circles, and investigate downed helicopters, among other things. Only two are currently active and it appears that the entire questline will run until Season 7's expected release on 8th June.
And there is more, postcards featuring weird symbols and the phrase "they're coming" have appeared around the world and posters featuring the symbols have reportedly been seen in London, New York and Los Angeles, it's a guerilla marketing technique seen before with Fortnite with the release of Chapter 2 Season 2 utilizing a similar marketing campaign.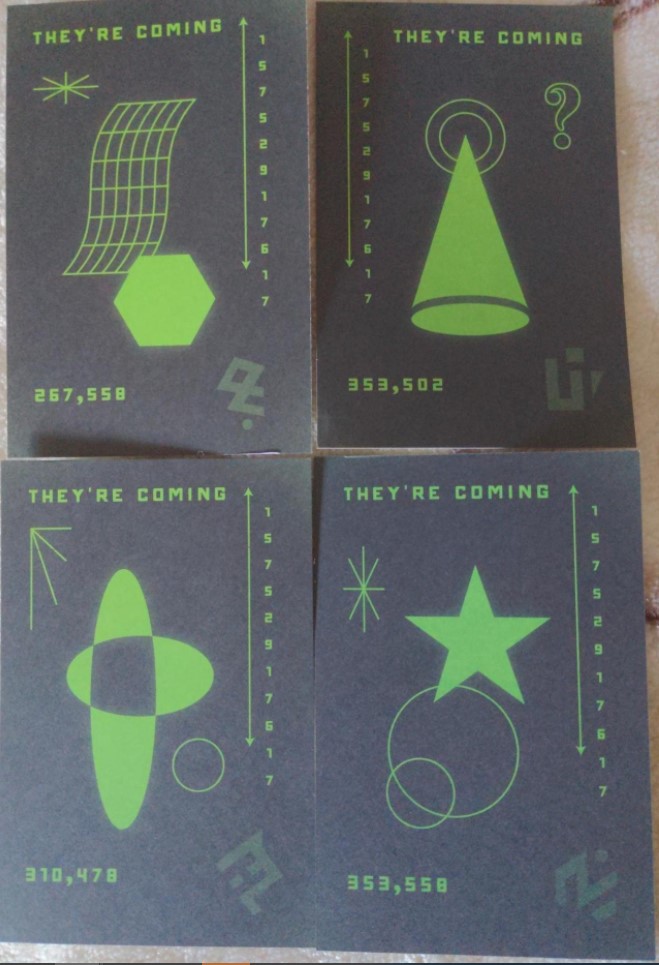 Fortnite's "They're coming" postcards. (Picture: FortTory)
The number featured on the postcards and posters is actually a phone number. Calling it gives you this scrambled message which when put through a Spectogram reveals a symbol like that seen in some of the DVDs.
Data miner and leaker FortTory has also discovered two new particle effects that he believes may be used when you are scanned or beamed up by UFOs.
That last piece of information could prove vital, UFOs coming to Fortnite may not be that outlandish but could the new season have a mechanic that sees you beamed up, teleporting or even flying in UFOs?
The truth is out there somewhere.