Service machines have been a well-received addition to Fortnite since their introduction all the way back in Chapter 1. Now that we have progressed to Chapter 3, vending and mending machines are much more advanced than their original editions.
Rather than just offering weapon upgrades in exchange for gold bars, players can purchase specific items from these machines to upgrade their setup during games. The mending machine has been a lifesaver, (quite literally for many) offering items to replenish your health.
But it seems as though Chapter 3 has taken mending machines to the next level, allowing knocked players another option. Here's how the new Fortnite mending machine feature keeps downed players alive.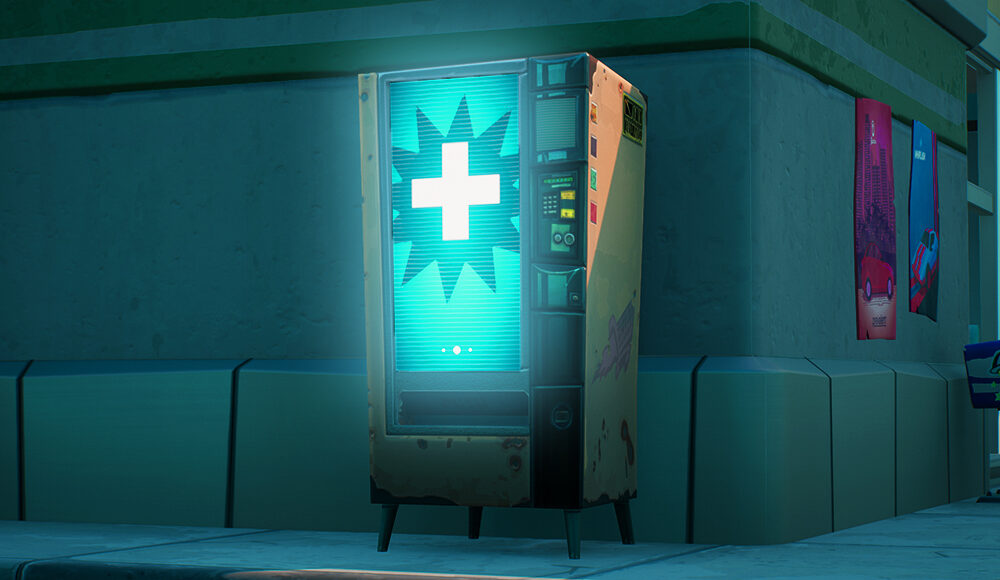 New Fortnite mending machine trick keeps downed players alive - Chapter 3 Season 1
There have been a number of ways to get back in the game when you have been either downed or eliminated in Fortnite. Picking up your downed teammates and carrying them to safety, as well as reboot cards and vans, have been welcomed additions in recent chapters.
This time it appears that Epic Games have tweaked the mending machines, allowing downed players to extend their life. What might seem like a small tweak for some, will surely be a game-changer when playing duos, trios, or squads.
Here's how to use a mending machine to keep a downed player alive in Fortnite Chapter 3.
Reddit user u/peppers_ found that there is a new feature available for survival in Fortnite Chapter 3, available for downed players. In addition to being able to use ziplines and open doors while downed, players can now use mending machines to patch up their health and extend the amount of time before they expire.
To use a mending machine while downed in Fortnite, simply crawl in front of the mending machine, and press the prompted button to interact. Scroll past the small potion option, and select "Patch Up" you can then spend 200 Gold Bars to replenish your dropping health bar (you still remain downed, but your teammates have longer to revive you). The "Patch Up" from the mending costs 200 gold bars per turn, and each machine has a stock of only 10 "Patch Ups."
Make sure to check out our dedicated Fortnite page for everything on the popular battle royale as Chapter 3 rolls along. We'll keep you in the loop with the latest challenges, cosmetics, and more.

Featured image courtesy of u/peppers_.
---
For more Fortnite news be sure to check out our dedicated section, or some of our Guides & Tutorials, just below:
Fortnite Guides - All Fortnite Redeem Codes | When Does Fortnite Chapter 3 Season 5 Start?|All Fortnite Twitch Drop Rewards| How To Make Your Own Fortnite Skin |
Fortnite Events - Fortnite Winterfest 2022 | 
The Best Fortnite Creative Codes - Best Edit Course Codes|Best Prop Hunt Codes|Best Zombie Map Codes
Featured image courtesy of Epic Games.