It's been only a matter of days since the passing of Chadwick Boseman, after a secret four year battle with colon cancer. Since then, we've seen all manner of commemorations to the beloved actor, including a statue of the Black Panther appearing in Fortnite's newest Marvel-themed season.

(Picture: u/GodsCanswer)
Fan response to this memorial has been incredibly positive, and many have taken to treating the Black Panther as a shrine to Boseman himself. In fact, a number of posts on the game's subreddit have indicated that fans are refusing to fight at the Panther's Prowl point of interest, instead, coming together to celebrate the actor's life.
In the above picture, Earth's mightiest heroes all line up to pay tribute to their fallen comrade in a powerful shot. Although the name of the game is always to be the final player left standing, many seem to view Panther's Prowl as hallowed land in the popular Battle Royale.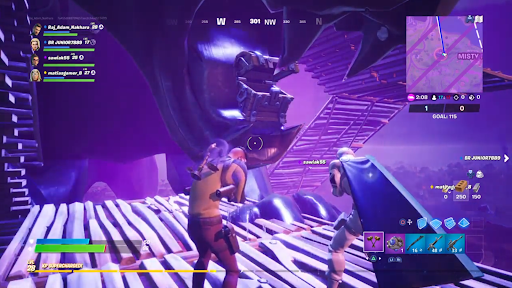 (Picture: u/PFDRC)
In another clip posted to Reddit, we see players at the statue again refusing to fight one another, instead, mourning the loss of Black Panther with crying emotes whilst slowly taking damage from the ring. As these clips increase in popularity, it seems that more and more players are respecting the monument as an in-game gravestone, though it should be noted that it's still possible to take damage at the site.
Many have suggested that Epic Games release the heavily-rumoured Black Panther skin to the in-game store so that fans can pay tribute to the iconic hero. However, as Twitter user iFireMonkey points out, releasing that skin now may provoke a lot of anger online as players might see it as an attempt to profit off of Boseman's passing.
The issue is if Fortnite was to sell a black panther skin people could just whine that Fortnite did it to profit off of the actors passing.

— FireMonkey • Fortnite Intel 🎄 (@iFireMonkey) August 29, 2020 
Instead, perhaps donating all profits from the skin to a cancer research organisation would be a good compromise on Epic Games' part. Whether that's likely to happen is another story, but the addition of a Black Panther memorial statue is certainly a nice touch.