With COVID-19 impacting multiple esports scenes, some have managed to adapt better than others under the harsh circumstances that represent dealing with a global pandemic for almost an entire year. 
One of the premier esports, League of Legends, seems to have things under control, as the renowned Worlds will be taking place in an offline environment starting this 25th September, a feat Fortnite pros and fans have not been close to replicating.
With Epic Games waging war with Apple and the issue of producing fresh content for a pre-dominantly casual fanbase, it seems competitive Fortnite is not a priority for them at the moment, with cheating players being a consistent issue and a general feeling that tournaments take a back seat to everything else.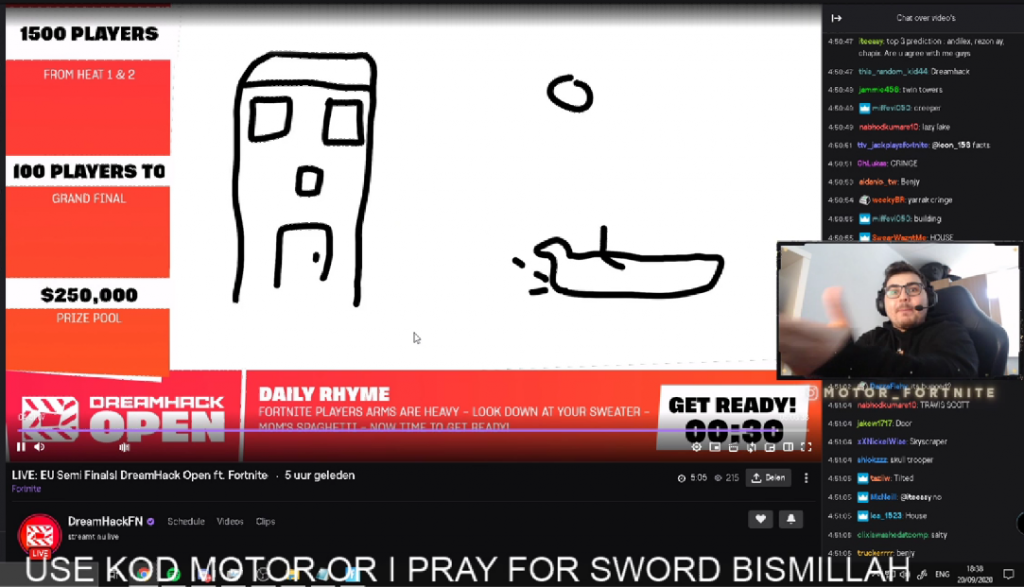 (Photo: Twitch.tv/MOTOR)
Well, the situation got even worse during this weekend's DreamHack Open tournament, a free-to-enter competition taking place across the North America West, East, and Europe servers that awards $250,000 in prizes monthly.
As the final day of competition was going down for the September tournament, Fortnite server issues prevented the games from taking place, with the official stream deciding to fill time with an awkward segment where viewers had to guess a random place using a drawing provided by one of the commentators, something that did not sit well with Derman "MOTOR" Ozdemir.
As one of Fortnite's top competitors, MOTOR couldn't help but feel envious of the fact other communities, like the aforementioned League of Legends scene, is gearing up for one of the biggest events of the year, meanwhile, the Fortnite fans have to sit idle while trying to guess which city the production crew is drawing.
"They make a music video for the pro players," Motor said while watching the newly released Worlds 2020 song. "Then we have a f**king guy building a house because the servers are not working, do you realise how retarded that is? Am I crazy or is the difference just f**king immense?"
Whether you think he went too far or not, we'll leave it up to you, but it's worth pointing out that the server issues eventually got solved with Teeq taking his second monthly DreamHack tournament, netting himself a $16,000 prize.