A Fortnite pro player called Paper, who has been competing with his team Elite Esports in the FNCS competition has gotten his entire team disqualified, and himself banned on Twitch. Paper had a Twitch partner status, but following an incident involving hate messages against another team over a contested landing spot, has received an indefinite ban from the streaming platform. Here's how Paper got his team disqualified.
Elite Esports disqualified from FNCS
Elite Esports received a notification from Epic Games recently, revealing that they have been disqualified from the FNCS competition following an internal investigation.
This was due to a member of their team, Paper, breaking the rule of being respectful to other players. Elite Neeqo revealed Elite Esports' disqualification email from Epic Games on Twitter.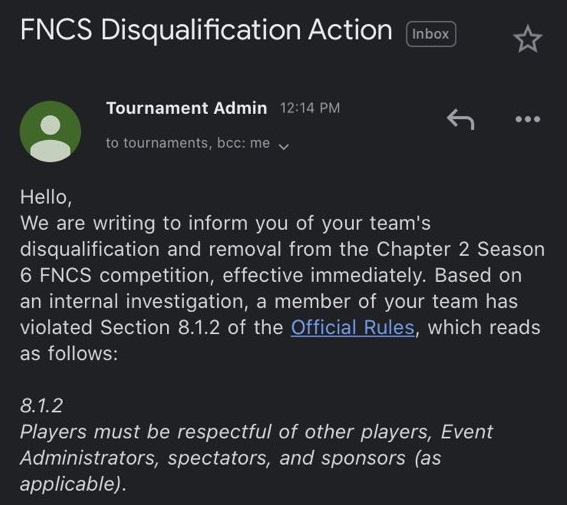 (Picture: Elite Neeqo)
Elite Neeqo followed up by staying "This isn't a troll either I just received the email 5 minutes ago" and finished off the Twitter thread by saying "f$%k you" and tagging in Paper.
The team was disqualified due to Paper's hateful comments towards another team due to the team contesting the same landing spot as Paper.
Fortnite pro Paper banned on Twitch
The hateful messages from Paper over a landing spot argument are not safe for work, or anywhere really. This was all due to a Fortnite landing spot that another team dropped into, as Paper explained.
(Picture: Paper via Twitter) 
The Fortnite pro sent out extremely hateful comments on Twitch chat, and over Twitter, saying how he wishes he could kill the players, and how he wants to find out where they live to physically assault them.
Paper's hate messages, which got him an indefinite ban on Twitch, and his team disqualified from the FNCS, can be viewed below as shared by Aces on Twitter.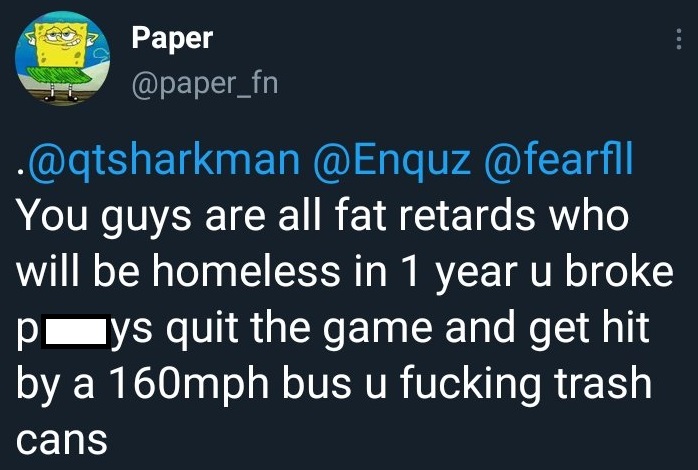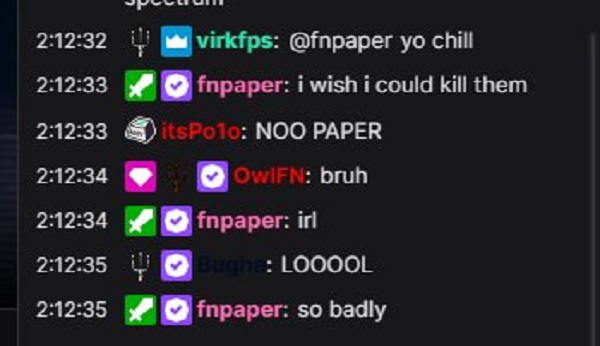 On 24th May 2021, Paper took to Twitter, blaming anger issues for his hateful messages on Twitch and social media about the Fortnite landing spot debate.
He further apologized to his Twitch viewers, stating: "This is officially the end for me guys I am sorry to all my viewers all the ppl who subbed to me I'm truly sorry.
"Indefinite ban on twitch ggs boys it was a good run I gave people good times and laughs while I could but it's over for me now and I know it is my fault for my anger problems but man."
(Picture: Paper via Twitter)
Despite Fortnite pro Paper's apology, there's no telling if he will ever get unbanned from Twitch. The streaming platform has not made an official comment at the time of writing.
Paper appears to be kicked out of his team Elite Esports. The team is currently banned from FNCS competition, with no clear indication when they may return.
Check out our dedicated section for everything Fortnite, from news to leaks, guides, drama and more.