Following an epic conclusion to Fortnite Chapter 2 Season 8, in which we saw Jones teaming up with The Foundation, now unmasked to be played by Dwayne "The Rock'' Johnson, the next Fortnite update is merely days away. While things in Fortnite have been flipped upside down, for now, there have been plenty of leaks circulated on social media and the internet ahead of the start of the third chapter.
The information supplied provides players with a potential look at what they could expect in Chapter 3. One of these leaks is a look at the Fortnite island map for Chapter 3, so here's what we unpacked from the Fortnite map reveal and more.
Fortnite flips the island for Chapter 3
On Fortnite's Twitter account, they have asked players to help "Uncover the Island" in a social media challenge to reveal more of the island map for Chapter 3. Using the #FortniteFlipped, players globally would work together by flipping their profile picture and posts to reveal. "what's under the island".
Flip your world and a new one will be revealed.

Use #FortniteFlipped, flip your social profile and posts, and work together to reveal the new Island.

Follow along at https://t.co/HBNJSvkMYlpic.twitter.com/c2CP3FeMFo

— Fortnite (@FortniteGame) December 4, 2021
Thanks to Fortnite source, FortTory, we have an idea of what the island will look like for Chapter 3 Season 1.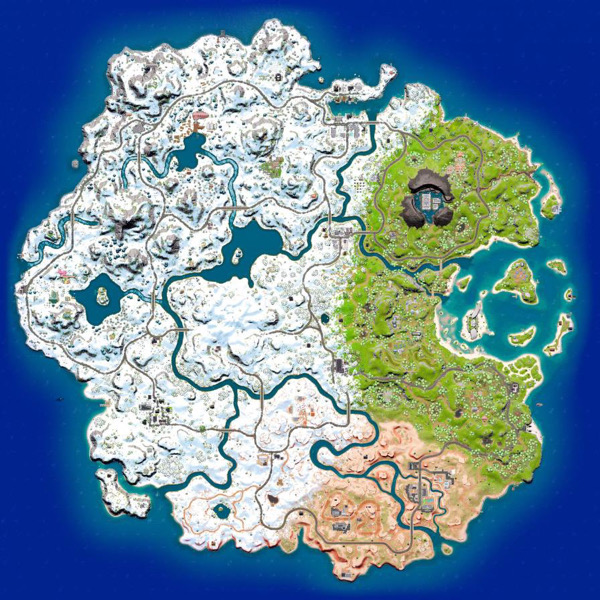 A good portion of the island map appears to have been covered in snow which could potentially allude to a limited-time seasonal event approaching Fortnite. The presence of snow marks the return of the snow biome to Fortnite but we can imagine as the season progresses in Chapter 3, we can expect the snow to gradually melt revealing more of the map over time.
Speaking of biomes, the bottom right section of the map looks to be deserted land as a result of the end of Chapter 2 Season 8. This could potentially mean Fortnite could be adding the sand/desert biome for Chapter 3.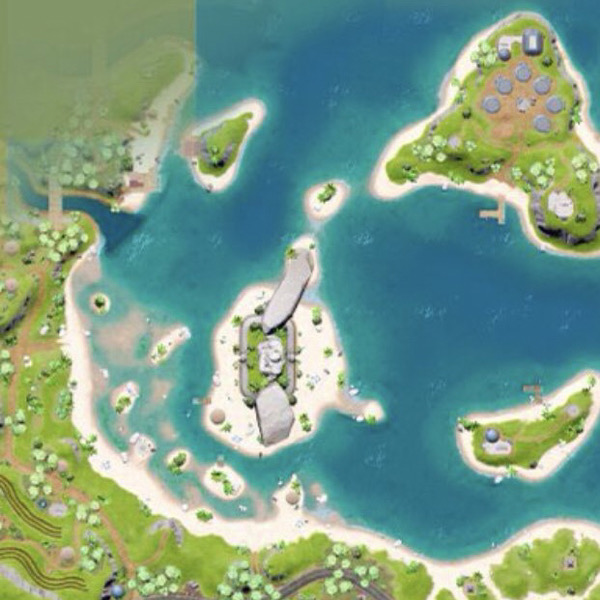 FortTory further pointed out that in the cluster of islands near the top right of the map, players can somewhat see what appears to be a monument of The Foundation with the House of the Seven not far from the monument's location.
There is still plenty more information to unpack from the latest Fortnite leaks and too many places on the Fortnite map to check out. But for now, we look forward to seeing you on the flip side in Chapter 3.
Don't forget to check out our dedicated Fortnite section for the latest news, updates, guides, leaks and more.
Featured image courtesy of Epic Games.
---
For more Fortnite news be sure to check out our dedicated section, or some of our Guides & Tutorials, just below:
Fortnite Guides - All Fortnite Redeem Codes | When Does Fortnite Chapter 3 Season 5 Start?|All Fortnite Twitch Drop Rewards| How To Make Your Own Fortnite Skin |
Fortnite Events - Fortnite Winterfest 2022 | 
The Best Fortnite Creative Codes - Best Edit Course Codes|Best Prop Hunt Codes|Best Zombie Map Codes
Featured image courtesy of Epic Games.