The long-awaited Fortnite Chapter 2 Season 3 is out now,  with the v13.00 update being rolled out across the world - but was it worth the over 100 days wait (a record amount of time between seasons, we might add)? We'll see for yourself with our breakdown of this update, there is a lot to unpack and digest so let's get right into it.
So what has changed?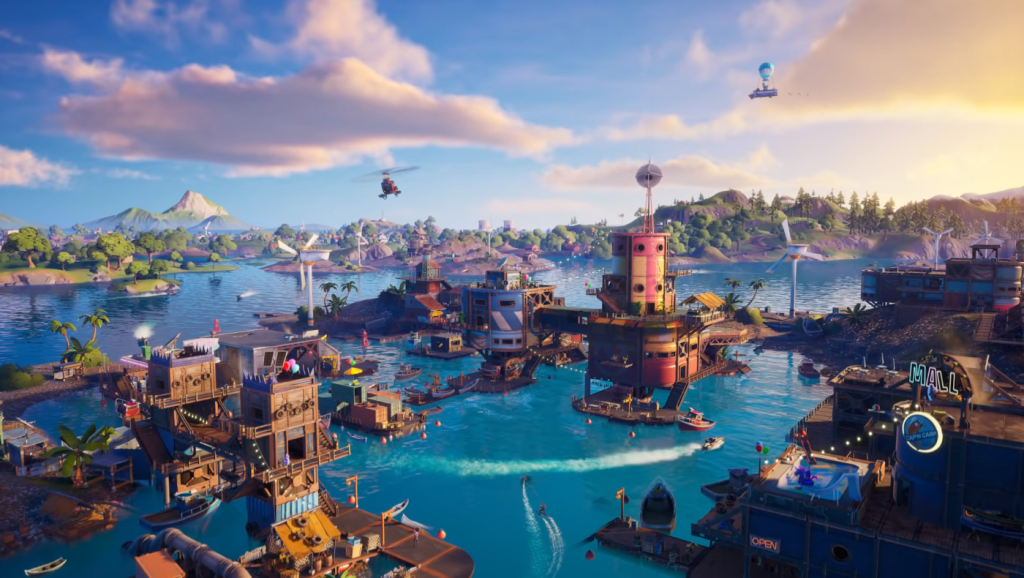 (Picture: Epic Games)
The end of Season 2 saw Midas activating the mysterious Doomsday device which has caused large parts of the map to be submerged in water, changing POIs and wiping out completely others. There are still many recognisable areas, but other parts, especially around Slurpy Swamp, are unrecognisable. 
As the season progresses the water will recede and more locations will be revealed including roads which will be the perfect path for the new cars and trucks teased in the trailer.
There are of course a whole host of new weapons like the Charge Shotgun and consumables. And that's before we even get to the fact that there is a brand new Battle Pass, which in place of the Agency menu screen, we now have the Fortilla, a floating haphazard base from where you can buy the battle pass, check out missions, and perhaps most surprisingly build your own glider with the 'Build-A-Brella' feature.
Consumables, such as bananas and apples can now be gathered and used at a later date a feature that has been requested since consumables found their way into the game.
New Map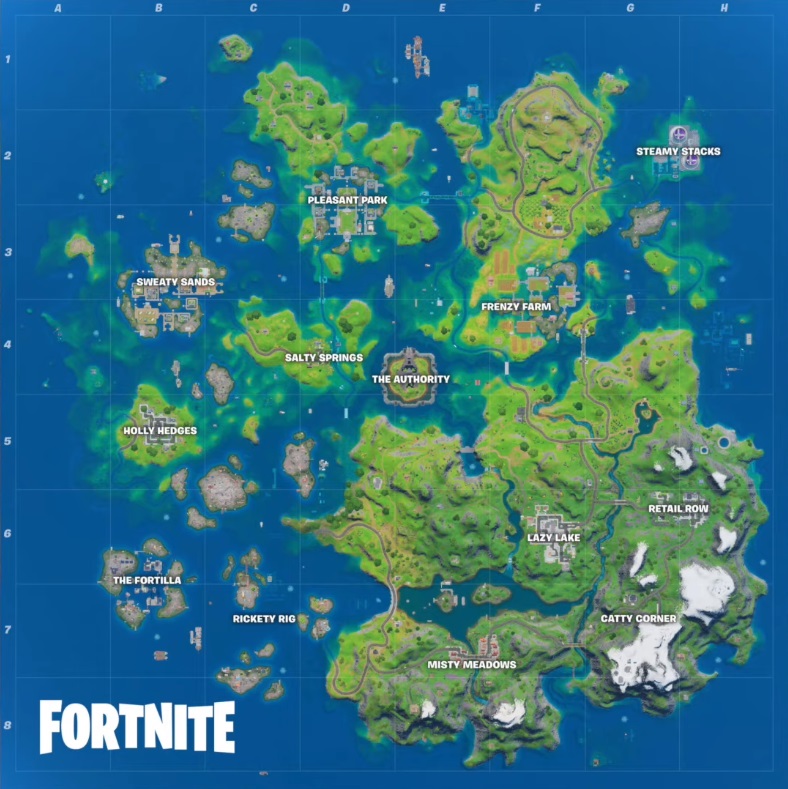 (Picture: Epic Game)
the South West section, previously home to Slurpy Swamp and The Rig is now largely underwater. Sweaty Sands looks to be right on the edge with the floods appearing to be on at least street level. The most intact part of the map is the South East, home of Lazy Lake and Misty Meadows which appear to have been saved by its naturally elevated high ground courtesy of the mountains.
Also, if leaks are to be believed the map will change over time with the water level gradually receding revealing more and more of the previous map.
We also have the addition of the 'Fortilla' which can be found in the south-west of the map, this city on the sea is a collection of rickety shacks and also the new Ghost HQ for the season.

(Picture: Epic Games)
For the Shadow team they have the much more sinister looking The Authority, with its large walls protecting it from the water, this POI takes the place of the Agency.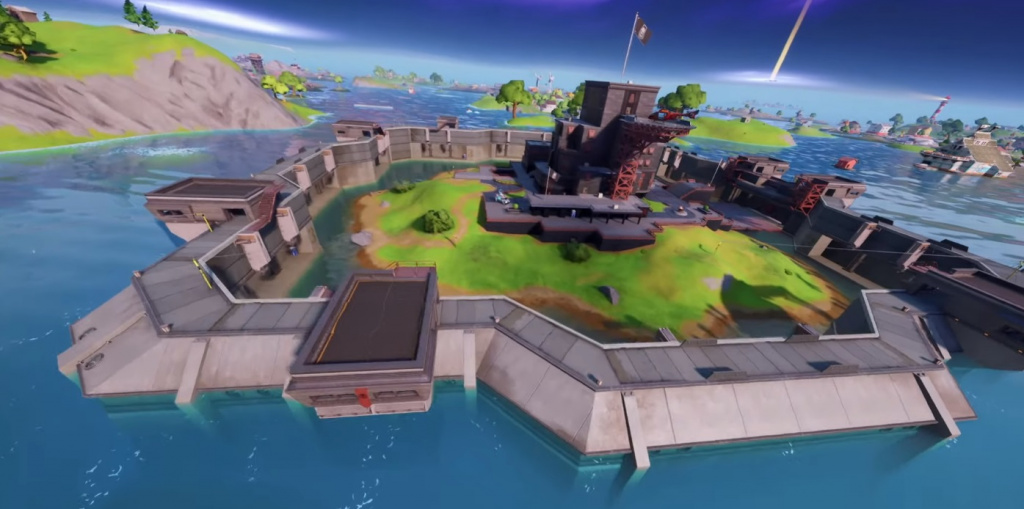 (Picture: Epic Games)
Other new named POIs include Catty Corner and Rickety Rig, while many of your favourite places may well have been taken over by the water. So jump in and prepare yourself for possibly having to find a new landing spot.
New Weapons - Charge Shotgun, Mythic Guns, Bolt Rifle


(Picture: HypeX)
The Charge Shotgun is one of the new weapons in the game, with grey to legendary variants, it is not yet clear how this weapon works in practice, it has a low DTP, a high reload time (5.5s?) and just 3 shells. It may well be with all the water around this thing gains extra damage output in when you land a hit on someone who is swimming, but check out the Legendry variant, if this doesn't have a unique kill method we haven't seen yet, we are not sure why you would pick it up.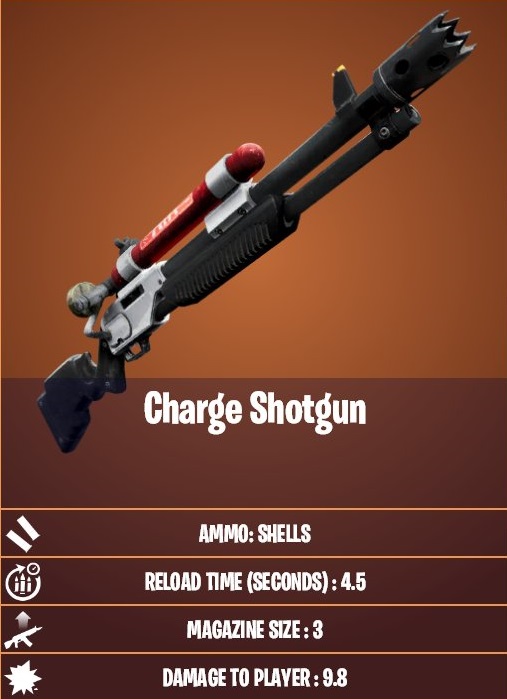 It also looks like we will see the return of special character weapons, with Kit having his own Shockwave Launcher and Charge Shotgun, a new character - Ocean - will get her own Burst Assault Rifle.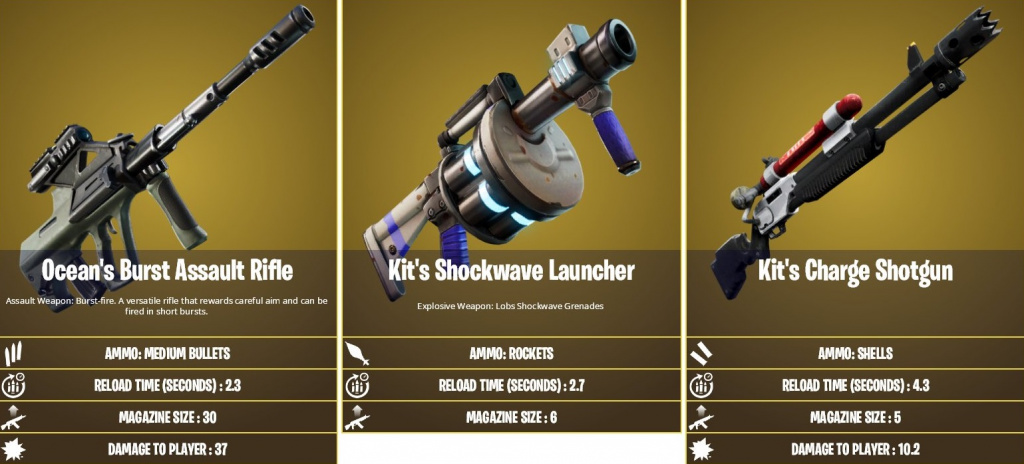 (Picture: Epic Games)
For a full list of all the weapons and items that have made it into the game check out our dedicated page to just that!
Mobility options increased - Shark-powered water ski, whirlpools, and soon cars and trucks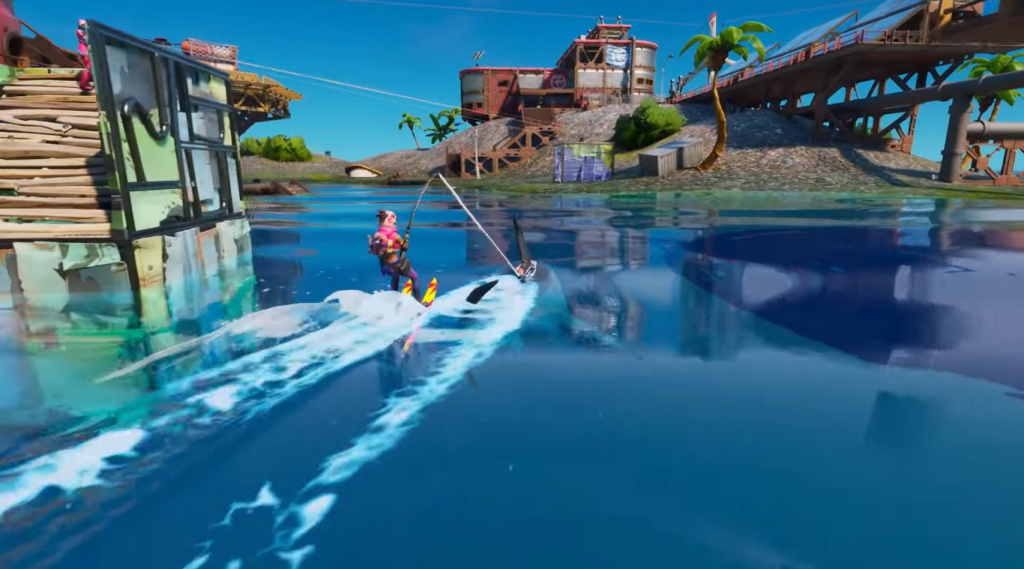 (Picture: Epic Games)
Getting around the map wasn't particularly easy in the last season with just launchpads and boats to get around, now there are a number of options to get around including new Whirlpools you can find in the water, the return of Rifts and even jet-powered water skis which you can make shark-powered by hooking one of the sharks, which can be found in the water, with a fishing rod.
Be aware though, these AI-controlled sharks aren't at all friendly and will attack you if they get a sniff of you.
The options are set to be expanded in throughout the season with the planned introduction of Cars and Trucks, these will be able to carry full squads with passengers able to shoot out as the driver plans a getaway.

(Picture: Epic Games)
Helicopters are back - one sits atop the new Shadow HQ's POI called The Authority so there are now a lot of options to get around the map!
Chapter 2 Season 3 Trailer
Fortnite Chapter 2 Season 3 v13.00 patch notes
These patch notes are incomplete and come courtesy of the Fortnite Trello board and primarily cover bugs and fixes that have been implemented in the new update.
Battle Royale:
Fixes issue causing hit/damage indicators to sometimes appear to be coming from the wrong direction than the source of damage.
Emote music will no longer be heard while at the Main Stage in Party Royale
Addressed some players missing styles for the Specialist Pickaxes and Arroyo Pack Back Bling.
Mobile:
Shadows will no longer display at a high contrast that was causing most texture to appear as black.
"New Landmark" text will no longer appear multiple times when discovering new locations on the Battle Royale map.
Addressed issue where the swipe-up feature on iOS devices was reported to be interfering with buttons near the bottom of the screen or closing the app on players.
Fixed bug causing build pieces to not always place when quickly switching between combat and build modes when firing.
So there you have it, the Fortnite v13.00 patch notes we know of so far. We will update this article when more details and changes get revealed.