It looks like the next big Fortnite update will bring a crossover event with the Star Wars franchise, featuring characters from the popular Disney+ show, The Mandalorian.
Allegedly, the Fortnite Season 5 battle pass will include the Mandalorian himself, and his little companion known as "the child" in the series and dubbed Baby Yoda by the fans and media.
This is according to several reputable Fortnite leakers, who have shared some big news in regards Fortnite Season 5.
On 24th November, renowned Fortnite leaker ShiinaBR reported that the next Fortnite battle pass will be Star Wars-themed, mentioning both the Mandalorian and Baby Yoda as something that we can expect to see as a part of the battle bass.
So the next Battle Pass is Star Wars themed?? 👀👀

Both the Mandalorian and Baby Yoda will be a part of it!

— ShiinaBR - Fortnite Leaks (@ShiinaBR) November 24, 2020
Star Wars and Mandalorian Fortnite Season 5 Battle Pass leak
Soon after the first Tweet, another known Fortnite data miner, SexyNutella, has shared a picture of what he says is a Season 5 Battle Pass leak.
New fortnite launcher icon coming soon! pic.twitter.com/NzakN5sapI

— SexyNutella - Fortnite DataMiner (@SexyNutella_) November 24, 2020
The picture features the Mandalorian occupying a central position, along with the Baby Yoda who's peeking behind him from his flying cradle.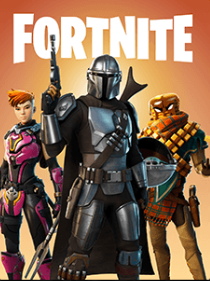 (Picture: Epic/SexyNutella)
SexyNutella claims that this is all publicly available within the files of the game and that he would not spoil things if they were not already made available by Epic Games.
Epic Games and Disney have had a strong relationship for quite some time, with Marvel characters often being featured in the game.
If these leaks are true, this will not be the first time for Star Wars to be featured in the game. In December 2019, Fortnite x Star Wars was a Fortnite event which promoted Star Wars: Episode IX The Rise of Skywalker.
The Mandalorian Season 2 is currently airing on Disney+, and so it seems like a perfect time for Star Wars to once again come to Fortnite.
Fortnite Season 5's release date is expected to be 3rd December 2020.