If you are looking for even more XP to level up your Fortnite Season 5 Battle Pass, and the Week 9 challenges are just not enough for you, then you can also hunt down XP coins. We've got you covered with the locations of each XP coin in Week 9, including how to find the Gold Coin for a tasty 15,000 XP.
Fortnite Season 5 Week 9: XP coin locations
XP coin locations change every week, making them something fun to hunt. In Fortnite Season 5 Week 9, there are a total of 10 XP coins to collect. 
You have until 4th February at 14:00 GMT to grab these coins, which are clearly visible with shiny effects.
The Fortnite Season 5 Week 9 XP coin locations are spread across the map, which means you will very likely need several matches to catch 'em all. 
Check out the image via Fortnite.gg below, featuring the locations for all XP coins.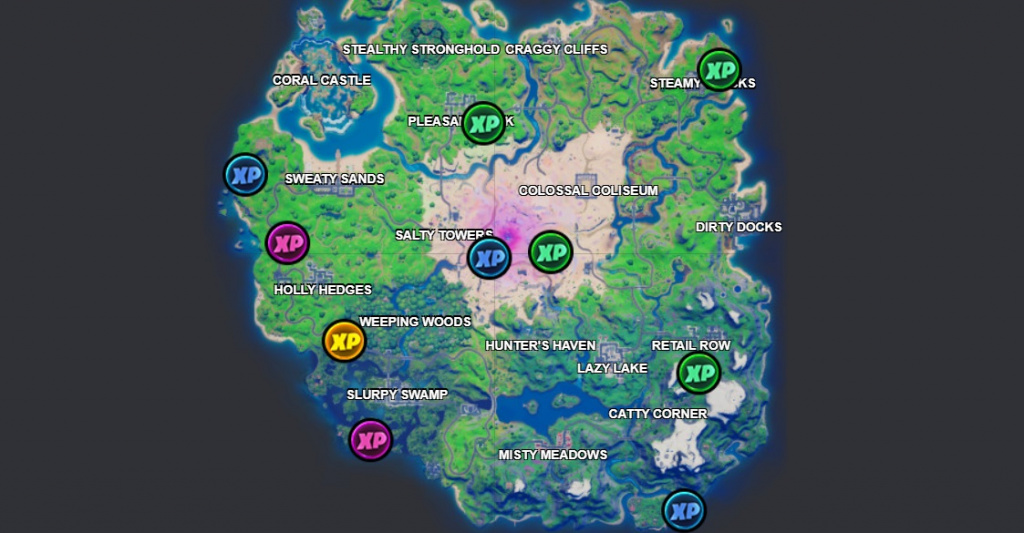 (Picture: Fortnite.gg)
Every week, there are four Green Coins, 3 Blue Coin, 2 Purple Coins and one Gold Coin. All these coins together will net you a total of 75,100 XP. 
While most of the XP coin locations in Fortnite Season 5 Week 9 are quite easy to get to, the Gold Coin (15,000 XP) is a bit harder.
Follow the steps below to get the Gold XP Coin in Week 9:
Launch the game and jump into a Battle Royale match.
From the Battle Bus, glide down to the location as marked in the map above.
Land on the right-side building's roof.
Break the wall followed by the floor.
You will see the Gold XP coin. 
Build two floors so you don't fall down, and pick up the Gold XP coin.
The excellent video from Perfect Score above showcases how you can find all the XP coins in Fortnite Season 5 Week 9. Happy hunting!