As promised, Epic Games has released the Fortnite Joy Ride update on 5th August 2020 for all platforms, finally bringing cars to the game. With the update, there are also several bug fixes, as well as new Radio Stations, new Party Royale entertainment to look forward to, and more.
Here's everything you need to know about the latest update with our Fortnite v13.40 patch notes.
Fortnite Joy Ride update
The biggest new feature with the Fortnite Joy Ride update is in the name, as you are now able to zip across the map in a variety of cars, from small vehicles to trucks. 
In the Fortnite Joy Ride update (patch v13.40), you will find a new Radio Towers feature. This is so content creators can have copyright-safe music while streaming. 
Further, players will be able to enjoy new Summer Splash LTMs in the form of Gun Game and One Shot. Then, there's also new Party Royale entertainment events to look forward to. The first one kicks off on Friday, 7th August, with the exact time yet to be revealed.
Check out the Fortnite v13.40 creator's patch highlights.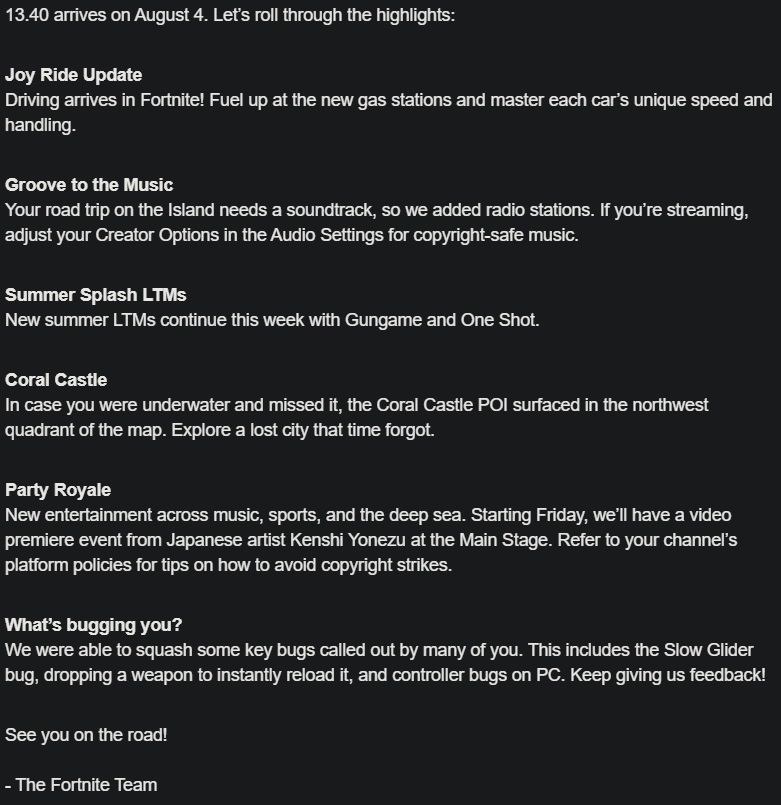 Fortnite update highlights (Picture: Azriel)
Fortnite v13.40 patch notes: Bug fixes
Arguably the biggest bug fix in the Fortnite v13.40 patch notes is how Epic Games have fixed the long-standing slow glider bug. Apart from this annoying bug finally being fixed, there's also several other fixes and improvements thanks to the game's official Trello board.
General:
Inability to edit floors and roofs at certain angles.
'Lock Input Method as Mouse' does not lock the input method.
Mouse cursor appearing on PC when playing with a controller.
Battle Royale:
Placing a map marker cancels movement.
Replays not saving on PlayStation 4.
Water Balloon Toy temporarily disabled.
Slow Glider speed after redeploying in certain situations.
XP bar can be visually incorrect while in match / incorrect levelling-up.
Ocean's Bottomless Chug Jug unable to be picked up while recharging if dropped by another player.
"Deal damage within 10s of landing from the Whirlpool at Hydro 16" should say "at the Yacht" instead.
"Land at Frenzy Farm/The Yacht and finish Top 25" not counting in Duos/Squads.
Creative Mode:
Arena Island progress reset soon.
Billboards broken in islands that used Roboto.
Multi-selected items do not rotate properly on grid snap.
Crash on consoles when renaming a device.
While Epic Games doesn't share the exact patch notes for a Fortnite update anymore, this is a good indication of everything you should expect to see fixed when jumping into Fortnite v13.40.