Fortnite Battle Royale has been the most popular game in the world for nearly two years now, releasing in September 2017 with no clue of how huge it would grow.
The inaugural Fortnite World Cup took place this past weekend, from July 26-28, in New York's Arthur Ashe Stadium. It featured a total $30million prize pool split evenly between the duos and solo tournaments, with teens leaving the venue as millionaires at the end of the weekend. Whilst Emil "Nyhrox" Bergquist Pedersen and David "Aqua" W. took home the duos championship and split $3million between them, the man who stole the show was Kyle "Bugha" Giersdorf, who won the solo tournament in dominant fashion, nearly doubling the number of points that the runner-up had. He has since appeared on Jimmy Fallon to discuss his monumental win, linked below.
Now, though, the numbers have been released, and it has been confirmed that the Fortnite World Cup was the most viewed esports tournament in Twitch history.
Clocking in at 1.3 million concurrent viewers watching the solo tournament, which also featured top stars like Tfue, the Fortnite World Cup beat out the previous record held by the ELEAGUE Major in CS:GO, which peaked at 1.15 million concurrent viewers.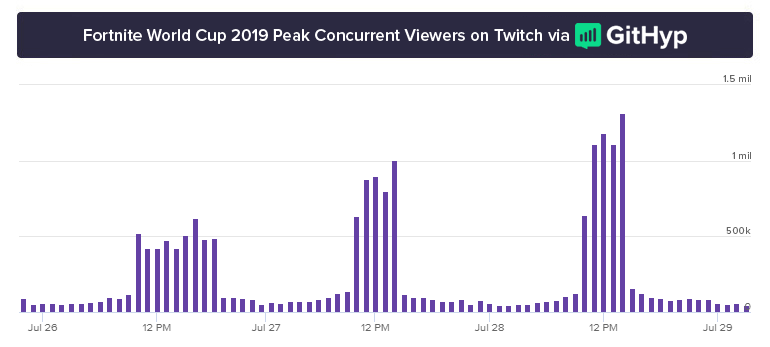 Fortnite already held the record for Twitch viewership, with 1.6 million viewers tuning into the celebrity pro-am at last year's E3, which was won by Ninja and Marshmello.
The duos event also peaked at around 1 million concurrent viewers on Twitch placing it firmly in the upper echelons of esports events to be shown on Twitch.
All in, the Fortnite World Cup hit over 2 million viewers on both days, also assisted by some streamers co-streaming the event.
Hopefully, with more eyes on the industry, we'll see more esports grow as a result of the huge reach of the Fortnite World Cup.