Rocket League and Fortnite have collaborated once more bringing back the Llama-Rama event for the second time ever.
As the first edition kicked off the free-to-play Rocket League season back in September 2020, this time around it's celebrating the end of festival-themed Season 2 -- and what a better way to cap it off than with an all-out EDM concert.
Kaskade, one of the music label Monstercat's artists and headliner for Rocket League Season 2, gave us a performance to remember as he hit the Main Stage in Fortnite's Party Royale.
The stage presented a barefoot Kaskade inside a web of lights, screens and EDM -- possibly in one of the best crowd-less openings we have seen so far.
He would immediately set the tone for the rest of the performance opening with great visuals, thick bass and the hard-hitting "Closer" single from his Flip Reset EP.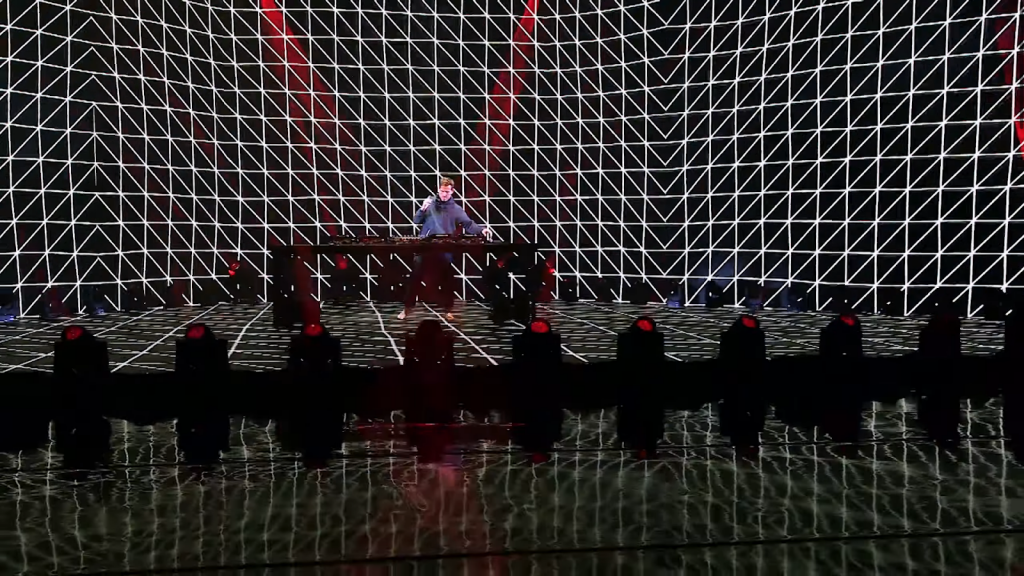 (Image: Epic Games)
Quickly turning a "dreamatorium" of a sound stage into Rocket League's Season 2 map, Neon Fields was the right call done gracefully and in style.
Moving through dimensions led by the Kaskade-themed Octane, we found ourselves on courtside with our favourite Rocket League crowd, a sea of coloured circles.
With as many battle-cars you can imagine parked next to the venue, we are introduced to this new area with Season 2's anthem "Flip Reset" as we were nowhere near halfway, we think the theme song made a little too early of an entry in the setlist.
Still, it will go down as one of the most beloved themes in the game's history and helped kick things off as the Neon Fields rave was underway.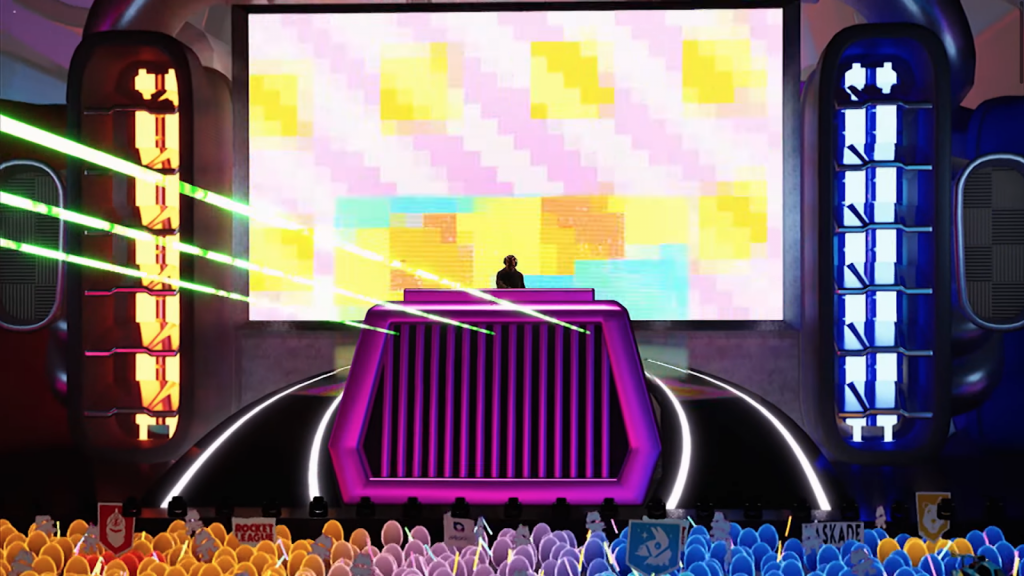 (Image: Epic Games)
Turning Kaskade's studio set into Neon Fields booth was greatly achieved and whilst he was taking Buffy Sugo's job, for the time being, she did make an appearance as an on-stage twin holographic dancer throughout "Solid Ground".
The only downside about the 30-minute show is the presentation in Fortnite in and of itself. Past programming of a similar nature had the artist rendered and animated inside the game to give the feeling of a shared digital space.
Instead, Fortnite set up a screen over the ocean and played the concert in drive-thru cinema-fashion. This is definitely one of those rare occasions where not being there makes it all the better as the concert is thoroughly enjoyed in video format only.
Although the presentation in Fortnite's Party Royal and Main Stage was not optimal, there is a lot to be said about Kaskade's performance.
The cliché around DJ performances is the intangibles in the music yet Kaskade did nothing but deliver through it all. There is nothing better than seeing a performer enjoying their craft. Kaskade did that.
Transmitting energy through every mood in the setlist, I think this is one of the best digital concerts that has graced our screens since the start of quarantine.
Join us feeling nostalgic about Season 2 by reliving the whole Kaskade Rocket League x Fortnite concert, available now on YouTube featuring the DJ's latest release, the Flip Reset EP.
---
For more Fortnite news be sure to check out our dedicated section, or some of our Guides & Tutorials, just below:
Fortnite Guides - All Fortnite Redeem Codes | When Does Fortnite Chapter 3 Season 5 Start?|All Fortnite Twitch Drop Rewards| How To Make Your Own Fortnite Skin |
Fortnite Events - Fortnite Winterfest 2022 | 
The Best Fortnite Creative Codes - Best Edit Course Codes|Best Prop Hunt Codes|Best Zombie Map Codes
Featured image courtesy of Epic Games.