As more and more information is being leaked in regards to Fortnite Chapter 2 Season 4, all signs seem to point the next the big crossover planned for the Battle Royale will revolve around Marvel's Thor.
The biggest piece of evidence we have of this is a photo shared by Twitter user and Fortnite leaker, HYPEX, pointing to several Marvel locations and characters possibly making their way to Fortnite, such as Galactus, the Rainbow Bridge (Bifrost), and the God of Thunder himself, Thor.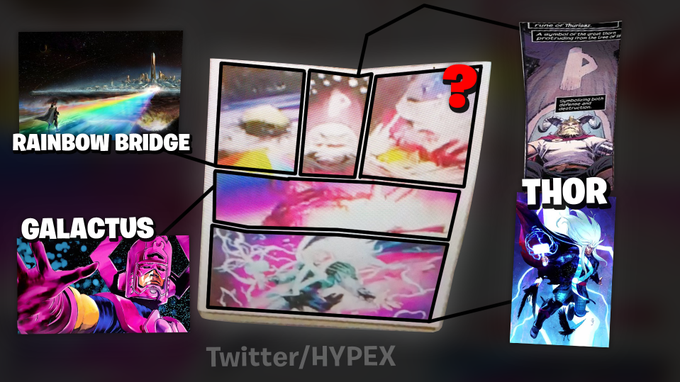 (Photo: Twitter.com/HYPEX):
The Hightower event information that surfaced online may also point at these leaks being true. A strange symbol can be seen on the ground, with many fans pointing out it resembles the mark the Bifrost leaves whenever it's transporting people across the universe.
Lastly, the recently announced Relaxed Fit Jonesy outfit currently available boasts an uncanny resemblance to Thor's look in Marvel's Avengers: Endgame. Perhaps a hint at the inevitable crossover that's bound to happen?
For more on Fortnite, check out how a hacker decided to expose the game's anti-cheat system live on stream.