Back in December 2020, Epic Games unleashed the all-in-one Fortnite Crew subscription service. It costs 11.99 USD and features 1,000 V-Bucks per month, as well as access to the Battle Pass and some unique cosmetics. It appears that in the future, Fortnite Crew could get some new features, as a survey by Epic Games gives us a glimpse of possible future plans.
Future Fortnite Crew features
Developer Epic Games added some more potential features to a list in a recent survey, as spotted by Ryanon120FPS and shared by known dataminer and leaker, iFireMonkey.
Thankfully, none of the possible future Fortnite Crew features seems to be pay-to-win, unless you considering levelling up a Battle Pass faster than a non-subscriber as "winning".
Possible features being surveyed by Epic Games includes an XP multiplier for Fortnite Crew subscribers. There are also Crew-exclusive challenges with Battle Pass level rewards, and custom matchmaking options.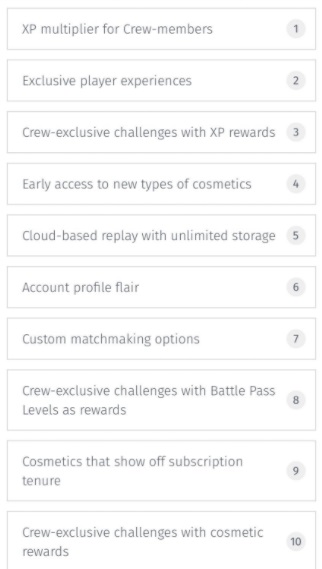 (Picture: Ryanon120FPS)
Interestingly, exclusive player experiences are also being surveys. Exactly what these experiences are is unknown.
Then, Epic Games appears to also be testing the waters for custom matchmaking options for Fortnite Crew subscribers. This could mean players can, in the future, choose to play only with those who are also Fortnite Crew members.
Keep in mind not all, or even any of these future Fortnite Crew features could make it into the game. This is, at the time of writing, still just a survey from Epic Games, asking players which type of new features they would want to see.
Hopefully, none of the possible new Fortnite Crew features will give subscribers any kind of advantage in a match, as that's definitely a slippery slope to go down for the developer.