There is something about Fortnite that makes everyone act a little childish. Maybe it's all the children.
Probably doesn't help when there is over $20m in prize money on the line like during the Fortnite Championship Series, which after a week delay kicked off with the open qualifiers last night.
The first incident of the night was a bit of back and forth between FN World Cup winner Kyle "Bugha" Giersdorf and Mack "MackWood" Aesoph. The former accusing the latter of being a stream sniper.
Then we had the instance of G2 launching some low-blows at NICKMERCS posting side-by-side pictures of Sean "G2 Coop" Cooper securing a victory royale with another of him reviving Nick "NICKMERCS" Kolcheff.
All the more curious as Nick, Coop, as well as Ali "SypherPK" Hassan, were competing as a trio that weekend.
"How @G2Coop plays Fortnite -- how @NICKMERCS plays Fortnite," read the Tweet.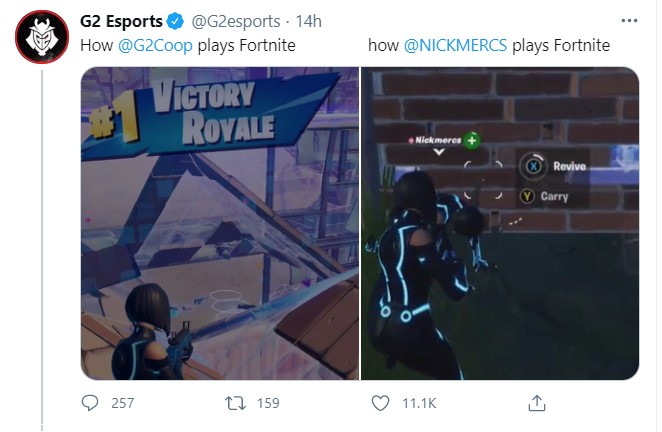 (Picture: Twitter)
It was a dig that prompted a quick response from Nick: 
"I get more viewers then ur entire org combined, don't @ me cringe2."
While we can't verify the veracity of that statement there is no doubting the clout that the FaZe man carries in the world of esports and content creation.
And it didn't end there Spanish streamer, and former G2 alumni, Ibai Llanos to respond in Spanish. Translated it says:
"You weren't saying that two months ago, watch your tone."
Then things got a bit silly as G2's CEO Carlos "ocelote" Rodriguez Santiago jumped in. First claiming that Ibai regularly attracts more viewers than Nick while "watching marbles" - a reference to the game Marbles on Stream.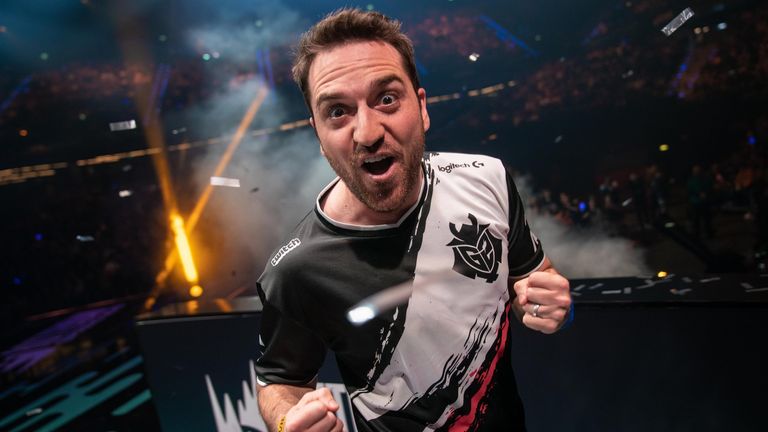 (Picture: Riot Games)
Ocelote was clearly enjoying the start of the weekend. After Esport Talk's Jake Lucky asked for comment on the situation, ocelote claimed Nick's behaviour was because of his relationship with FaZe.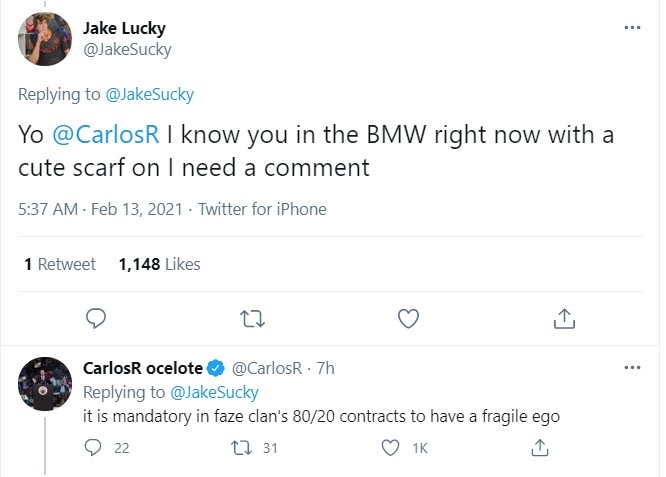 "It is mandatory in faze clan's 80/20 contracts to have a fragile ego," explained ocelote, a reference to contracts many of FaZe's Fortnite talent signed when the game was originally blowing up that stated that 80% of earnings should go to the organisation with just 20% going to the players. So one-sided it led Tenney "Tfue" Turner to sue the organisation in an attempt to get out.
The CEO also felt the need to relay the various viewership numbers of those signed to G2. Long story short lots of people watch streams from G2's roster of talent.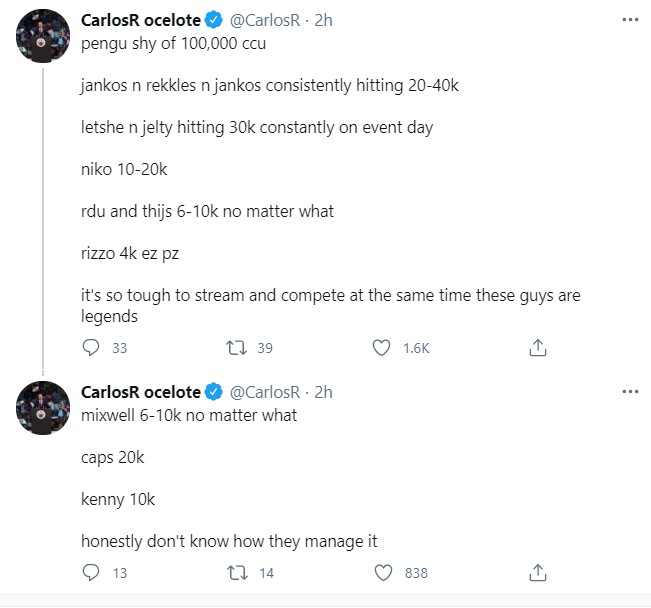 (Picture: Twitter)
Any sourness appears to have dissipated overnight though, with ocelote and Nickmercs sharing pleasantries on Saturday before Day 2 of the qualifiers.
just spoke w @NICKMERCS

we good

— CarlosR ocelote (@CarlosR) February 13, 2021
The FNCS has three weeks of qualifiers, each with four rounds. The top 10 teams at the end of the round four earn a place in the semi-final.
The finals featuring the top 33 teams of each region take place on 12-14th March.