Tyler "Ninja" Blevins has a broad and diverse audience with many of them likely falling into the PG stage of life, so you could imagine his surprise and his anger when Anthony "ZexRow" Colandro used his post-match interview, after just winning the first week of
Ninja Battles
, to launch into a curse-filled tirade.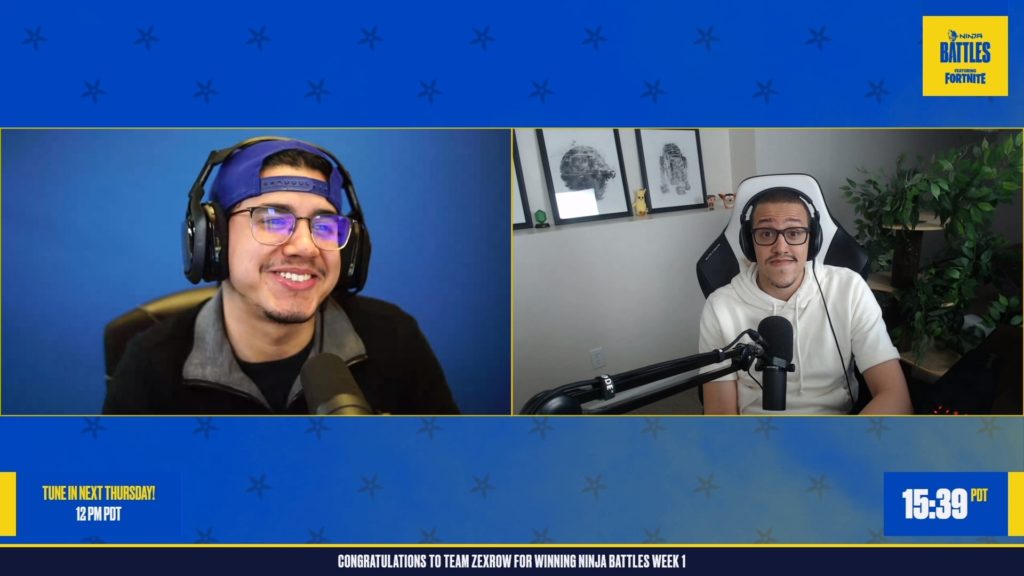 MonsterDFace and Ballatw were lost for words after ZexRow's tirade. (Picture: Ninja)
After MonsterDface asked him if had any "shout outs, questions or projects you're working on", ZexRow went into a bizarre rant about his past and future FNCS performances before ending on this:
"Everyone that didn't place in top 10 can suck my d***. They're f***ing s****ers. I don't know why they talk s***, they're actually also dogs*** and braindead."
"That's all I am saying."
The interview was going out on Ninja's Mixer stream to over 15,000 viewers and it is safe to say he didn't take too kindly to the Team SoloMid's comment as he was immediately banned from future events.
After posting an apology on Twitter saying he "forgot parent's watch I'm sorry", Ninja replied by congratulating the pro on his "first and last Ninja battles placement."
Congrats on your first and last Ninja battles placement!

— Ninja (@Ninja) May 28, 2020
ZexRow then put out a series of Tweet's emphasizing how sorry he was including the obligatory Twit longer, were, to be fair, he does nothing but own up to and apologises for his actions.
ZexRow also appeared to offer his resignation to TSM after claiming that people "really want me" to be dropped by the org.
"I just feel bad for tsm and all the hate they'll get for this."
TSM has yet to comment on the situation.
This was just Week 1 of the Ninja Battles Fortnite tournaments the first of six weeks of action. There is $80,000 to be won each week, with next week seeing Arena Trios being used for a more competitive environment.