Not only is Ali "SypherPK" Hassan an excellent Fortnite player, but he is also one of the top content creators on YouTube for Epic's Battle Royale, and one of the top streamers out there. His opinion carries a lot of weight and is backed up by his immense skill. However, that isn't stopping some fans from hating on him after he called one of Fortnite Chapter 2 Season 7's new weapons, the Rail Gun,  "broken" and the "overpowered" in the game right now.
SypherPK calls Rail Gun overpowered
SypherPK didn't just go out and call the Rail Gun overpowered for no reason. First up, he posted a new YouTube video showcasing the devasting power of the Rail Gun in action.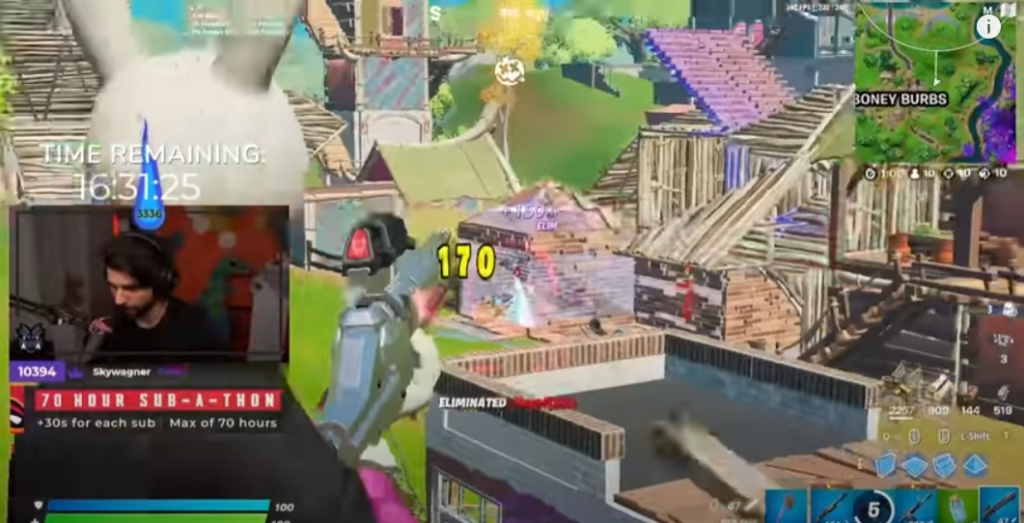 (Picture: SypherPK via YouTube)
For those who haven't jumped into Fortnite Chapter 2 Season 7 yet, the Rail Gun is a new "floor loot" in all the qualities you would expect.
Therefore, players can easily get their hands on one, and wreck opponents in the process.
The Rail Gun allows players to charge up an extremely powerful shot, and can even blast through walls built by players. This means you can effectively headshot an enemy, killing them in one hit through a wall.
In the video, SypherPK explained: "Epic added one of the most-broken long-range weapons in Fortnite Season 7, the Rail Gun. This is not an exaggeration. This gun is absolutely insane." He then continued to say "This thing's probably going to get nerfed" while showing fans how to use it to its full potential.
Following the video, SypherPK took to Twitter to say he is now getting hate for calling the Rail Gun overpowered.

(Picture: SypherPK via Twitter)
SypherPK went on to explain where some of the hate is coming from: "The reality is some of the hate is coming from casual players who think I'm dying to it which is why I think it needs a nerf. It's literally my go-to gun and it helps me get so many kills."
Judging by the video from SypherPK and the raw potential of the Rail Gun in Fortnite Season 7, the weapon does seem a bit overpowered. While Epic Games has not revealed any planned changes, there is a good chance a weapon such as this could receive balance changes.
Don't forget to check out our dedicated Fortnite section, featuring guides, news, leaks and much more.
---
For more Fortnite news be sure to check out our dedicated section, or some of our Guides & Tutorials, just below:
Fortnite Guides - All Fortnite Redeem Codes | When Does Fortnite Chapter 3 Season 5 Start?|All Fortnite Twitch Drop Rewards| How To Make Your Own Fortnite Skin |
Fortnite Events - Fortnite Winterfest 2022 | 
The Best Fortnite Creative Codes - Best Edit Course Codes|Best Prop Hunt Codes|Best Zombie Map Codes
Featured image courtesy of Epic Games.