After several delays, Fortnite Chapter 2 Season 3 is finally here in all its glory, with a plethora of new content.
The biggest changes are on the Fortnite map itself. Large sections of last season's map are now underwater and not available unless you are in the mood for swimming.
Or, if you are not really into swimming, there is an alternative. Scary and dangerous alternative, with big and pointy teeth ready to bite you.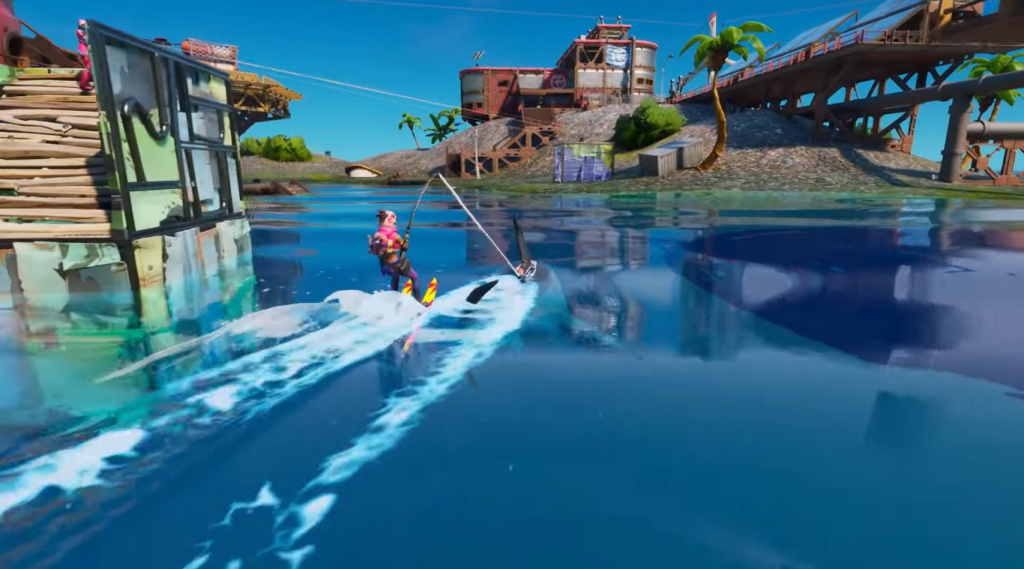 (Picture: Epic Games)
We are talking about sharks. Sharks are now in the game, and you will find them swimming in the waters all around the map.
They roam in the waters and you can hook them with your fishing pole. When you hook them, they gave you skis on your feet, and you can use them to literally slide around the water, while the shark is pulling you. But be careful, they are dangerous and they will attack you if you give them a chance.
Tfue learned that the hard way in his hilarious first encounter with a shark in Fortnite Season 3.
He was chilling around the water when he noticed a shark swimming near him and eating another player. Excited by the scene he just saw, he tried to kill her, but he almost got himself killed in the process when the shark suddenly jumped from the water right onto him and pushed him into water.
Tfue was lucky enough that the shark was already low on health and he was able to finish her off before she got a chance to grab him for dinner.
Are you already playing Season 3? If you are planning on purchasing the Season 3 Battle Pass, here's everything you should know.