The Fortnite Winterfest 2021 is in full swing, giving players new challenges to complete, rewards to unlock and items to purchase from the item shop, including Spider-Man outfits from No Way Home. Sgt. Winter is this year's Santa, and players can find him soaking the warmth of the yule log in the cosy lodge. 
Like every year, players can complete Winterfest 2021 challenges to earn exclusive rewards. One particular challenge requires players to "deal damage to opponents with the Snowball Launcher." Since it's a rare item, finding the snowball launcher can be tricky. With that said, here's how and where you will likely find a snowball launcher.
Snowball launcher in Fortnite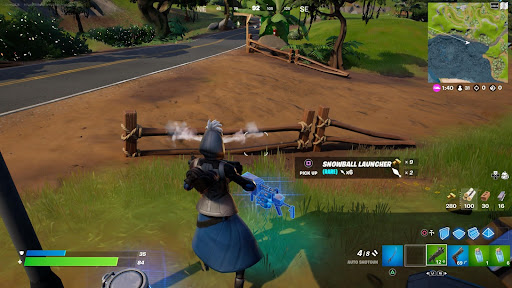 As mentioned before, a snowball launcher is a rare item and, as such, is rare to find. It may require several runs before you may actually find one. Snowball launcher is usually found in normal glowy chests though the drop is completely random. There's also the possibility of getting one from Sgt. Winter scouts the Fortnite Chapter 3 Season 1 map on his truck and drops random presents to players. 
We found the snowball launcher in a chest next to where we stumbled upon Sgt. Winter, so it could be possible that it spawns in the chests of the regions where Sgt. Winter passes through. For the time being, finding the snowball launcher seems more like a matter of luck which means you should check upon every glowy chest until you find one.
Check out our dedicated Fortnite page for everything you need as Chapter 3 rolls along. We'll keep you in the loop with the latest challenges, cosmetics, and more.
Featured image courtesy of Epic Games.