Forza Horizon 5 has equipped players with customisation tools to design and build the cars they want within a set parameter outlined by Turn 10 Studios' Forza Enforcement Guidelines.
While some have broken a few guidelines previously, the guidelines still allow room for creative freedom if players wish to experience the game's breathtaking visuals and gameplay.
Another Forza Horizon 5 player received a ban from the developer's enforcement team over sexually designed content. The player posted the image to the Forza subreddit that had them banned from the game despite stating they hadn't broken any guidelines.
Player ban over "sexual" livery design
Captioned, "They're really reaching here on the bans. 7 days and they claim it's sexual" Redditor sean_m_curry uploaded an image at the centre of the user's ban, depicting a warning sign featuring two characters and a message.
Based on the image, one of the characters is an elderly woman with an orange symbol placed around her chest area, while the other character is wearing a "chick magnet" sweater and a magnet on their arm. The message accompanying the sign alerts people on the "chick magnet"-clad person, which reads: "You are in the presence of a strong magnetic field which may affect the operation of pacemakers."
While the image alone does not appear to be sexual, the components featured did warrant the grounds for a ban by the developer. Since the post upload, it has received a 96% upvote and over 180 comments, sparking debate about whether the poster broke any of the enforcement guidelines.
One user commented that while the magnet does appear to be of a phallic shape, it was bizarre that the player still got a ban as a result. "That magnet clearly looks like a phalice, sir. Nah, but for real, they need to chill out on these. I get fully nude anime chicks, but there is absolutely nothing explicit here."
Another user provided an answer as to why the player got banned from the game for seven days. "Also there's the word 'chick' which is extremely sexual and banned from 187 countries."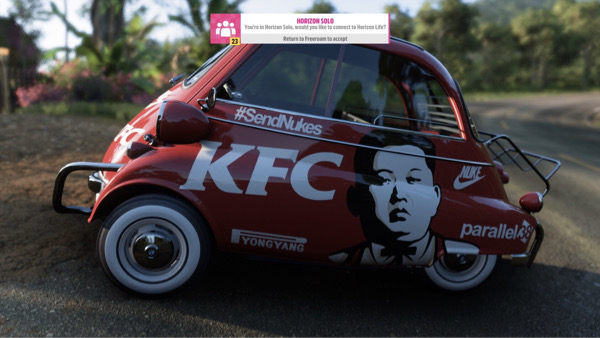 This isn't the first time a livery ban thrust into the spotlight. Last year, we reported on a livery featuring North Korean leader Kim Jong-un and a few notable brands included in the design.
The livery creator received a near 8,000-year ban from Forza, which Turn 10 Studios' Enforcement Team enforced. The same enforcement team likely imposed the ban on the player, not the game's developer, Playground Games.
Don't forget to check out our dedicated Forza section for the latest news, updates, guides, leaks and more.
Featured image courtesy of Playground Games / Xbox Game Studios.