We hope you've brought your Primogem bait because catching the mysterious Cocogoat could be a long and arduous process… in other words, that's right!
Hotly anticipated 5-star character Ganyu, the Plenilune Gaze will be available with the latest Genshin Impact Banner, due to drop soon.
New Genshim Impact Banner: Release date
The new banner, dubbed "Adrift in the Harbour", will be available from 17:00 server time on 12th January 2021 and will run until 2nd February 2021.
Travelers, stock up on weapons and characters in the event wish "Adrift in the Harbor" to make your party stronger in combat!#GenshinImpactpic.twitter.com/u0jS3ptX7j

— Paimon (@GenshinImpact) January 10, 2021
It will be joined by the latest Epitome Invocation Banner (the latest weapon Banner), which will have increased drop rates for 5-star weapons Amos' Bow and Skyward Pride.
Genshin Impact Adrift in the Harbour details
As for Adrift in the Harbour, Ganyu will be joined by 4-star Noelle, Xingqiu and Xiangling, who will have the usual increased drop rates.
Xingqiu is a coveted support and enabler, offering some healing and damage reduction, while also offering fantastic off-field Hydro damage and reaction set-up with his Rain Swords.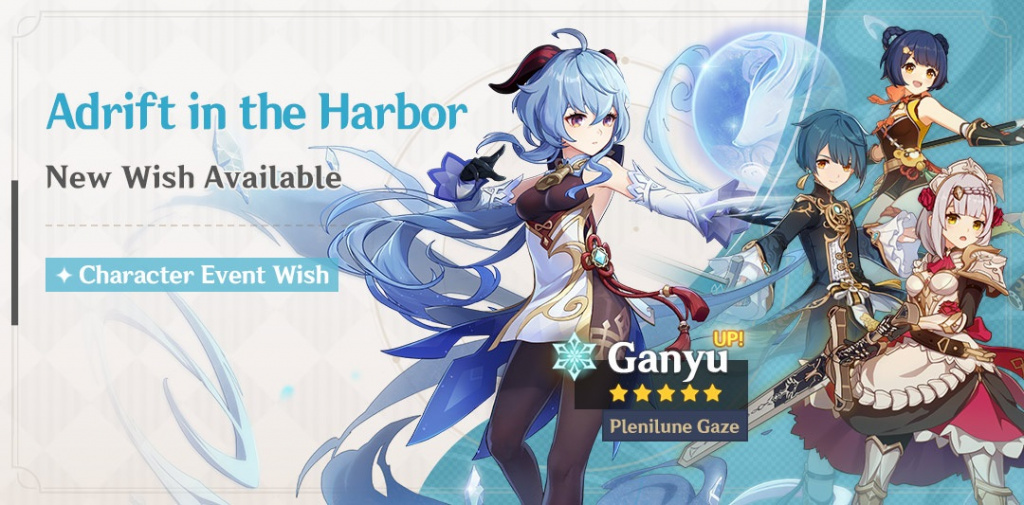 (Picture: Genshin Impact)
If you're using a Pyro DPS (Vaporise is incredible in-game right now) or need an enabler, consider rolling for C1 or C2.
Similarly, Xiangling's Constellations at C4 and C6 dramatically increase her Elemental Burst, Pyronado's power, and might be worth the investment into the Banner as well.
As for all you wannabe Noelle mains, this is your chance to pull for that all-important C6, "Must Be Spotless," which converts half of her DEF stat into ATK during her Elemental Burst. If you want Noelle to work in the big leagues, strongly consider taking this chance to pull.
As for new character Ganyu, she's a Cryo/Archer with a mean damage streak that will set her up well as a DPS or sub-DPS option for your squad.
That said, her charged attack is actually fairly potent - it can hit for AoE Cryo - which does mean you may want to think carefully if you're a mobile user or bad with your aim…
She also comes with a taunt, damage and disengage Elemental Skill and an AoE Cryo DMG Elemental Burst, so you can definitely find power in her kit elsewhere if you couldn't hit the broadside of a barn!
Whether or not you decide to roll for the Cocogoat - we mean Ganyu… and friends, Adrift in the Harbour goes live at 17:00 on 12th January 2021.