A new event has been announced that will go live with the 1.1 update that will allow players to earn "Shining Idol" Barabara as a completion reward. Barbara is a Hydro/Catalyst user and arguably the best healer in the game, so this is an absolute steal for players!
The Baptism of Song event is about to begin!

After the Version 1.1 update,Travelers at Adventure Rank 18 or above that have completed the quest A Long Shot will win"Shining Idol" Barbara (Hydro)!

View the full notice here >>>https://t.co/KbJFI8I9iG#GenshinImpact#Barbarapic.twitter.com/cBggiHm2V0

— Paimon (@GenshinImpact) November 9, 2020
Unlock Conditions
Adventure Rank 18 or above
Completed the quest "A Long Shot"
Sadly, you can only claim this reward once and the event will disappear after claiming your reward. Fortunately, there's no time limit on this event so don't worry about missing it!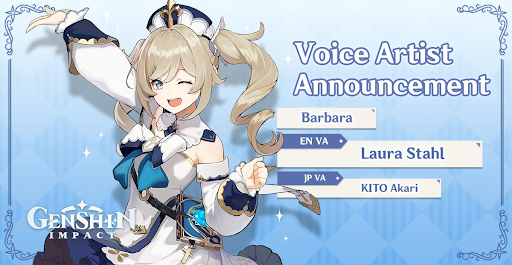 Akari Kito is actually a real life idol - the perfect fit for Barbara. (Picture: miHoYo)
Also, those who already claimed Barbara through the 1.0 event "Barbara's Shining Debut" can still take part in this event, so make sure not to miss out.
As for what the quest itself involves, that's still unknown. We'll have to wait for the 1.1 update to find out!