With Sparkling Steps winding down, moHiYo has announced the event that will be replacing it. That event is "Farewell of Snezhnaya" and it will include the all-new character Tartaglia, better known as Childe of the Harbingers.
The event wish "Farewell of Snezhnaya" is about to begin!

In this event wish, the event-exclusive 5-star character "Childe" Tartaglia (Hydro) will get a huge drop-rate boost!#GenshinImpact#Childe#Tartagliapic.twitter.com/EamU8rNWyk

— Paimon (@GenshinImpact) November 9, 2020
As with all Genshin events, that means Childe will be seeing a massively increased drop rate when wishing using the Farewell of Snezhnaya banner. Childe is a 5* Hydro/Bow user… who also uses knives and a spear. In other words, it's just as hard to pin down his playstyle as it is his personality.
The other characters on the banner include Geo/Catalyst user Ningguang, elegant and dangerous leader of the Qixing, Electro/Claymore user (and pirate captain) Beidou, and second new character, Diona.
Diona is a wise-cracking bartender at the Cat's Tail… who despises alcohol so much she wants to bring down Mondstadt's wine industry.
Alas, all the awful drinks she's concocted seem to go down all too well with her patrons. She's a Cryo/Bow user who is a desperately needed healer being added to the character roster.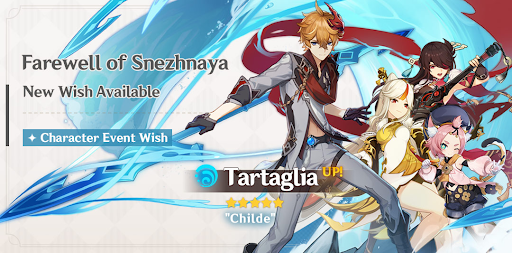 (Picture: miHoYo)
The event will be live after the 1.1 update on 11/11 and will run until 1/12.