The day has finally come, and after a series of filler updates and leaks, miHoYo has finally introduced the next major update for Genshin Impact, titled "Floating World Under the Moonlight".
As part of this update, many quests and special events will be available all around the new region of Inazuma, so this time we will give you a walkthrough on everything you can expect from 2.1 update, as well as some of the rewards you can get in some of them.
Genshin Impact 2.1 update: New Archon Quest
The update 2.1 will continue the story of the Chapter II in the Archon Quests, as we already got our first encounter with the relentless Raiden Shogun, as well as her army in charge of fulfilling the Vision Hunt Decree in "Omnipresence Over Mortals".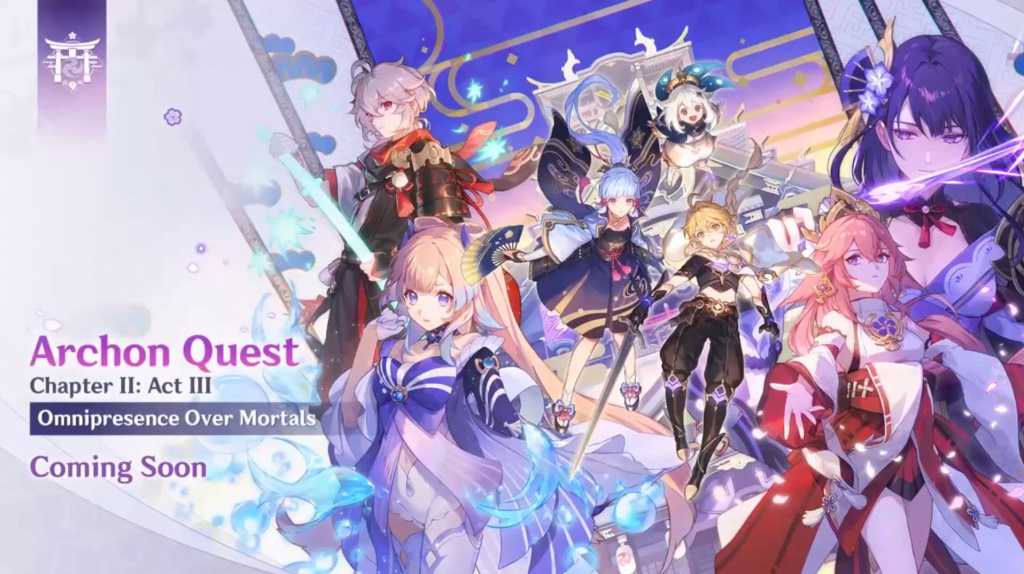 This time, we will get to know more about the origins of her decree, and also be part of Sangonomiya's Army in Watatsumi Island. Besides, the Fatui will have a bigger role around Inazuma with the presence of Scaramouche and Signora.
Genshin Impact 2.1 update: Moonchase Merriment
All players will be back again to Liyue to be part of a new celebration around the city of contracts, with the arrival of the Moonchase Festival.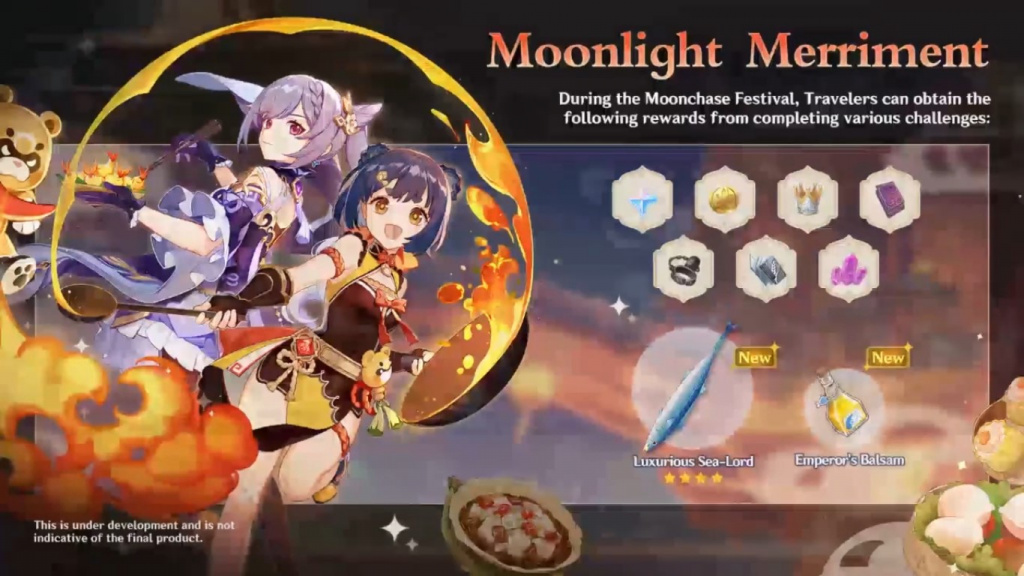 As with the Lantern Rite, this festival marks the start of a prosper cycle within Liyue, and also serves as the special celebration prepared for Genshin Impact's first anniversary.
Within the Moonchase Merriment, you will have access to these quests and events, and as always, tons of special rewards.
Moonlight Seeker
During the Moonlight Festival, the Adventurers' Guild will place Moonchase Charms and Mystmoon Chests across the land, scattered between three different areas around Liyue.
These chests will be packed with precious items prepared by the Guild, featuring rewards like character and weapon enhancement items, tons of Mora, and the new bizarre, exclusive Claymore, the "Luxurious Sea-Lord".
Trail of Delicacies
As with Moonlight Seeker, this event will also be divided into three different paths where players will have to fight against many hordes of enemies in order to complete various challenges and unlock rewards.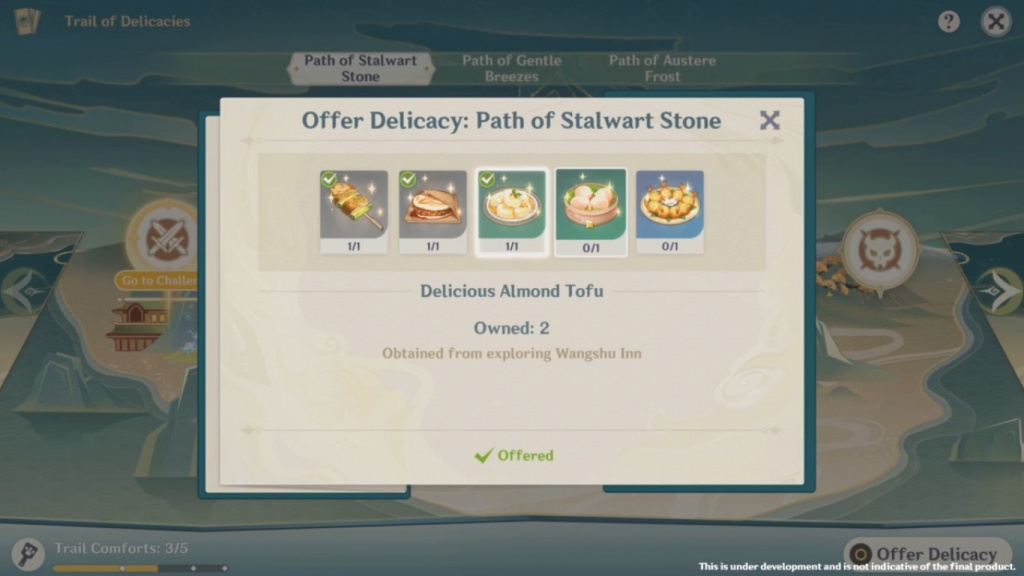 This event will feature a new interaction where you can offer some delicacies from your inventory to activate several battle buffs.
Genshin Impact 2.1 update: Featured events and quests
Lunar Realm
With the introduction of a new fishing system in Genshin Impact, players will have the chance to prove their skills in the Lunar Realm event.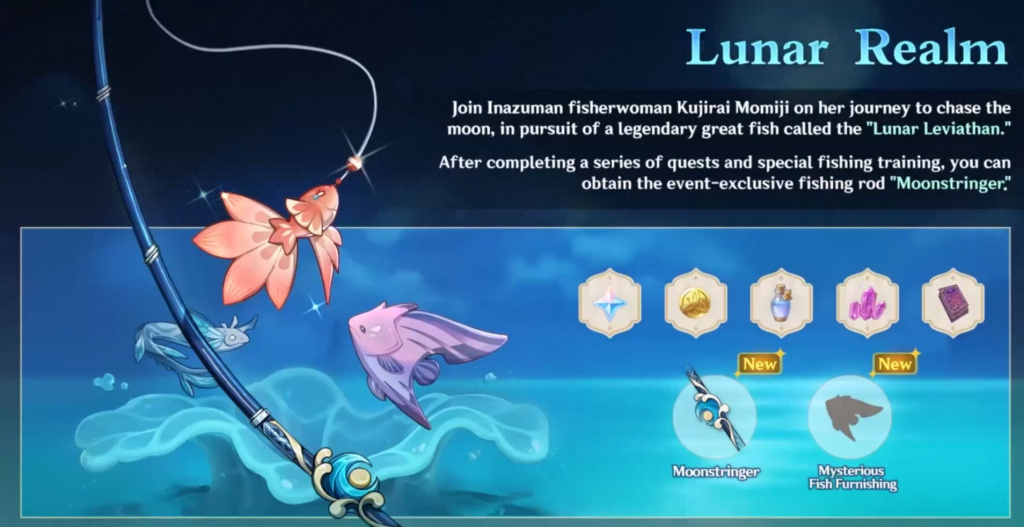 In this event, you will join Inazuman fisherwoman Kujirai Momiji on her journey to chase the moon, in pursuit of a legendary great fish called the "Lunar Leviathan".
Once you complete a special training and a new batch of challenges from this event, you will get the exclusive fishing rod "Moonstringer" for free!
Hyakunin Ikki
The Hyakunin Ikki event features a free-for-all fighting tournament held in an unknown guild hall near Inazuma City, where Elements and main weapons will come into play more than ever.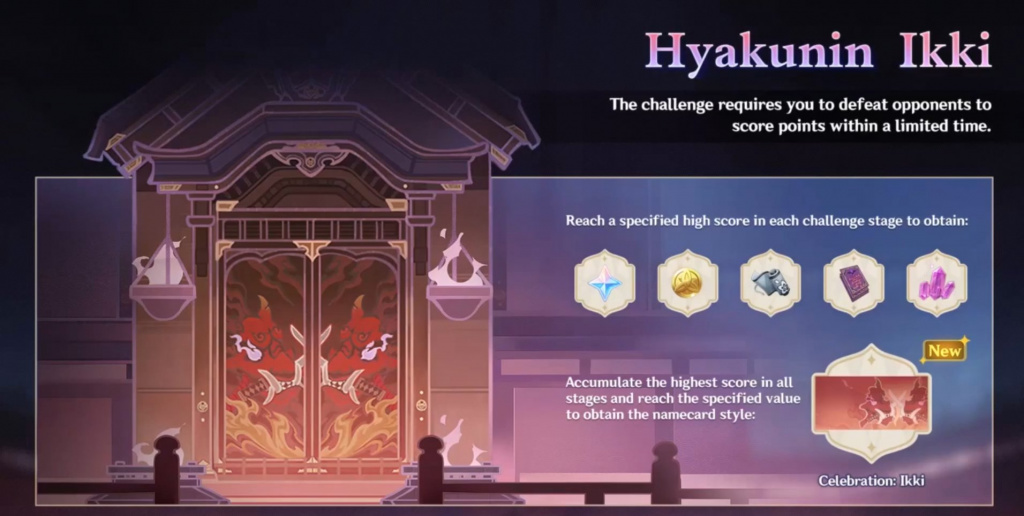 Here, players can earn lots of rewards and even an exclusive name card, based on your performance in challenges that require you to defeat enemies within a time limit.
Spectral Secrets
Last but not least, this event will be a rerun from another series of quests introduced in update 1.3 called "Vishaps and Where to Find Them".
In Spectral Secrets, Katheryne from the Inazuma Adventurers' Guild will release daily investigative expeditions during the event period, of which Travelers can choose up to four every day.
These expeditions will be divided into different ranks, each one more challenging than the other but with greater rewards depending on the difficulty you choose.
Genshin Impact's 2.1 update will be available on 1st September, 2021. More details on each of these events will be available as we get closer to their release.
For more tips, tricks and guides, don't forget to join our community of travellers on our Genshin Impact Twitter account.
Header image via miHoYo.