As millions are continuing their journey with the latest missions and quests from the ongoing Anniversary Event and Moonlight Merriment Festival, the next content update for Genshin Impact will provide travellers with plenty more content to enjoy. Leakers continue to deter travellers from knowing what awaits them in Teyvat; miHoYo has detailed all the content that will be arriving in the game soon.
The latest Special Program livestream provided information about what's coming next to Genshin Impact, including the arrival of brand new characters, more weapons to try out, and events to participate in. Additionally, there will be more content arriving for the Inazuma region for travellers to explore. Here are all the latest details on the Genshin Impact 2.2 update so far.
Genshin Impact 2.2 update: Thoma joins the roster
As announced at the beginning of the livestream, Pyro wielder Thoma will be coming to Genshin Impact in the 2.2 update. As it stands, he is the latest adventurer from the Inazuma region to join the current roster.
A four-star Polearm character, Thoma has been described as "reliable" and a great "teammate" given his influence in Inazuma. As a housekeeper for the Kamisato Clan, Thoma knows a thing or two for being someone everyone can rely on as he's always there to help people out. Thoma will be receiving a Hangout Event as well as joining the Event Wish Preview banner in the 2.2 update.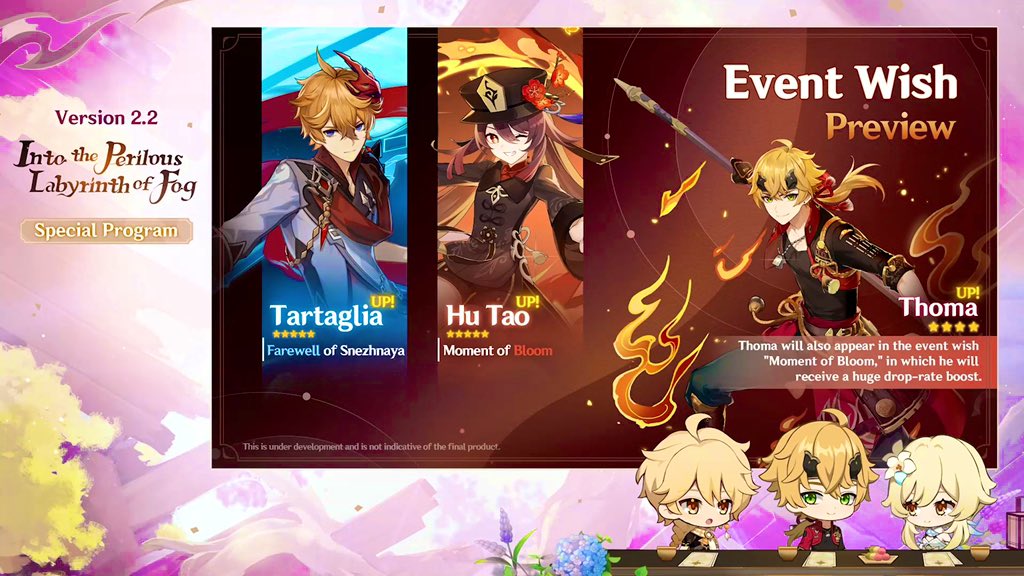 Additionally, two five-star characters will be a part of the update's featured banners: Hydro user Tartaglia and the Pyro-wielding Hu Tao, with both getting re-runs throughout the forthcoming update.
Genshin Impact 2.2 update: New locations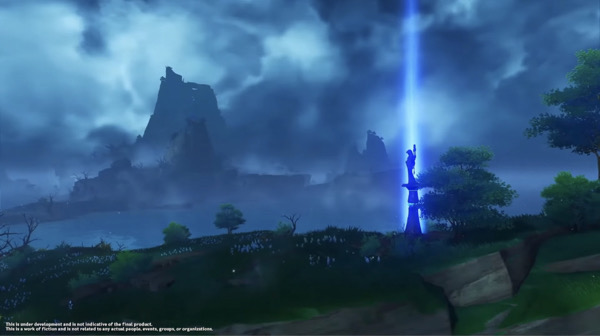 As previously leaked, Tsurumi Island will be included in the 2.2 update, further expanding the Inazuma region. The fog-cladded island comes with a unique backstory that will scare and intimidate those who wish to dare set foot on the mysterious territory.
Tsurumi Island is the last unlocked location part of the Inazuma region as travellers will surely uncover the strange and mysterious secrets that lie beneath the fog.
Genshin Impact 2.2 update: New weapons
Four new weapons will be included in the 2.2 update in which we have previously covered due to various teases and leaks alluding to their inclusion. With one 5-star weapon and three 4-star weapon, these weapons will increase Elemental Burst DMG based on the entire party's maximum energy.
Genshin Impact 2.2 update: New enemies and bosses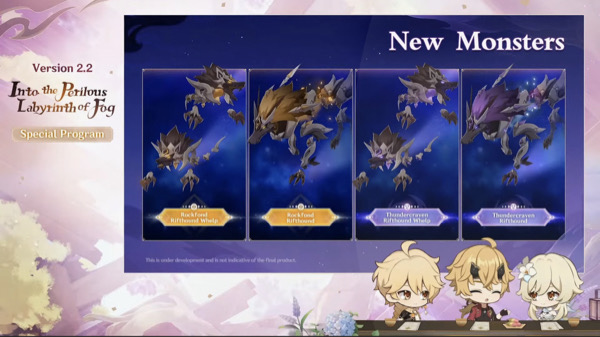 With the inclusion of Tsurumi Island comes new monsters that not only protects the island from possible threats but monsters travellers will encounter should they arrive on the island.
Rockfond Rifthound

Rockfond Rifthound Whelp

Thundercraven Rifthound

Thundercraven Rifthound Whelp
These wolf-like creatures will come with their own unique attributes, which for Zhongli players, will render him useless when venturing out to Tsurumi Island. Adding two rifthounds and two whelps to the island, these hounds will attack travellers by applying corrosion damage making their bites more damaging on shields in particular.
Genshin Impact 2.2 update: Events and rewards
Labyrinth Warriors will be the main event in the upcoming 2.2 update. In this event, travellers will be tasked to fend off the monsters that were previously imprisoned in the Mystic Onmyou Chamber domain.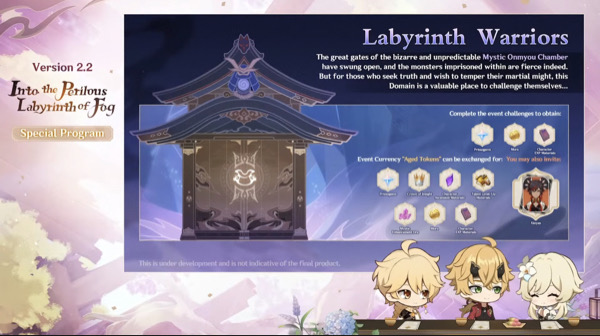 Travellers will fight every monster that has escaped the domain while mastering their combat skills in the process. As a reward upon completion, travellers will receive Primogems, Mora and character EXP materials as standard but in addition, will also receive some of the following rewards:
Crown of Insight

Character Ascension materials

Talent Level-up materials

Mystic Enhancement ore
As a bonus, travellers will unlock Xinyan after completing the event.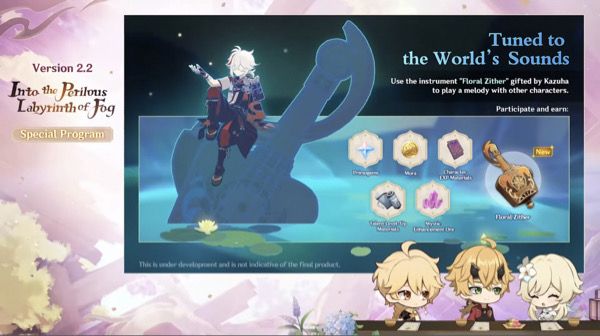 "Tuned to the World's Sounds" is the next event arriving as part of the 2.2 update. In this event, travellers will partake in a musical challenge where you will play on the Floral Zither alongside another character in various locations. With ranging difficulty levels and accompanying pieces of music, the instrument will be one of the rewards at the end of the event.
Hangout Events will be continuing its run in the 2.2 update as it had been previously leaked. It was confirmed during the Special Program livestream that the update will include Hangout Events for Thoma and Sayu.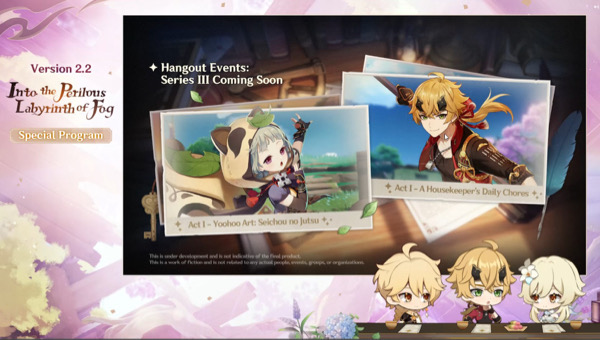 These events will add new side stories for these characters, providing some details into each character's backstory, with Thoma's Hangout Event centred on his daily duties as a housekeeper for the Kamisato Clan.
Furthermore, two event challenges have been added to the update. "Dreams of Bloom" in which travellers will have fun creating floral arrangements for their teapot, while in "Shadow of the Ancients" will see travellers enlist their skills in solving a commission.
Don't forget to check out our dedicated Genshin Impact section featuring news, updates, guides and more
Featured image courtesy of miHoYo.