As you progress in Genshin Impact, enemies and bosses will increasingly become powerful, dealing more damage if travellers don't have the right equipment or build. While weapons and armour surely can get the job done, acquiring and equipping artifacts will make the difference between an overbearing boss to a powerful characterful character build.
If travellers have yet to determine what these items are and their importance in Genshin Impact, this guide will provide the necessary details into artifacts, how to acquire them, and the types of artifacts found in the game,
What are artifacts?
Artifacts are items that essentially can improve a character's performance in Genshin Impact. While not a cosmetic item, like armour, each artifact is unique based on its rarity, stats, set bonuses and lore. Every artifact available in the game forms part of a unit known as an Artifact set which when two or more from a particular set is equipped can grant special bonuses.
Travellers can take advantage of artifact sets by equipping them on the same character thus activating the bonuses assigned to the artifact and/or set. As artifacts are based on rarity and stats, the higher they are, the more powerful the artifact is and as such, the more powerful the character will be.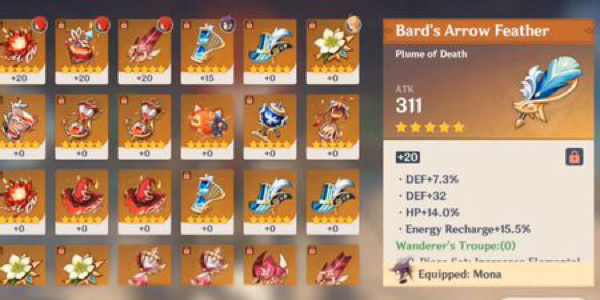 Artifacts can be found throughout Teyvat by exploration as well as defeating Elite Enemies and Bosses. Additionally, Investigation Spots and Chests can also contain artifacts and claiming rewards through Chamber Bounties in the Spiral Abyss and the Petrified Trees in the Domains of Blessing.
Artifact types found in Genshin Impact
Currently, there are five known artifact types in Genshin Impact: Flower of Life, Plume of Death, Sands of Eon, Goblet of Eonothem and Circlet of Logos. Travellers can equip one artifact per type on a character, meaning travellers can have up to five artifacts equipped at a time.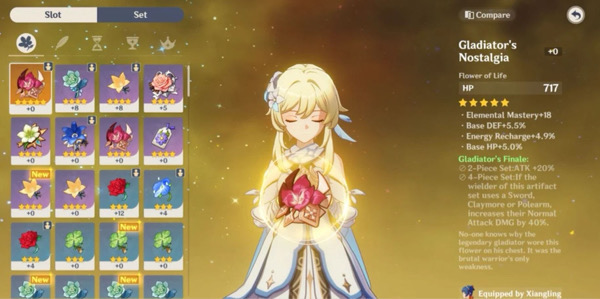 Each artifact comes with a main stat with four additional sub-stats that together can improve your character's performance. Every artifact comes with ranging tiers from three to five stars for the main stats and one to five stars for the sub-stats.
The main stats typically include HP, HP%, ATK, ATK%, DEF%, Elementary Mastery, Energy Recharge %, Elemental DMG % for one of the six elements, Physical DMG %, Critical Rate %, Critical DMG % and Healing Bonus. It's important to note that not all artifact types have all these main stats.
The number of sub-stats an artifact can obtain is dependent on the artifact's rarity as the higher the rarity, the more substats it will have. Every four upgrades an artifact receives, a substat will be upgraded; however, the first four level ups will add a new sub-stat.
The consensus is the better the artifact is determined by its ranking or tier. Likewise, depending on the type of character build you want to play, it's best to equip your character with artifacts that best match your build.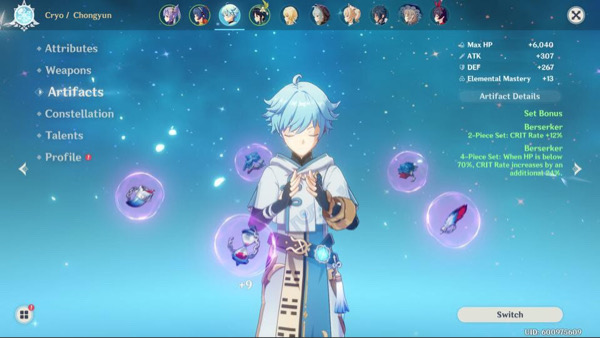 How to equip an artifact?
To equip an artifact on your character, travellers can achieve this by going to the 'Character' menu, selecting the 'Artifacts' category and then clicking 'Switch Menu'. Another method is by going directly to your 'Inventory' menu, selecting the 'Artifacts' category, then 'Details' and clicking on the 'Fast Equip Menu' option.
Artifacts can also be destroyed. We advise destroying artifacts of one to four stars. Destroying artifacts will cost 100 Mora as they can be destroyed up to 100 artifacts at any given time.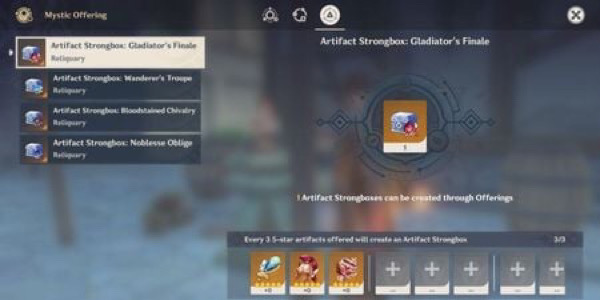 Five-star artifacts can be used for Mystic Offerings so if you have artifacts that you don't wish to use, travellers can redeem them against an Artifact Strongbox which contains a single artifact.
Don't forget to check out our dedicated Genshin Impact section for all the news, updates, guides and more.
Featured image courtesy of miHoYo.