Teyvat's leading idol takes the stage in this guide. While her songs may be soothing (fun fact: her Japanese voice actor Akari Kitō is an idol in real life too!) it's her healing potential that makes her so sought after in Genshin Impact.
Here's how to maximise that glorious healing. Let the show begin!
Genshin Impact Barbara guide
Weapons
Barbara's kit all scales off HP, that means looking for Catalysts that provide it or offer valuable utility for her Elemental Skill and Burst. To that end, these two Catalysts are easily best-in-class for Barbara:
Prototype Malice

(Picture: miHoYo)
Percent HP scaling and a Weapon Ability that offers party-wide healing and Energy Recharge? It's everything Barbara wants. Simple as that. As a bonus, it's forgeable, so no need to roll!
Thrilling Tales of Dragon Slayers

(Picture: miHoYo)
Surprisingly, community consensus is that 3* Thrilling Tales of Dragon Slayers is absolutely fantastic on Barabara. It works really well if you use her Elemental Skill and Burst, then switch out to your main DPS to amp up their damage and also has percent HP scaling to boost her own skills.
Of course, another bonus is it's very easy to Refine being a 3* weapon. Who needs to roll a 5* weapon anyway?
Artifacts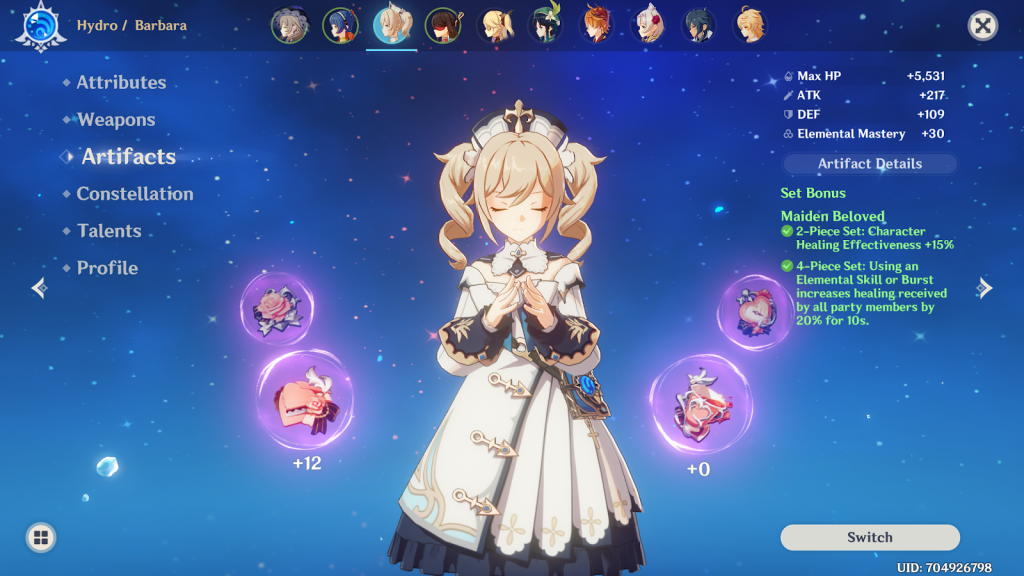 (Picture: miHoYo)
To no-one's surprise, a full 4-piece Maiden Beloved synergises perfectly with Barbara, upping the healing on her Elemental Skill and Burst across the entire party by a cumulative +35%.
If you're struggling for access to a full Maiden Beloved set, you can split 2/2 with Exile or Scholarb sets, or even run a full 4-piece of either. Energy recharge and more utility added to Barabara's Elemental Burst is nothing to be sniffed at.
If, for whatever reason, you feel the uncontrollable urge to make Barbara a damage dealer, run her with full Wanderer's Troupe and a damage Catalyst like The Widsith. We wish you luck.
Artifact Stats
Coming on to what stats you need to be looking for: HP, Healing Bonus and Energy Recharge. That is all. Perhaps a little facetiously put, but they really are the key.
Main Stats
Healing Bonus Circlet
HP%
Energy Recharge
Sub Stats
For a damage focus, Crit% and DMG, Hydro DMG Bonus and Attack are your friends. As previously stated, we wish you luck.
Play Patterns
There are two ways of playing Barabara. One is to switch her in, fire off her Elemental Burst and Skill, then switch out. Quick, easy, and effective - especially with the two recommended Catalysts.
You can even cancel the animation of her Elemental Skill by dashing as it's happening to keep your DPS uptime even higher
On the other hand, you can also try and eke out a little more group healing by keeping Barabara out after using Let the Show Begin and using her autos to heal up the party as best you can. That's particularly useful when your team is very low HP and switching straight in could be overly risky. Remember as well that her charged autos heal for significantly more than her standard auto-attack during Melody Loop!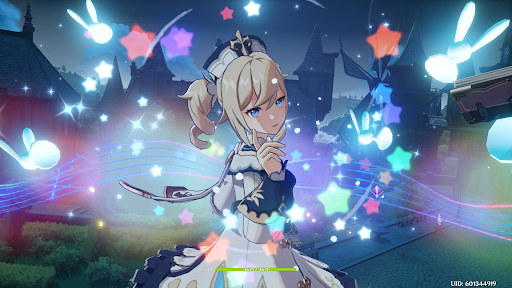 (Picture: miHoYo)
Secondly, Barabara is a Hydro Catalyst user which makes it very easy for her to apply Wet. Pair that up with a Pyro user for Vaporise, Electro user for Hydro-charged AoE, or a Cryo user to get that very powerful frozen status for CC.
As a note of warning, remember that Let the Show Begin applies wet to the active character on its periodic heals. This is a nightmare versus Cryo enemies like Andrius. While Barbara is probably the best dedicated healer in Genshin, against Cryo Domains and Bosses you really ought to consider bringing another support like Diona or Qiqi.
And thus this guide's time in the spotlight ends. Hopefully Barbara can bring some cheer and healing to your party bolstered by this information!