As with every RPG, Genshin Impact has a ton of materials, resources and ingredients which can be used to craft powerful weapons, enhance your arsenal or your talent, cook many different recipes to heal or improve yourself, and even make some potions through alchemy before the battle.
While some of these materials are pretty easy to find anywhere in Teyvat, like many kinds of flowers, animals to collect meat, or fruits and greens, there are other that are harder to find like the Starsilver ores, and the Lotus Heads, which we will cover in this Genshin Impact guide.
Best locations to farm Lotus Heads
The Lotus Heads are an aquatic plant native from the region of Liyue that grows and blooms in pairs, one head is fragrant, while the other has a bitter taste. This plant is also well-known for its great healing properties, making it a good ingredient to create good herbal medicines.
These can be found around lakes and river banks in some specific regions in Liyue, so to travel to these and find them can be quite hard if you don't know the exact spawn locations. So, to give you a helping hand, we will share a map with every place where you can find Lotus Heads in the wild.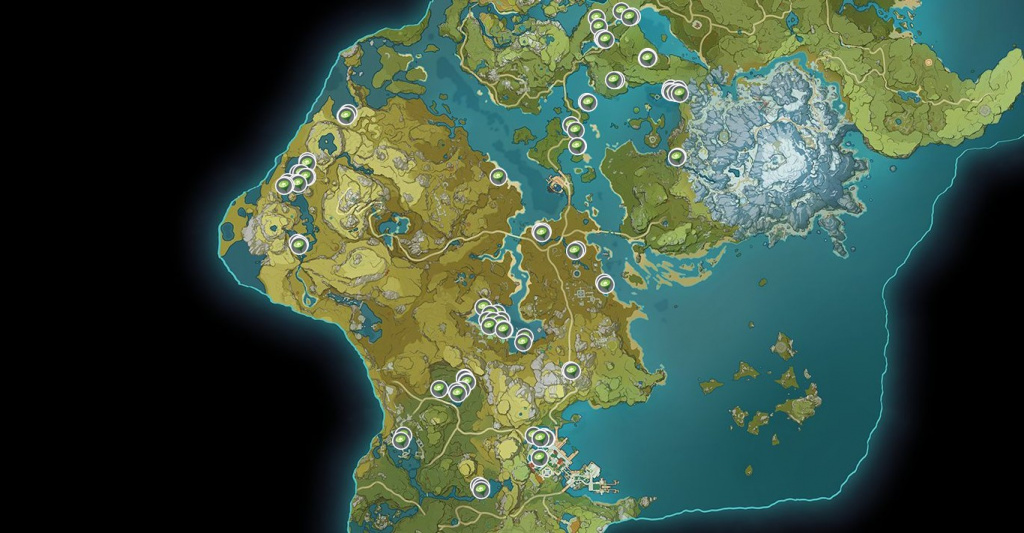 (Picture: Genshin Impact Interactive World Map)
As you can see, the best places to get plenty of them are around the Luhua Pool, the  Huaguang Stone Fortress, the Qingce Village, and at some random points near Liyue Harbor, Hidden Palace of Guizang Formula, and the Wangshu Inn.
Besides this, you can also get yourself some Lotus Heads by buying them at Bubu Pharmacy for 300 Mora each, or at the Wanmin Restaurant for 270 Mora each, up to a maximum of ten per week in any of the options.
You can also get a nice supply of Lotus Heads by sending your characters to collect them as part of the daily commission in the Adventurers Guild.
Crafting recipes with Lotus Heads
(Picture: miHoYo)
Now, let's move on to crafting. The Lotus Heads can be used for many recipes, all of them focused on giving you an advantage on the battlefield, as well as increasing your chances to survive.
Streaming Essential Oil: 1 Frog, 1 Lotus Head
Desiccant Potion: 1 Butterfly Wing, 1 Lotus Head
Jade Parcels: 3 Lotus Head, 2 Jueyun Chili, 2 Cabbage, 1 Ham
Qingce Stir Fry: 3 Mushroom, 2 Lotus Head, 1 Jueyun Chili, 1 Cabbage
Jewelry Soup: 2 Snapdragon, 2 Tofu, 1 Lotus head
Lotus Seed and Bird Egg Soup: 1 Lotus Head, 1 Bird Egg, 1 Sugar
Universal Peace: 4 Rice, 2 Lotus Head, 2 Carrot, 2 Berry
The Jade Parcels and Qingce Stir Fry will help you increase the ATK and CRIT stats of your party, while the Jewelry Soup will do the same with your DEF, and the Lotus Seed and Bird Egg Soup is focused on Stamina.
Finally, the Universal Peace restores 30-34% of Max HP and an additional 600-1900 HP to the selected character, making it one of the best healing recipes, and both the Oil and the Potion will be a great help against Cryo enemies and hoards.
And that's all we got to share with you about the Lotus Heads. If you want to see more Genshin Impact tips, tricks and guides, don't forget to join our community of travellers on our dedicatedGenshin Impact Twitter.