Genshin Impact's Neko Is a Cat series is one of the most famous quest chains containing a total of nine tasks. From the iconic dialogues to intriguing tasks, the quest series has received an overwhelming response from Genshin Impact fans. The Cat's Trail is one of the nine quests in the series that eventually reward Travelers with free Primogems as well as other resources upon its completion.
The Cat's Trail quest involves helping Neko in finding a kitten named Konbumaru. The only caveat is that Travelers have to locate it within a certain time limit. Therefore, many players are having a hard time while finding its exact position. If you're also one of them, here's a guide that includes the steps to activate the quest and Konbumaru location.
Completing The Cat's Trail quest in Genshin Impact
Since this task is part of the Neko Is a Cat questline, you will need to first feed the cats with Invigorating Kitty Meal. This will be spread around the shrine and must be performed in order to unlock The Cat's Trail quest. 
Once it appears in the game, trigger the questline by speaking with Neko, who will be sitting on the counter of the shrine in the Asase Shrine on Seirai Island. After activating it, the primary objective is to find Konbumaru (the kitten) within a specific duration and return it to Neko.
Here is its exact location:
As you can see in the image above, Konbumaru is on top of the giant chopped tree behind the Asase shrine. Players can reach it by simply climbing the tree from one of the sides. 
As soon as you catch the kitten, head back to the Asase Shrine and talk to Neko once again. At this point, the conversation will go like this:
Neko: How does your task go? Have you found Konbumaru? Sure did.
(Konbumaru jumps out of your arms and disappears again...)
Paimon: ...Wait, what? It's run off again!


I'll go get it back!
Well, I never...

Neko: No, there's no need to give chase.
Neko: It is this one that that child is still angry at... This one will teach them a lesson personally later.
Neko: Ah, it is almost old enough to be an adult cat. Why is it still so stubborn? What would we do if it frightened the humans coming to the shrine?
Neko: Right. This is for you as thanks for your help.
Neko: *sigh* Why can't this child be as teachable as Meshi…
After a short cutscene, The Cat's Trail commission quest will be marked as completed and you will receive 10x Primogems and other Genshin Impact currencies to your account.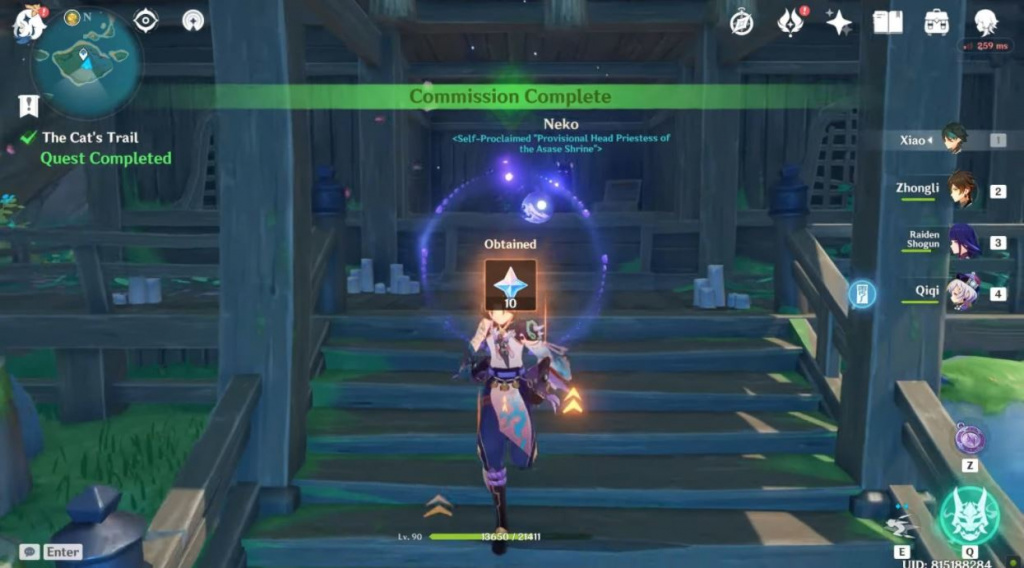 So there you have it, everything you need to know about completing Genshin Impact's The Cat's Trail quest.
Don't forget to check our dedicated Genshin Impact section, where you can find all the news, guides and leaks you desire.
Featured image courtesy of miHoYo.