miHoYo has recently released the much anticipated Genshin Impact 2.0 update for all the platforms. The update is packed with exciting new content, including events, weapons, characters, and a brand new partially unlocked region. Among the plenty of new features, the new Preferred Region system is a key addition to the Genshin Impact, allowing players to do commission quests in a specific region.
Along with this new option, the developers have also introduced the new Inazuma region, loaded with extra reputation quests and rewards. Unfortunately, Travelers can't unlock it right away in the game. Before you head over to the Inazuma region, it's important to note that you must have at least Adventure Rank 30, and that's not all you need to unlock it. Keep reading this article to figure out the complete process.
Unlocking Inazuma Region for Commission Quests in Genshin Impact
To unlock Inazuma in Genshin Impact, players will have to complete the 'Autumn Winds and Scarlet Leaves' main scenario quest if they haven't already. These questlines were added into the Genshin Impact 2.0 update that provides an introduction to the Archon Quests' Chapter 2. 
Therefore, Travelers must navigate to Liyue Harbor and talk with the Adventurer's Guild receptionist, Katheryne. After a cutscene, Katheryne will task players to board the Alcor to speak with Beidou.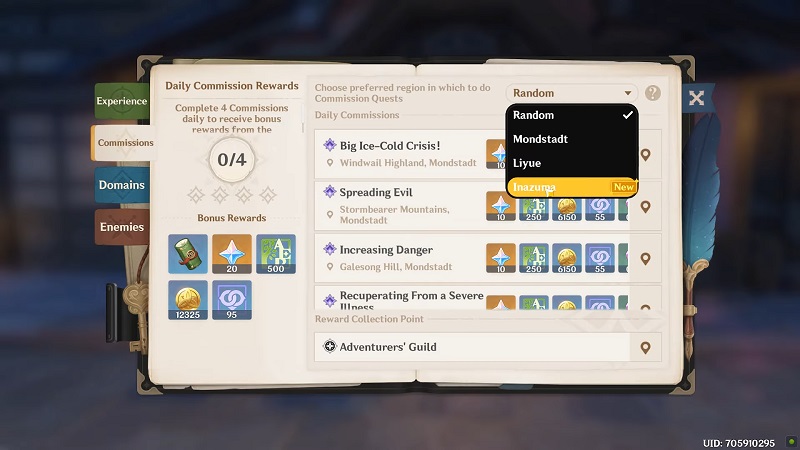 Inazuma Region unlocked for Commission Quests (Picture: miHoYo)
After conversing with her, Genshin Impact players will find themselves in the new Inazuma region, where they can complete the rest of the quest.
Once you walk through the preface, the game will assign you the next Archon Quest entitled 'The Immortal God and the Eternal Euthymia.' There, you have to follow the marker and meet Madarame Hyakubei, standing near the Kamisato Estate.
Following several dialogues, the game will grant you access to the Inazuma region for the Commission quests. Finally, players can change the region by accessing the Adventurer's Guide from the Paimon menu and navigating to the Commissions tab. 
Once there, they can set the Daily Commission region to Inazuma from the dropdown list in the top right corner of the screen. Moreover, after the final cutscene, the players will receive 20K Mora and 2x Hero's Wit as a part of the quest's reward. 
Check out the ZaFrostPet video showcasing the same process to unlock it in a short space of time.
Don't forget to follow our Genshin Impact dedicated section packed with guides, updates, news, and more.