For a Free to Play character, Kaeya is surprisingly useful. His Elemental Burst is long-lasting and persists when he's not on the field, and Frostgnaw (his Elemental Skill) is eminently spammable and applies Cryo in a decent, if limited, AoE as well.
That makes him a worthy candidate for consideration in your active roster as a genuinely good enabler. Here's how to get the most of Kaeya.
Genshin Impact Kaeya guide
Weapons
While you can run most damage swords on Kaeya, his kit isn't set up that well for a DPS focus. Instead, you're better off looking for a more supportive option. 
The top of that list includes these beauties:
Sacrificial Sword
(Picture: miHoYo)
Like all the other editions of the Sacrificial archetype, the Sacrificial Sword offers great Energy Recharge (perfect for spamming Kaeya's Elemental Burst) and also has the Composed ability, adding a 40% chance to immediately end an Elemental Skill's cooldown after using that skill to damage an opponent. Frostgnaw is already extremely spammable, this just helps.
A sword for more Cryo, more of the time.
Cool Steel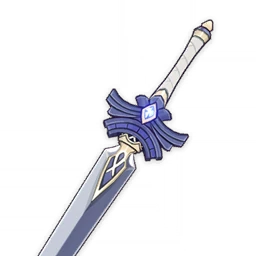 (Picture: miHoYo)
Cool Steel offers decent raw Attack stats (nothing to sniff at), but more importantly amps damage against enemies affected by Hydro and Cryo by 12%, which is all too easy for Kaeya to accomplish. Even more enticing is the fact it's a 3* Weapon, making it very easy to farm and refine that ability up to a 24% amp at Rank 5.
Fillet Blade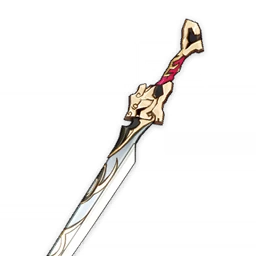 (Picture: miHoYo)
Another 3* choice, but this one is about eeking out a little more burst damage from Kaeya before you switch him out. With a 50% chance to activate, it isn't hard to get the Gash ability to proc, adding an additional 240% damage to a single target once every 15s.
Throw out Frostgnaw, attack 1-3 times to proc the ability, activate his Elemental Burst and this weapon will definitely feel a lot more dangerous than its 3* rating would suggest.
If you do want to run Kaeya as a DPS option, The Flute, Aquila Favonia and Black Sword are all worthy options.
Artifacts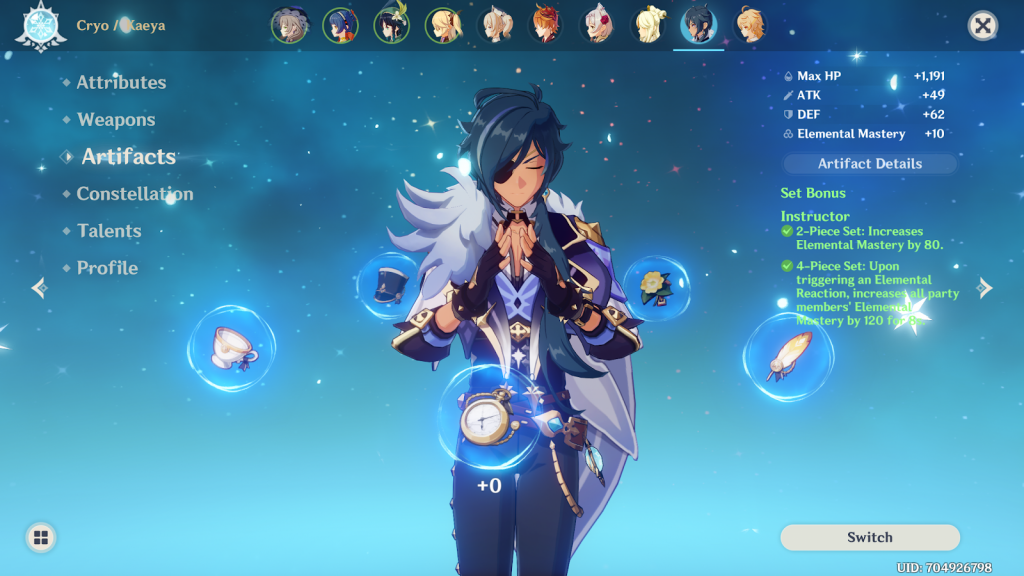 (Picture: miHoYo)
Much like with his weapons, Kaeya is often best served by relatively easily obtained artifact sets. Community consensus recommends the likes of 2-piece The Exile with 2-piece Scholar for a full 40% Energy Recharge, ensuring Glacial Waltz will be available as often as you can.
Full sets of Instructor or The Exile are definitely in a similar veinhttps://www.ginx.tv/en/genshin-impact/genshin-impact-xiangling-guide-weapons-artifacts-and-more but drop some Energy Recharge to add further effects for the party or Elemental Mastery to facilitate harder-hitting Elemental Reactions.
Noblesse Oblige is also a strong choice, especially on a build that's all-in on his Elemental Burst damage rather than purely how easily available it is.
Read more: Genshin Impact Xiangling guide: weapons, artifacts, and more 
If you do want to run him as a DPS choice, full 4-piece Gladiator's Finale is your best choice. An additional 48% damage on normal attacks is best in class.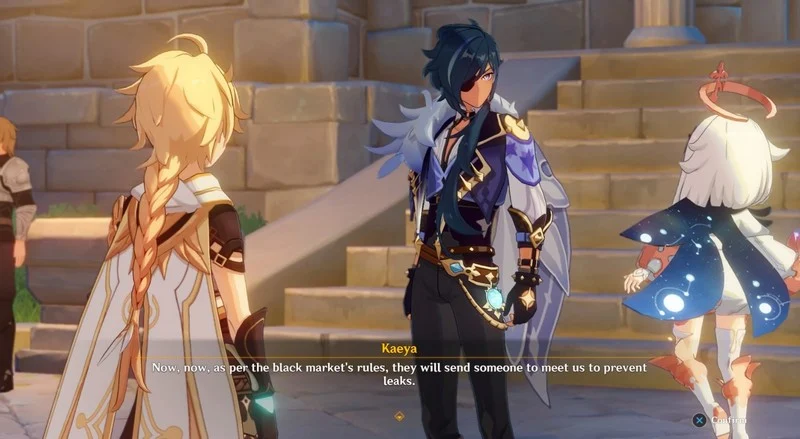 For a knight, Kaeya is certainly… shady. (Picture: miHoYo)
Artifact Stats
Kaeya's stat priorities are relatively straightforward: improve how often his Elemental Burst is available and 
Main Stats
Energy Recharge Hourglass
Cryo DMG Goblet
ATK%
Sub Stats Priority
Energy Recharge
Elemental Mastery
ATK
You should prioritise Crit Rate into Crit DMG for a DPS build.
Play Patterns
Kaeya finds his niche in team compositions by virtue of his spammable Elemental Skill, Frostgnaw, and his persistent Elemental Burst, Glacial Waltz.
A full combo for Kaeya involves using Frostgnaw on a group of enemies to apply Cryo, attacking a few times to activate any Weapon Abilities (see: Fillet Blade), then using Glacial Waltz before switching out to a team member who can use the ongoing Cryo damage application.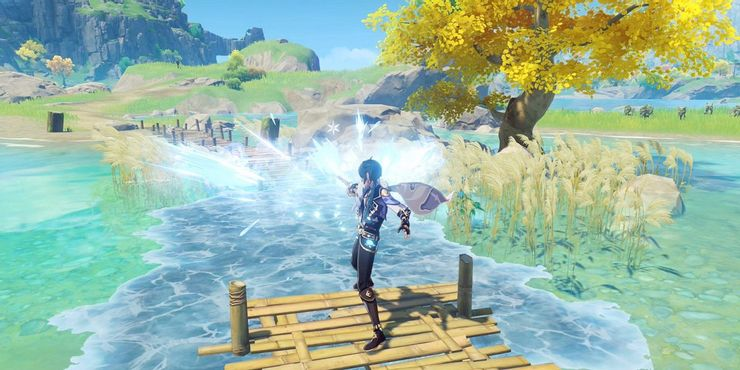 Walking on water. Never forget the exploration utility Kaeya brings! (Picture: miHoYo).
You can switch back to Kaeya relatively often whenever you need to reapply Cryo due to the low cooldown on Frostgnaw, waiting on Glacial Waltz to really apply all your team's damage.
Pyro users like Xiangling and Diluc synergise well with Kaeya, as they can activate the Melt Elemental Reaction, and attack at a range that synergises very well with Glacial Waltz (Xiangling's Elemental Burst is the Pyro equivalent of Kaeya's Burst, for example).
Electro users are another good choice, due to Superconduct offering a 40% Physical RES debuff to enemies, as is Hydro for Freeze+Shatter combos.
Now you have all the moves, it's time to see whether your opponents can keep up with Kaeya's waltz. Good luck!