Qiqi is potentially the best support and healer in the game. If you've been lucky enough to roll Liyue's most adorable zombie, here's how to make the most out of this Cryo healer and enabler.
Genshin Impact Qiqi guide
Weapons
For all that she's a healer and an enabler, Qiqi has a bite to her damage. Her abilities all scale off her attack and hitting enemies in the face, and that means she needs a weapon to match even if you want to use her for her supportive qualities
Skyward Blade

(Picture: miHoYo)
Qiqi's healing scales off her Attack, and how often and hard she hits enemies when she uses her Elemental Skill and Burst. Sky-Piercing Fang means she can do all of that so much more efficiently, and it comes with Energy Recharge to ensure her Burst is up even more often.
If you want to use Qiqi as more than just a healer, but also to offer a decent amount of burst damage, Skyward Blade is a great choice
Sacrificial Sword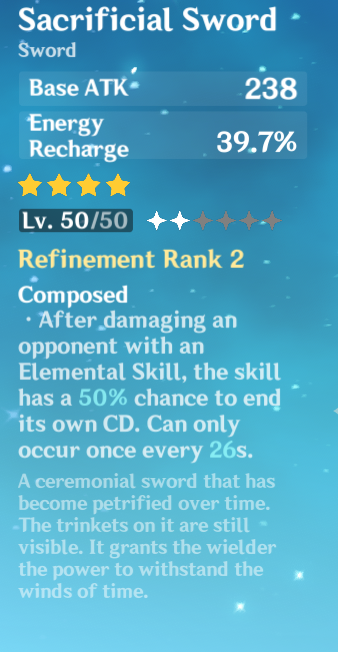 (Picture: miHoYo)
The best option in the game right now for a primarily supportive and enabling playstyle on Qiqi. Energy Recharge means that Preserver of Fortune is up more often, while Composed means more uptime for her Elemental Skill, Herald of Frost - especially when it can activate the ability with any of its extended damage after summoning, not just the initial burst!
Heals and skills up nearly permanently; what's not to love?
The Flute

(Picture: miHoYo)
A more aggressive option than the previous two, straddling the line between support and DPS. The key is getting to 5 Harmonics and getting massive healing from the AoE attack courtesy of Chord synergising with Qiqi's Elemental Skill and Burst on-hit healing.
You'll have your abilities up less often with this choice, but you'll make excellent use of them when they are active.
Aquila Favonia

(Picture: miHoYo)
A final nod has to go towards Aquila Favonia. Qiqi is a more than capable DPS with a lot of inherent longevity thanks to her ability to heal her way through tough incoming damage. Aquila Favonia indexes into that: facetank the enemy with your skills running, laugh off the damage with your healing, and watch the enemy murder themselves as Falcon's Defiance heals you even more and retaliates for 200% of your ATK.
It's… kind of ridiculous, frankly.
Some other options include Black Sword (DPS), Favonius Sword, and Cool Steel.
Artifacts