Genshin Impact will be bringing back the Misty Dungeon trial domain event for a rerun in its 2.3 update. Similar to its previous run, this upcoming event, Misty Dungeon: Realm of Light, will see players assemble their party from the available trail roster and complete the various themed trails for rewards.
While the gameplay mechanics, rules and rewards remain fairly the same, the previous run featured six different trails whereas the upcoming rerun will have seven trails to complete. Here is what you need to know about the Misty Dungeon rerun event including event date and time, how to access the event, rewards and more.
How to access the Misty Dungeon: Realm of Light event?
The event rerun will start on 17th December 2021 at 10 am server time, in which you will need to complete several trials before the event concludes on 27th December 2021 at 3:59 am server time. For you to gain access to this Misty Dungeon rerun, all players will need to be Adventure Rank 20 or higher to play.
"Misty Dungeon: Realm of Light" Gameplay Details

Nothing from outside the Lost City can ever be taken inside. Assemble your adventure dream team and prepare to journey to a place of profound secrets.

See Full Details >>>https://t.co/OiCivrvPzv#GenshinImpactpic.twitter.com/k6R5z4v88d

— Genshin Impact (@GenshinImpact) December 16, 2021
There are seven trails, each ranging in themes, for you to participate in to earn rewards for the completed trials.
These trails will be unlocked to players every alternate day, with the first two trails available on 17th December 2021. The next two trials will be unlocked on 19th December 2021 with the final three trials available on 21st December 2021.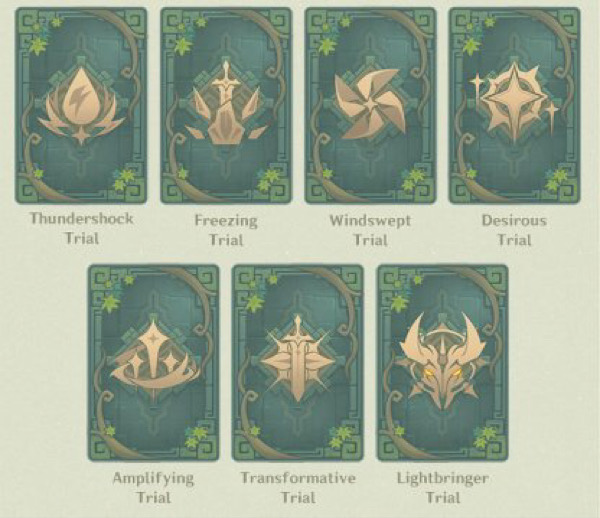 How to play the Misty Dungeon: Realm of Light event?
To complete the event, you will need to complete several objectives over seven trails. These objectives are the following:
Select your party members before entering the trial domain
Initiate all three Ancient Runes
Complete the Benediction challenges to buff your party members
Pass the event's Final Challenge to complete the trial
Depending on which trail you are participating in, there will be selected trail characters available for you to assemble your party from. These characters will also meet the same Constellation level as your character before entering the trial domain. Much like the Battlefront: Misty Dungeon trial, there will be no elemental resonance activated during this trial.
What can work to players' advantage is by considering the Ley Line Disorder. Based on the Ley Line Disorder for each trial, you may want to consider forming a party with characters that can achieve maximum benefits. To put this into context, if a domain uses a Ley Line Disorder that increases Electro damage, you would be better off having Hydro and Electro party members enter the domain with you.
Throughout every trial, you will need to activate three various Ancient Runes within a specific timeframe to complete the trial's Final Challenge. These runes are highlighted as red beacons in the trial domain.
Once a trial has begun, there will be three deactivated runes within the trial domain. You will have to complete the rune challenges for you to acquire the power to activate the runes and complete the Final Challenge.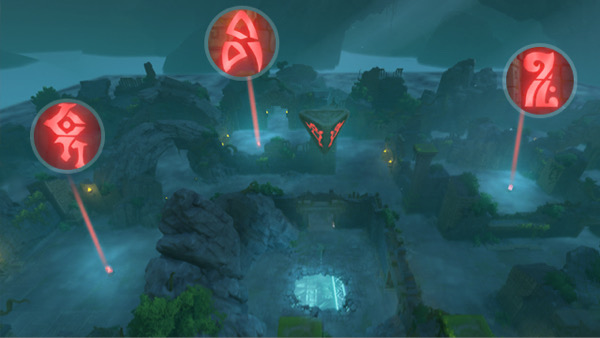 Before you attempt to start the trail's Final Challenge, it may be advised you complete the Benediction challenges to reward you and your party members with various buffs. These challenges are optional to players but these buffs can help you clear out the trial domain faster thanks to the effects from these Benediction challenges.
After activating all the runes with the option of doing the Benediction challenges, you are ready to complete the trail's Final Challenge. Players will need to access the Control Array to enter the Final Challenge.
During the Final Challenge, you and your party members will have to fight off waves of enemies to complete the challenge. If you had done the Benediction challenges, the Final Challenge would be much easier to complete.
Once you have completed the trial's Final Challenge, there are rewards to be collected at the end of each trial.
What reward can players earn in the event?
Upon completing all seven trials throughout the event's duration, players will receive various rewards for each trial. Players will need to ensure that they have collected their rewards from every trial before the event ends. The rewards players can earn from the event are as follows:
Primogems
Mora
Character EXP Materials
Hero's Wit
Mystic Enhancement Ore
Talent Level-Up Materials
And that's is our complete guide into the upcoming Misty Dungeon rerun event. If you're looking for more Primogems and Mora to add to your pockets or looking to buff your characters, we recommended tackling the Misty Dungeon: Realm of Light event for bonus rewards.
Don't forget to check out our dedicated Genshin Impact guide for the latest news, updates, guides, leaks and more.  
Featured image courtesy of miHoYo.