At the Game Awards 2020, the highly-successful MMO from MiHoYo, Genshin Impact, was nominated in "Best Mobile Game" and "Best Role-Playing" categories.
While the game didn't win any awards, developer MiHoYo wants to thank players for enjoying their creation and will be distributing 800 free Primogems to all Genshin Impact players.
How to get free Primogems in Genshin Impact
Primogems is the premium currency for Genshin Impact, which makes it both rare and valuable. While you can purchase it with real money, you will also get some free Primogems from 12th to 15th December.
On Twitter, the developer announced: "Dear Travelers, with your support, Genshin Impact was nominated for the 'Best Mobile Game' and 'Best Role-Playing' categories at The Game Awards 2020. 
"We will be giving out 800 Primogems from December 12 to December 15. Thank you all for standing by us!"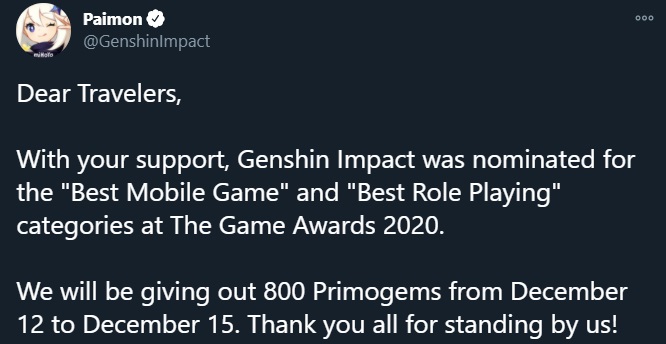 (Picture: Twitter)
Simply put, you don't need to do anything to get the free Primogems, except for possibly logging into the game each day during those dates to claim them as free rewards simply for playing the game. 
Primogems can, of course, be used to level up your Battle Pass, get more characters, or replenish up to 60 Original Resin, amongst other things.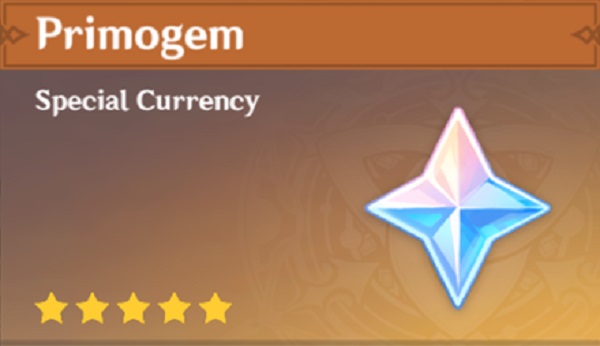 (Picture: MiHoYo)
This makes Primogems in Genshin Impact a precious currency, and you can look forward to getting 800 Primogems for free in the period between 12th and 15th December.
At the time of writing, it is unclear exactly what time the free Primogems will be distributed, so it is best to log on every day to see if you've received them.