Genshin Impact has made it possible for travellers to believe that home is really where the heart belongs with the introduction of its housing system – the Serenitea Pot. With this nifty teapot, travellers can decorate their home how they choose to with an array of customisations available.
Before you start to decorate your space, travellers will need to stock up on some valuable resources for which they can consult with Tubby. This guide will help players with the list of materials needed to craft items for their home as well as where to find one main material essential in crafting.
Serenitea Pot: Fabrics and dyes and what they cost
Fabrics and dyes make up for some of the materials travellers will rely on when furnishing their home space. To craft these materials, travellers will need to speak with Tubby, select Create Furnishing and decide between two options – Furnishings and Creations.
Furnishings, which will refer to much later, is where your furniture, decorative items and objects can be crafted from. Creations is where resources can be crafted into fabrics and dyes used for your crafted furnishings.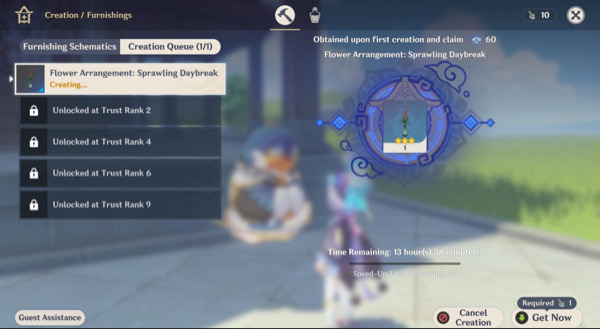 1 Fabric cost 1 Silk Flower

1 Red Dye cost 1 Sunsettia, Carrot or Valberry

1 Yellow Dye cost 1 Berry or Cor Lapis

1 Blue Dye cost 1 Mint or Wolfhook
If travellers don't have any of these items to craft, specifically, the fabrics required, travellers can spend 10 Realm Currency to purchase them. We believe it's best to reserve your Realm Currency for emergency purposes so it's up to travellers should they wish to use their money for purchasing.
Serenitea Pot: Best wood locations 
With the fabrics and dyes acquired, the next material travellers should stock up for crafting is wood. And while wood is plentiful throughout Teyvat, they can be harvested by hitting a tree with any of these weapons: sword, polearm or claymore.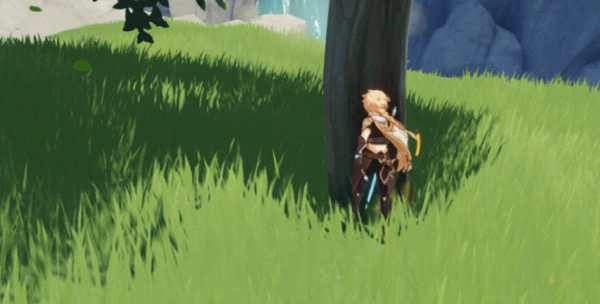 Trees in Teyvat spawn wood every few minutes, ensuring that travellers are guaranteed to gather wood. The wood spawns at a ratio of three pieces per tree and if you're lucky to find yourself in a forest or open field, you can collect as much wood needed for crafting.
If you are looking for the best locations to find wood, you can refer to the Genshin Impact Interactive map to find trees or travel to these locations which spawn a variety of wood types.
Aralia: Narukami Island, Inazuma

Bamboo: Bishui Plain, Liyue

Birch: Windwail Highland, Mondstadt

Cuiha: Bishui Plain, Liyue; Starfell Valley, Mondstadt

Fir: Galesong Hill, Mondstadt; Starfell Valley, Mondstadt

Fragrant Cedar: Starfell Valley, Mondstadt

Maple: Narukami Island, Inazuma

Otogi: Yashiori Island, Inazuma

Pine: Dragonspine, Mondstadt

Sandbearer: Lisha, Liyue; Minlin, Liyue

Yumemiru: Narukami Island, Inazuma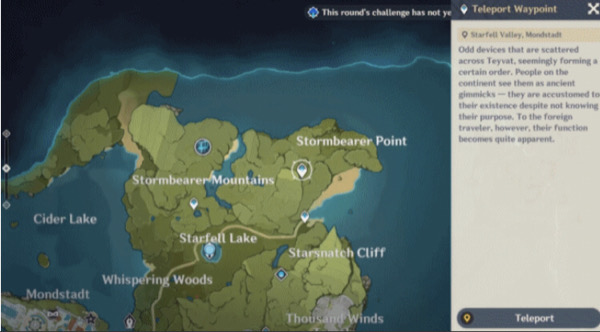 Once travellers have harvested and gathered all the materials they require, you can start crafting beautiful furnishings and ornaments to make your home feel like home. For the basic guide on how to utilise the Serenitea Pot, visit the official Genshin Impact site for more information.
Don't forget to check our dedicated Genshin Impact section, where you can find all the news, guides, and more.
Featured image courtesy of miHoYo.