Update 1.5 is coming to Genshin Impact, and while we already know all the content that will arrive as part of it, miHoYo has revealed the details of the featured banners that will be available from day one.
This time and as in other patches, we will have two banners within the Event Wish section, with one of these bringing the long-awaited return of a Liyue character along with the debut of a new one, while the other will be focused on the coveted Legendary weapons.
Gentry of Hermitage character banner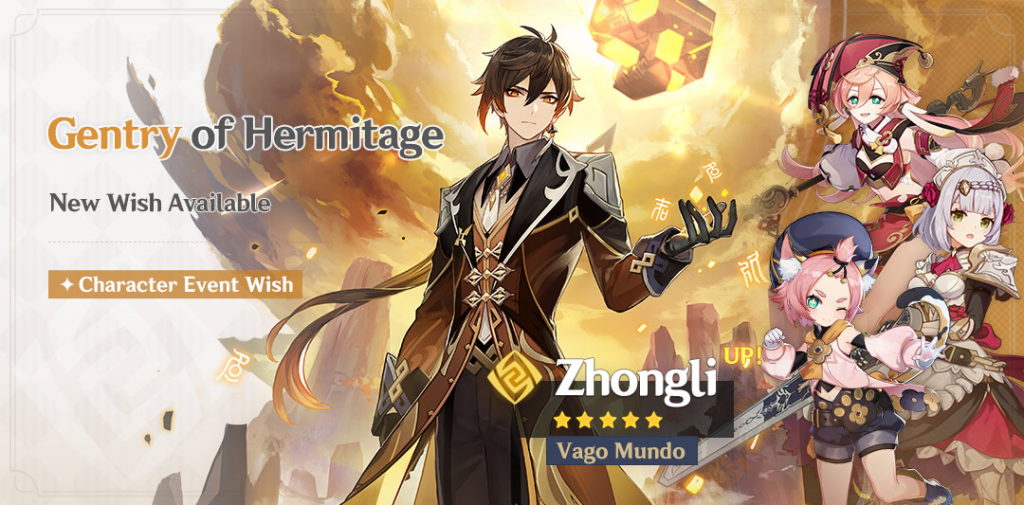 (Picture: miHoYo)
One of the main banners of this update will be the so-called "Gentry of Hermitage", where players will have a bigger chance of getting the event-exclusive 5-star character "Vago Mundo" Zhongli, a Geo Polearm character who has some of the best defensive stats in all the game.
Along with him, the 4-star character "Wise Innocence" Yanfei (Pyro) will make her debut in Genshin Impact, of which you can know all her details in our Yanfei's character guide. "Chivalric Blossom" Noelle (Geo), and "Kätzlein Cocktail" Diona (Cryo) will also receive a huge drop-rate boost.
Epitome Invocation weapon banner
On the weapons side, the "Epitome Invocation" banner will bring back two event-exclusive legendary weapons to strengthen your team, these being the Summit Shaper (Sword), and the Memory of Dust (Catalyst).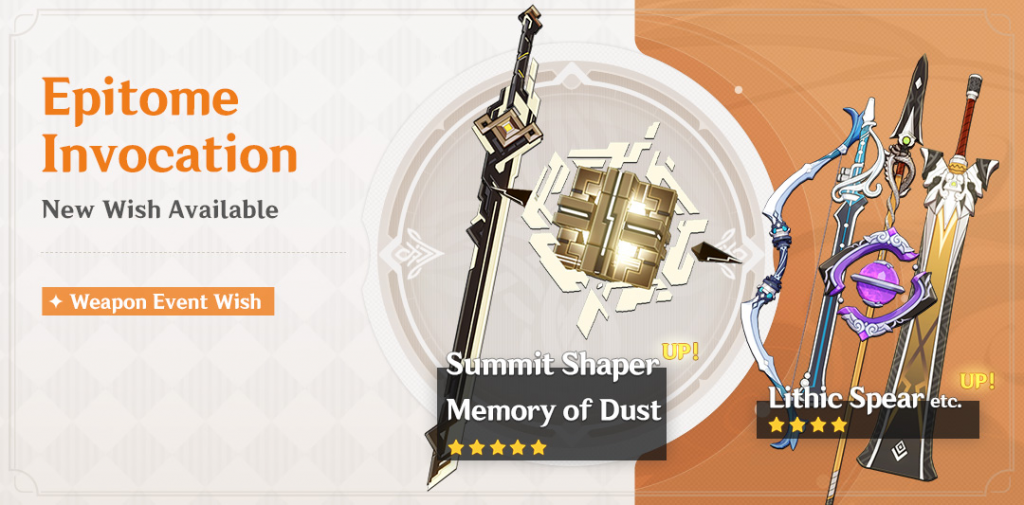 (Picture: miHoYo)
Both the Summit Shaper and the Memory Dust can increase Shield Strength by 20/25/30/35/40%. Scoring hits on opponents increases ATK by 4/5/6/7/8% for eight seconds, up to a max of five stacks. This can only occur once every 0.3 seconds. While protected by a shield, this ATK increase effect is increased by 100%.
Besides these, the event-exclusive 4-star weapons Lithic Blade (Claymore) and Lithic Spear (Polearm), as well as the 4-star weapons The Flute (Sword), Eye of Perception (Catalyst), and Sacrificial Bow (Bow) will receive a huge drop-rate boost.
Both banners will be available from the release of version 1.5, until 18th May, 2021.