After being announced almost two weeks ago, the new Genshin Impact update 1.4 will be available this 16th March, bringing with it some changes to the game as well as new events.
The update is now available for pre-download on both PC and mobile versions, so now we bring you everything you need to know about it, along with everything that awaits you to make the most of it.
The Windblume Festival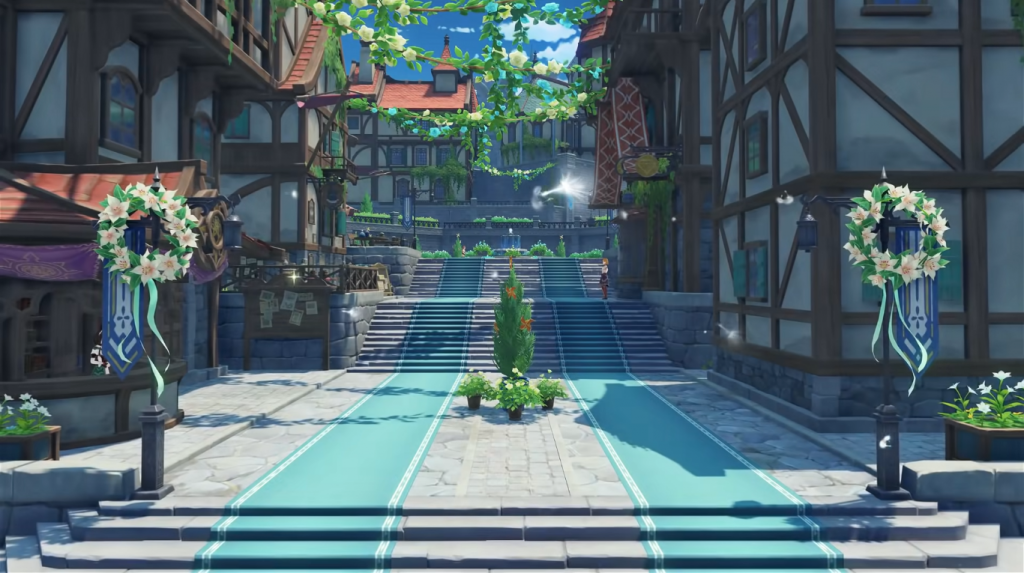 (Image: miHoYo)
As we mentioned before, the Windblume Festival will be an event divided into three sections:
Festive Anecdotes
A series of Windblume Festival quests that will become available during the event. Four acts of "Festive Anecdotes" will unlock over the course of the event, each bringing new quests.
Complete these to win rewards including Primogems, Character EXP Materials, and Mora.
Festive Challenges
Take part in challenges during the Windblume Festival to obtain two currencies: Festive Tour Tickets and Peculiar Collab Coupons.
You can spend these currencies at the Event Shop to purchase the event-exclusive weapon Windblume Ode and its exclusive refinement material "The Visible Winds," as well as the Crown of Insight and more.
Peculiar Wonderland
A new type of Domain in which players can play three mini-games of speed and memory in order to gain certain advantages before they face its final boss.
Completing these will also earn you Festive Tour Tickets and Peculiar Collab Coupons, to spend at the Event Shop.
The Windblume Festival will be available from 19th March to 5th April.
Hangout Events
(Image: miHoYo)
During Hangout Events, players will be able to learn more about the playable characters through special interactions, the first being Barbara, Noelle, Chongyun, and Bennett.
Players must choose the correct options in each of these to advance in the story and unlock Hangout Memories, which will give us postcards of our dates and additional rewards.
Each of these can be unlocked by using Story Keys and will be available at all times even if we couldn't complete them.
This will be permanently available after the Version 1.4 update. Also, you must have reached Adventure Rank 26 or above, and have completed the Archon Quest "Prologue: Act III - Song of the Dragon and Freedom", to have access to these.
Ballad in Goblets featured banner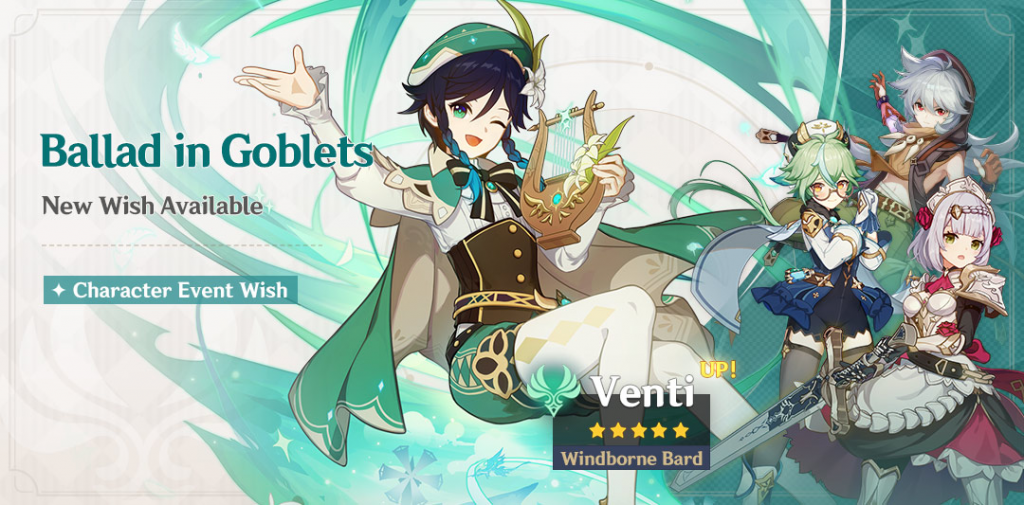 (Image: miHoYo)
With the arrival of the update, a new featured banner will be available. It will bring back the opportunity to get our hands on Venti, the Archon also known as Barbatos.
During the banner period, the 4-star characters Sucrose (Anemo), Razor (Electro), and Noelle (Geo) will receive a drop-rate boost.
This banner will be available until 6th April.
In addition, a Test Run will be available through the Events interface, where players can test the playability of the featured characters, as well as obtain some rewards.
Outland Gastronomy login event


(Image: miHoYo)
From 16th March to 1st April, a login event with daily rewards will be available, with the following rewards being awarded to players over a period of seven days.
Day 1: Hero's Wit x3

Day 2: Recipe - Exotic Gourmet

Day 3: Primogems x100

Day 4: Mora x50,000

Day 5: Hero's Wit x5

Day 6: Recipe - Golden Fried Chicken

Day 7: Primogems x200
As the only requirement to obtain the daily rewards, players must have an Adventure Rank 5 or above.
Epitome Invocation banner update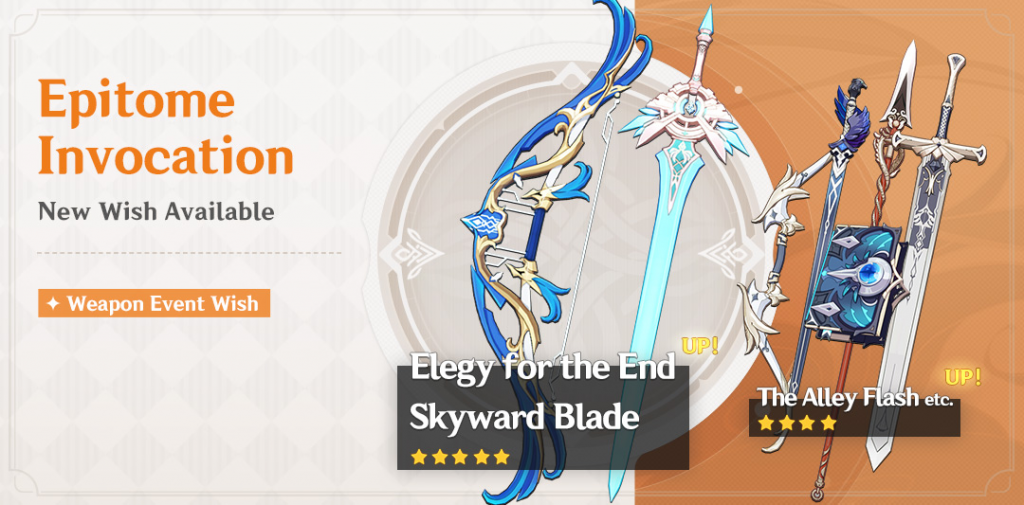 (Image: miHoYo)
Along with the Venti banner, the Epitome Invocation legendary weapons banner will receive an update, bringing with it new weapons based on the Windblume Festival, highlighting the event-exclusive 5-star weapon Elegy for the End (Bow) and the 5-star weapon Skyward Blade (Sword).
Additionally, the event-exclusive 4-star weapons The Alley Flash (Sword) and Wine and Song (Catalyst) and the 4-star weapons Favonius Greatsword (Claymore), Favonius Warbow (Bow), and Dragon's Bane (Polearm) will receive a huge drop-rate boost.
This banner will also be available until 6th April.


(Image: miHoYo)
Finally, travelers can earn rich rewards in "Windborne Blossoms" during the event duration.
Sojourner's Battle Pass will be unlocked by default every BP Period. Travelers can also unlock either Gnostic Hymn or Gnostic Chorus in order to earn even more rewards, or directly purchase Gnostic Chorus at a discounted price.
By unlocking "Gnostic Hymn" or "Gnostic Chorus", players can earn Intertwined Fates and a designated 4-star weapon, while purchasing "Gnostic Chorus", players can get directly the exclusive BP namecard "Travel Notes: Windblume."
This will be available until the 26th April.
For more on Genshin Impact, check out our guide to complete the Vishaps quest with every location to find them.