With the new Genshin Impact update arriving in a few days, kicking off the long-awaited Lantern Rite, the time has come to talk about one of the most anticipated characters in the game since before its launch.
Coming from the Liyue region, this character is within the group of the Adeptus, divine beings in charge of protecting and watching over the town of Teyvat, being someone with a good reputation and formidable strength, however little known to mortals due to his work from the shadows.
Introducing Xiao, the Vigilante Yaksha, also known as the Conqueror of Demons.
Xiao: His story and abilities
Xiao is a mysterious being, which was introduced a long time ago by miHoYo, when the game was still in beta testing.
His young appearance can fool everyone in Liyue, because he is actually over 2,000 years old, which has made him lonely, but also ruthless when it comes to defending the people from Liyue.
However, these same reasons make him little known within the deities of Teyvat since few know of his existence, despite his good reputation within the other Adepti.
Still, this may be for the best, as Xiao has always been committed to protecting his people from dark forces, which could instantly devour all of Liyue, so all those around him could suffer collateral damage due to his great power.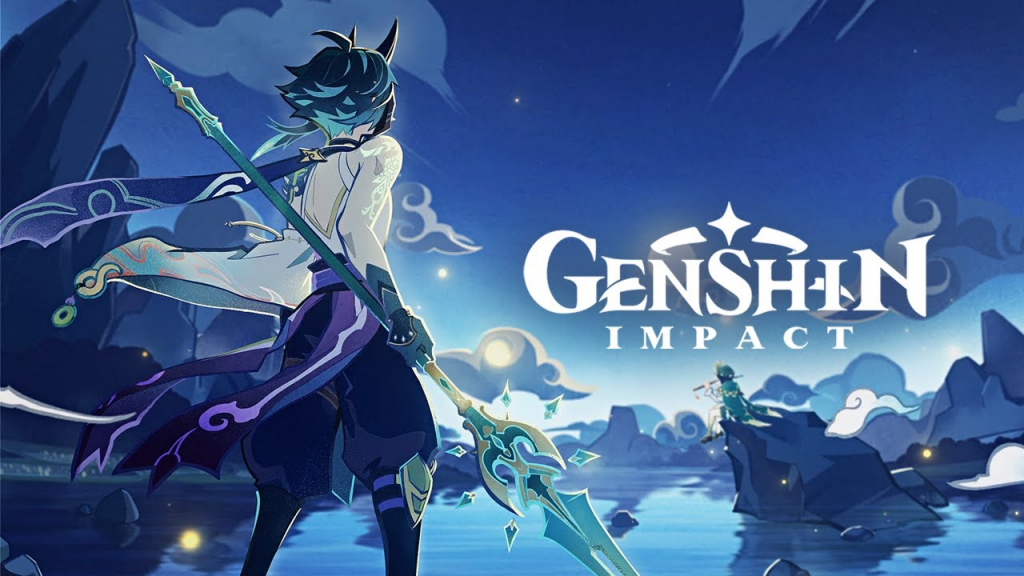 (Picture: miHoYo)
His normal attack, Whirlwind Thrust, allows him to hit the enemies with up to six rapid strikes using his polearm. When charged, Xiao dives down and impacts the ground, causing damage relative to the falling height. However, this can only be triggered in mid-air.
His elemental skill, Lemniscatic Wind Cycling, allows Xiao to lunge forward, dealing Anemo DMG to enemies along the path. This skill can also be used mid-air and will have two charges to begin with.
When activating his elemental burst, Bane of All Evil, Xiao will take on the form of the yaksha that terrified both demons and archons alike millennia ago. For its duration, it will increase Xiao's attack range and DMG, while converting damage type to Anemo and enhancing Xiao's jumping ability.
However, maintaining this form will continuously drain Xiao's HP.
Best weapons and artifacts for Xiao
Primordial Jade Winged-Spear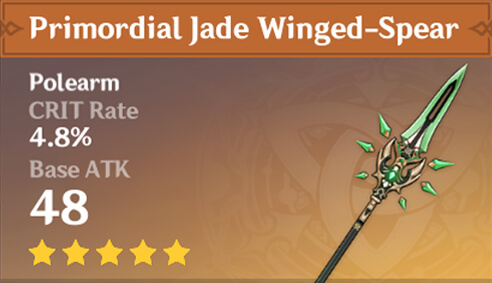 (Picture: miHoYo)
Among the most recommended weapons, the one that stands out the most is the Primordial Jade Winged-Spear, a 5-star spear that can only be obtained through gacha (and that even appears on every single Xiao's image released by miHoYo).
A weapon that, although not refined to the maximum, grants more power with each hit that is made with it for a few seconds, something that absolutely benefits Xiao's DPS level.
Halberd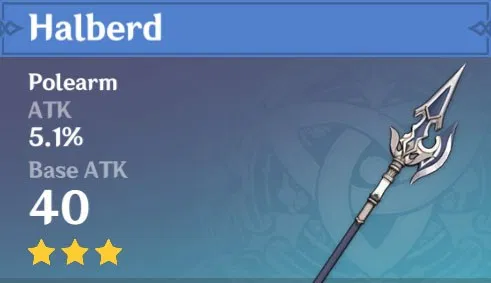 (Picture: miHoYo)
A second option, we recommend getting your hands in the Halberd, a powerful weapon even in the hands of the unskilled, with an axe on the tip that renders it somewhat unwieldy but adds slash capabilities.
When dealing damage with it, your normal attacks will deal an additional 160% DMG, up to 320% DMG when refined to the max. This effect can only occur once every ten seconds.
Let's move on to the recommended artifacts:
Gladiator's Finale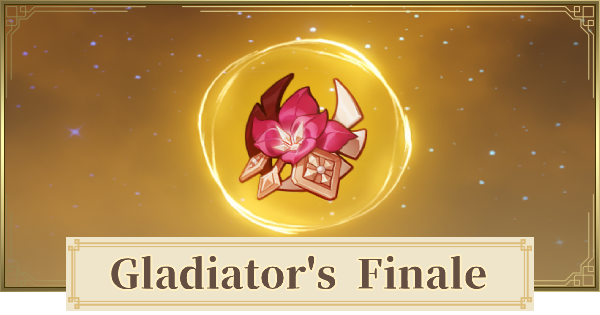 (Picture: miHoYo)
As the better artifacts to go with for the Vigilante, and if you want to focus on a more offensive composition, the key is to get hold of the Gladiator's Finale set, which will substantially increase Xiao's offensive abilities by up to 35% when having the complete set.
If not, it can be combined from the Bloodstained Chivalry set, which likewise increases physical damage and temporarily eliminates the cost of charged attacks.
Artifact Stats
As for the statistics that we will seek to get to make the most of Xiao, these will be focused on the offence, in addition to increasing his critical damage and a little of HP, to give him more chances of survival when using his elemental burst:
Main Stats
ATK(%)
Anemo DMG Bonus
CRIT DMG(%) o CRIT Rate(%)
Substats
Energy Recharge
CRIT Rate(%)
CRIT DMG(%)
HP(%)
Play Pattern
Thanks to the fact that Xiao has up to six consecutive attacks at high speed, along with a bonus of additional damage with each hit, every successful attack you deal will cause a great impact on enemies.
It's also important to learn to alternate his frantic attacks to prevent enemy counterattacks, dodging every 3 to 5 attacks, depending on your skill.
Although his moves and statistics will be very focused on the offence, you have to take care of the HP amount you have at all moments, so you can use his elemental burst on the right way, and without staying on the ropes in case a lot of enemies or some big bosses cause you trouble.

(Picture: miHoYo)
To engage in combat or finish your opponents, try to use his Lemniscatic Wind Cycling, as this will deal a good amount of damage to any enemies in front of him, and will recover a little of energy to prepare the Bane of All Evil.
It's important to note that to get more out of it, we recommend using Xiao together with:
Qiqi (Cryo): She is an incredibly powerful healer that heals her party mates based on how much damage she deals with her skills and basic attacks.
Venti (Anemo): His elemental burst attracts all enemies around and deals damage over time to them. Since the enemies will be stuck during this effect, you can switch out to Xiao and use this opportunity to trigger all his power.
Zhongli (Geo): His skills prevent significant damage with his shield while providing a moving debuff. He can also CC the enemies that neither Xiao nor Venti couldn't control.
To finish, it's important to remind you that Xiao will be available through his own banner, Invitation to Mundane Life, starting from February 3, along with the latest 1.3 update.