With the upcoming release of Genshin's 2.5 update "When the Sakura Bloom", players from all around the world are already collecting as many Primogems as possible, as one of the most awaited characters since the debut of Inazuma is set to finally be available in the game.
While you can already see by yourself some of the content revealed during the 2.5 Special Program, and a new edition of our character tier lists, miHoYo has now released the full details about Yae Miko, a maiden with unexpected intelligence and cunning hidden under her beautiful appearance.
So now, it's time to introduce you to the 5-star character featured in the next major update for Genshin Impact.
Yae Miko - Backstory and origins
Within Inazuma, Yae Miko is known by many names and roles, the Guuji of the Grand Narukami Shrine, the descendant of Hakushin's lineage, the servant and friend of the Raiden Shogun, and even a publisher of light novels and editor-in-chief of the Yae Publishing House.
Besides all of this, her priority remains to maintain the order of the shrine where the Sacred Sakura resides, while she finds all humans as fascinating creatures who shine in several ways during their short lives, which is the reason why she is so fond of them, even though she only acts as an overlooker almost all the time.
Her various attitudes are as if she is reflected in shards of a broken mirror, with a mysterious behaviour around her whenever she assumes her duties as Lady Guuji, while when she assumes her duties as head of the publishing house, she is known to be very friendly and likes to read books and stories.
Despite that, she is usually quite honest with everything that happens around the nation of Eternity, and since the arrival of the Traveler, she has taken her opportunity to help restore Inazuma from the damage caused by the Shogunate's notions, while trying to reconnect with her only friend through the ravages of time.
Yae Miko - Talents
Her normal attack, Spiritfox Sin-Eater, allows her to summon forth kitsune spirits, initiating a maximum of three attacks that deal Electro DMG. With her charged attack, she can consume some Stamina to deal Electro DMG in a bigger area, after a short casting time.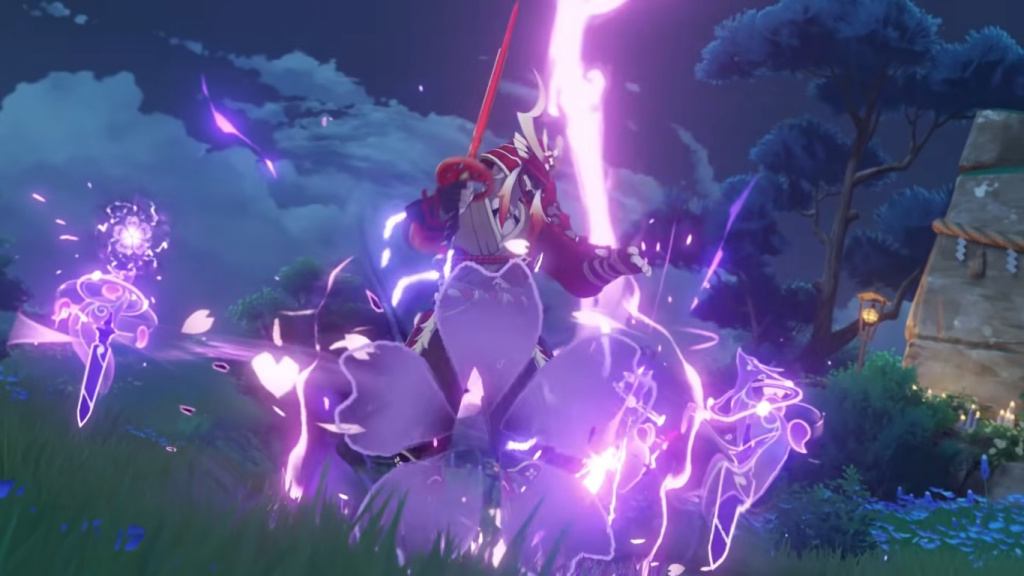 With her elemental skill, Yakan Evocation: Sesshou Sakura, Yae Miko will move swiftly up to three times, leaving a Sesshou Sakura behind. This trail will periodically strike one nearby opponent with lightning, dealing Electro DMG.
When there are other Sesshou Sakura nearby, their level will increase, boosting the DMG dealt by these lightning strikes. If there are three Sesshou Sakura already and a new one is created too close to an existing one, the existing one will be destroyed.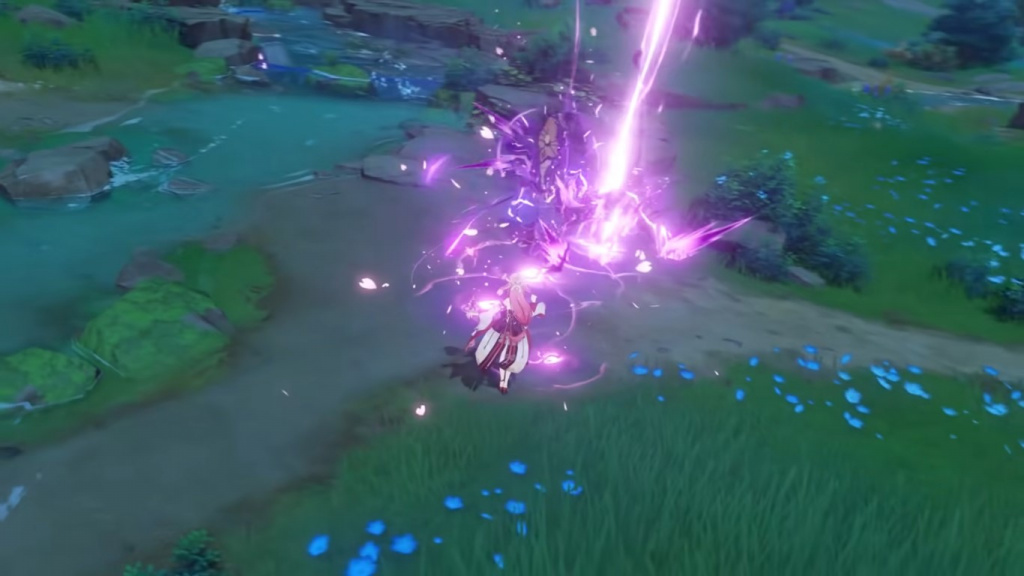 With her Elemental Burst, Great Secret Art: Tenko Kenshin, Yae Miko will summon a powerful lightning strike, dealing AoE Electro DMG. When she uses this skill, Yae Miko will unseal nearby Sesshou Sakura, destroying their outer forms and transforming them into Tenko Thunderbolts that descend from the skies, dealing more Electro DMG in their areas of impact.
Each Sesshou Sakura destroyed in this way will create one Tenko Thunderbolt.
Yae Miko - Best weapons
Kagura's Verity
Starting with the best 5-star weapon, a new Catalyst will be available to coincide with her debut known as Kagura's Verity, which comes with a special passive called Kagura Dance of the Sacred Sakura.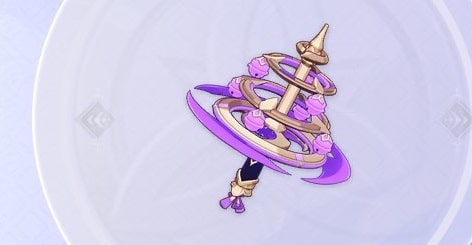 This gives its wielder the Kagura Dance effect when using an Elemental Skill, causing the Elemental Skill DMG of the character wielding this weapon to increase by 12%/15%/18%/21%/24% for 16 seconds, up to three times. The character will also gain a 12%/15%/18%/21%/24% Elemental DMG Bonus when it possesses three stacks.
Skyward Atlas
The next best 5-star weapon will be the Skyward Atlas, a cloud atlas symbolizing Dvalin and its former master, the Anemo Archon, that details the winds and clouds of the northern regions and contains the powers of the sky and wind.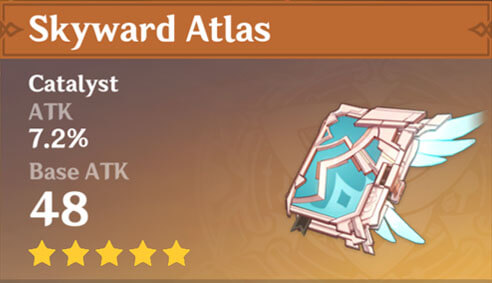 Powered by its Wandering Clouds passive, this catalyst increases your current Elemental DMG Bonus by 12%. All Normal Attack hits will have a 50% chance to earn the favour of the clouds. which actively seek out nearby opponents to attack for 15 seconds, dealing 160% ATK DMG.
Solar Pearl
Moving onto the best 4-star weapon and being available as a reward of the BP Bounty, this Catalyst is one of the options in case you don't want to spend a lot, while also dealing tons of damage thanks to its incredible power increases.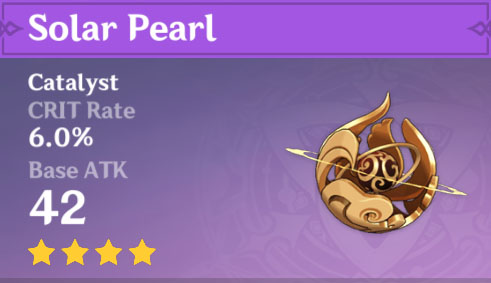 While using the Solar Pearl, Normal Attacks hit will increase Elemental Skill and Elemental Burst DMG by 20% for six seconds. Likewise, Elemental Skill or Elemental Burst hits will increase Normal Attack DMG by 20% for six seconds, giving you flexibility in case you don't have your elemental abilities on hand.
The Widsith
This 4-star Catalyst is known for being a very fun and versatile weapon thanks to the random effects it can grant in battle, however, this can only be obtainable through gacha.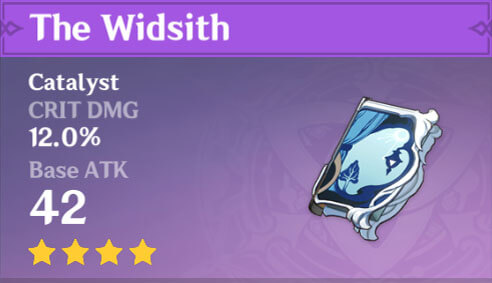 With The Widsith, when Yae Miko takes the field, she will gain one of these three songs, having different effects active for ten seconds:
Recitative: ATK will be increased by 60%
Aria: Increases all Elemental DMG by 48%
Interlude: Elemental Mastery will be increased by 240
Yae Miko - Best artifacts and stats
Thundering Fury
As the main choice for her artifacts we will suggest the Thundering Fury set, as it will buff the power of her Electro DMG by 15% when having two pieces from this set.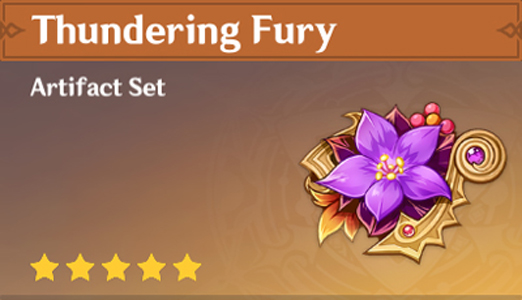 With four pieces, all Overload, Electro-Charged, and Superconduct damage will be powered up by 40%. Triggering any of these reactions will also reduce Elemental Burst cooldown by one second, once every 0.8 seconds
In case you only have two pieces at hand, these can be combined with the Noblesse Oblige set for a bonus 20% Elemental Burst DMG.
Emblem of Severed Fate
As the second-best choice for her artifacts, we will recommend the Emblem of Severed Fate set, as it will increase the chances of spamming your Elemental skills by increasing your Energy Recharge by 20% when having two pieces of it.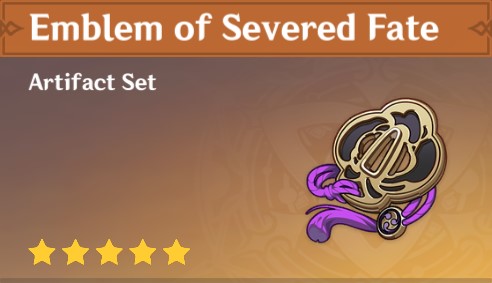 If you manage to equip four artifacts of this set, it will also increase Elemental Burst DMG by 25% of Energy Recharge, up to a maximum of 75% bonus DMG.
Artifact Stats
As for the statistics, these will be focused on increasing her CRIT Rate and DMG, as well as her ATK and Energy Recharge stats to use all of her abilities faster, and her Elemental Mastery to take advantage of them to the max in the field:
Main Stats:
ATK
HP
Energy Recharge
Electro DMG Bonus%
CRIT
Sub Stats:
CRIT DMG
CRIT Rate
ATK%
Energy Recharge
Elemental Mastery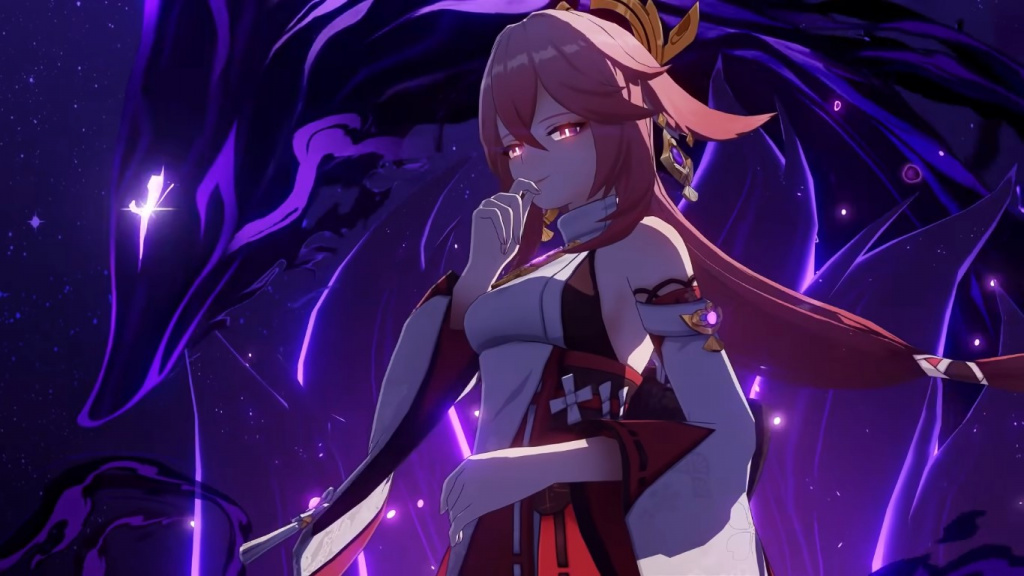 Recommended team composition and release date
Within your party and unlike most Catalyst characters, Yae Miko has been designed to be both a powerful DPS and sub-DPS character, thanks to the power of her Elemental abilities, the damage she can output, and the elemental effects she can create all around her, opening the opportunity for tons of reactions.
So, to compliment her playstyle, you can choose between the following characters based on what suits you best for the battle:
First, and as you may have deduced, you must pick the Raiden Shogun for your party, providing energy for her abilities and increasing their power with Electro Resonance. In case you don't have her, you can bring the Electro Traveler with you.
Next, you can either choose another Electro character such as Kujou Sara to make a stronger Electro team, or go for a support Anemo character like Kazuha and Sucrose, to help you group enemies and create better elemental reactions.
Last but not least, the fourth slot must go for a healer that also brings some buffs to your party, so you can choose between Bennett, Kokomi, and in case you don't have these on hand, Barbara.
And that's all we gotta share with you about Yae Miko. Remember, she will only be available from 16th February to 9th March in the banner "Everbloom Violet".
Featured image courtesy of miHoYo.