The events on the road to Genshin ImpactUpdate 1.5 have started, and this time we will have two protagonists in a new web event dedicated to the introduction of the Serenitea Pot: Hilichurls and… furnishings.
That's right, through the new Hilidream Camp web event, players will be able to help the Hilichurls to build their own furnishings, in addition, to get free rewards, so here we will tell you everything about this special event to make the most of it.
Hilidream Camp: How to participate & gameplay details
In order to be part of the web event, you will need to have a profile with an Adventure Rank 10 or above on any of the game servers. Once you have this, you will have to access this website, which will take you to the page you will see below.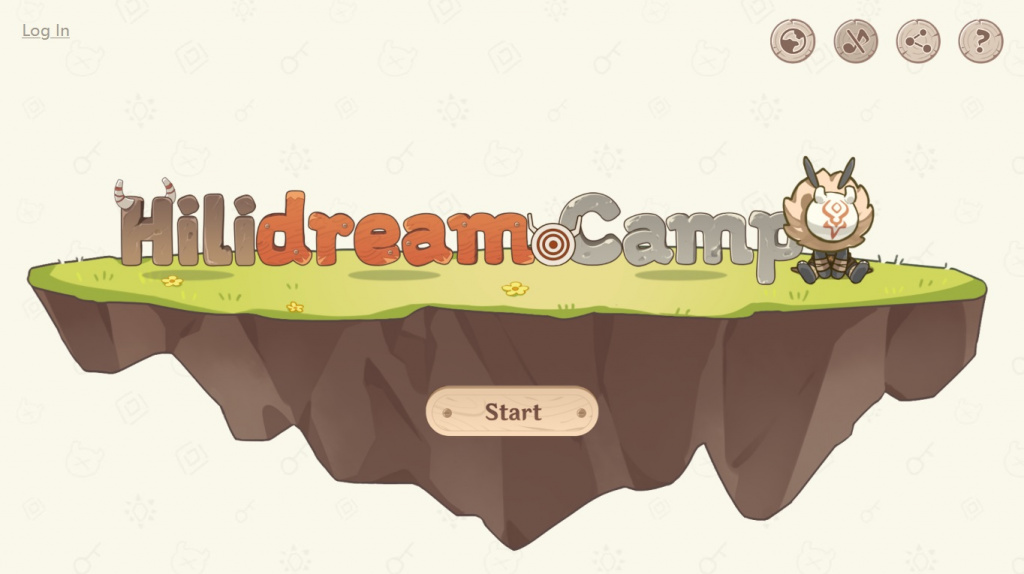 (Picture: miHoYo)
Once there you will have to log in with your miHoYo account and select the server and the account in which your progress of the event and your rewards will be registered.
When you have done this, you just have to click on the "Start" button, which will take you to an interface where you will have a chat with Tubby, a Teapot Spirit who manages all the general affairs within the Serenitea Pot, or as he calls it, the Realm Within.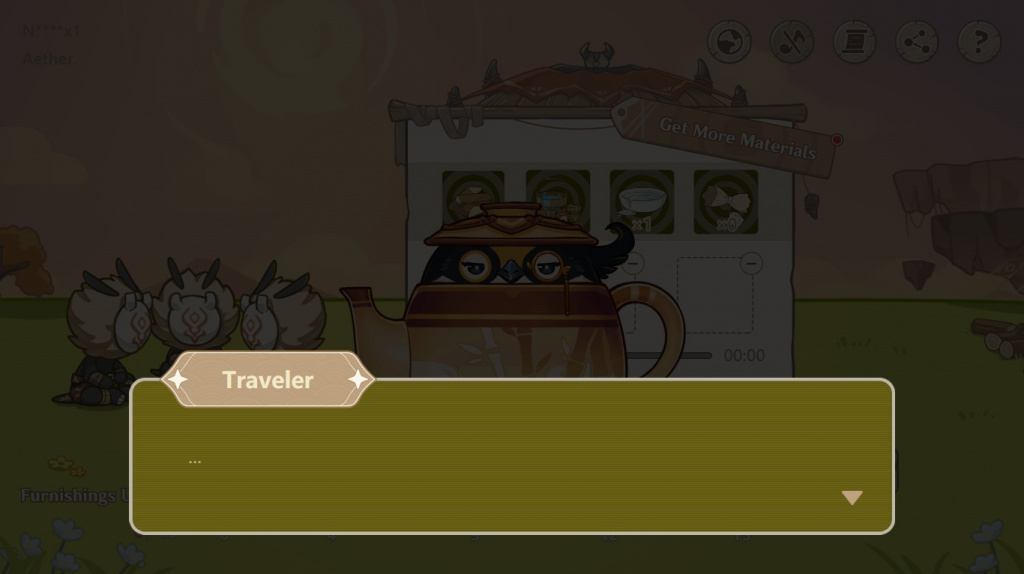 (Picture: miHoYo)
Tubby will ask for your help regarding a group of Hilichurls which suddenly arrived at the Realm Within, getting materials and leaving damage everywhere, in addition to making bad furnishing, so you will have to teach them how to build them properly, while also taking care of cleaning their disaster.
When you finish your talk and read a few instructions that will appear on the screen, you will have access to the main interface of the event, in which you will have to build different furnishings with the materials that you get.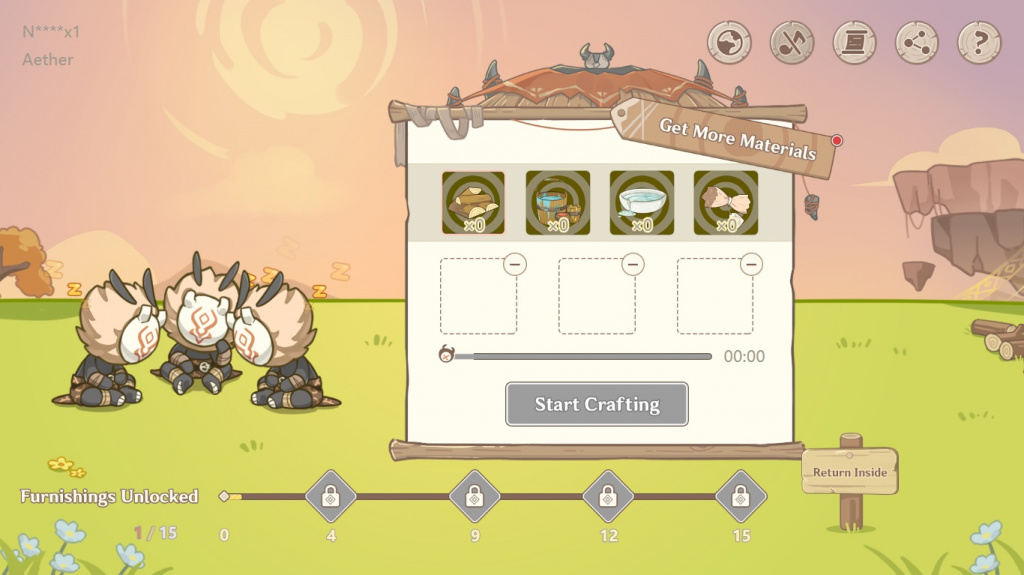 (Picture: miHoYo)
To get materials, you must click on the "Get More Materials" sign where it will show you a series of missions that will be renewed daily. These can range from logging into Genshin Impact, entering the event's website, sharing it on social networks, among others.
By completing these tasks, you will be able to receive various materials that will help you build furnishings to advance in the progress bar that you will have at the bottom of the screen.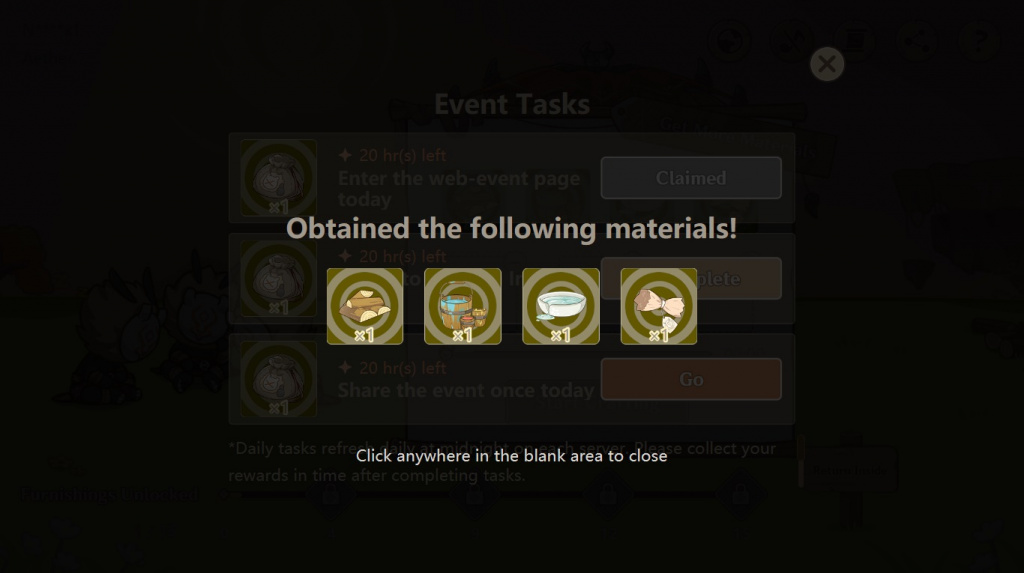 (Picture: miHoYo)
To build furnishings you will only have to click on any of the materials present, being able to choose up to three maximum in different combinations.
Depending on what you have chosen, you can build various furnishings that will be added to your counter and you will get some rewards depending on what you choose, that will be immediately sent to your game account. Some may take longer than others so don't despair.
Once you advance in the progress bar, you can unlock up to 120 Primogems and the blueprints for the "Pine Folding Screen: Billowing Sails" furnishing, and the "Cloudy Haze Bed" furnishing, which you can use inside your Serenitea Pot when Update 1.5 is available.
Hilidream Camp: Share your creations
Now, you will wonder what you can do with everything you built within the minigame. In a special twist, by clicking on the "Return Inside" sign, you can access a small house where you can accommodate all your creations to your liking, share your decoration on social networks, etc.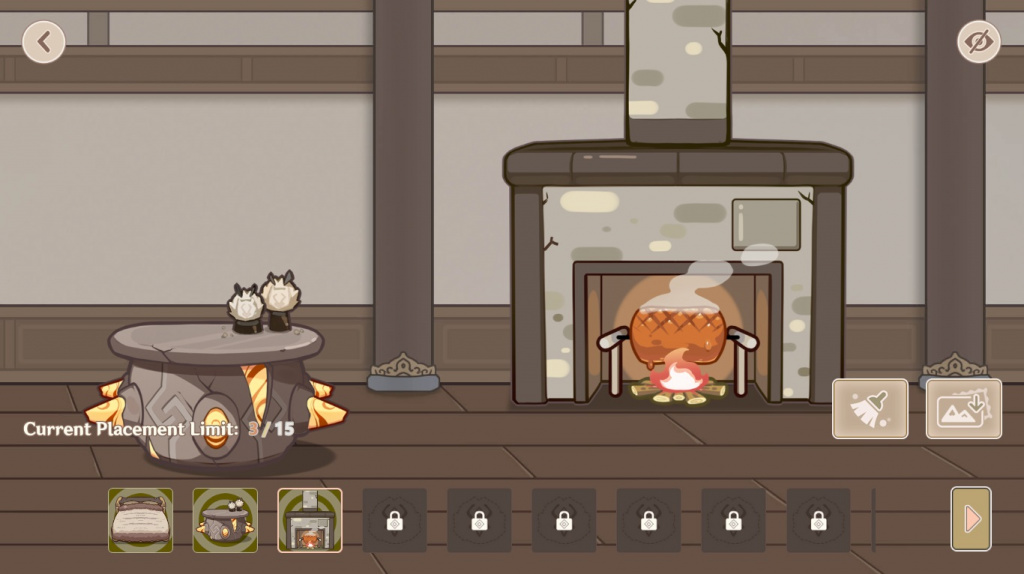 (Picture: miHoYo)
As a special bonus, when you share your home for the first time, you will immediately receive 5,000 Mora on your game account.
The Hilidream Camp web event will be available from April 21st at 1 pm CST, to April 27th at 11:59 pm CST.