In Genshin Impact, players can find a ton of items to buff themselves in the battlefield, or even save them from fainting after taking too much damage, although some of these can be quite hard to craft and cook due to all the items you need to collect.
Among all these, one that always comes to mind due to its ease of creation and its handful of healing stats is the Flaming Red Bolognese, a common recipe which can become a fantastic tool when you are in the middle of a long fight, so let's take a deeper look into it.
How to get the Flaming Red Bolognese recipe?
As with most of the best recipes, you must have to buy it first in a restaurant around Teyvat. In this case, you will have to travel to Mondstadt to get your hands on this recipe, most specifically to the Good Hunter.
(Picture: miHoYo)
The recipe will be on sale with Sara, the waitress from the Good Hunter for 2,250 Mora, however, you will only get access to it once you reach Adventure Rank 20, so you better grind those pending quests to reach that level as fast as you can.
The Flaming Red Bolognese is a common item, featuring a pasta dish with red sauce. Depending on the quality, the Flaming Red Bolognese can help you restore 18/20/22% of max HP and regenerate 300/390/470 HP every five seconds for 30 seconds to all party members.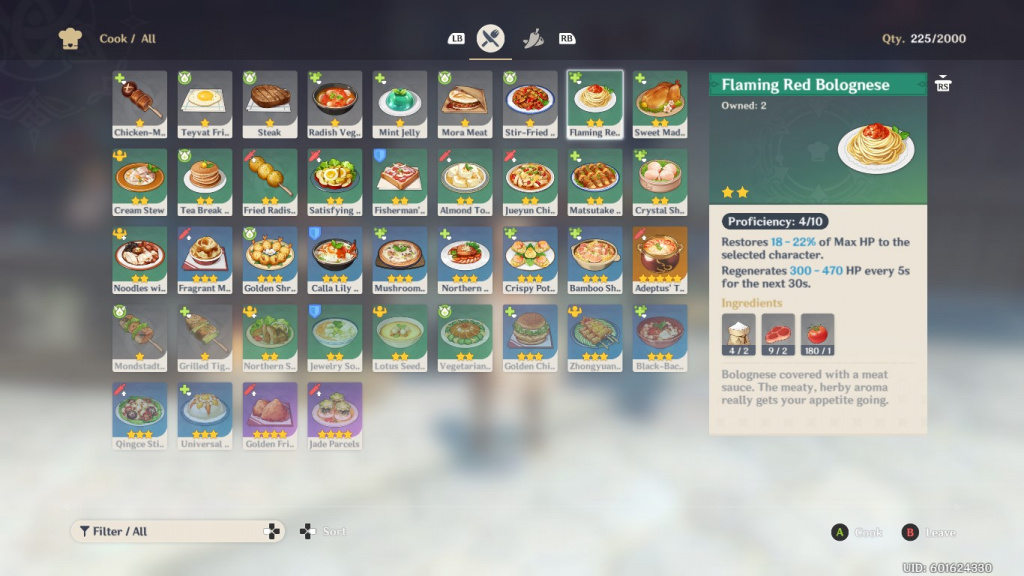 (Picture: miHoYo)
Needless to say, this dish will not have the same effects on Co-Op mode, but its great healing effects compensate its use a lot.
Ingredients needed for the Flaming Red Bolognese
Finding the ingredients to create Flaming Red Bolognese is way easier than other dishes, as it only requires three kinds of items:
2 Flour
2 Raw Meat
1 Tomato
For the flour, you can create this by processing Wheat at any Cooking location, with each unit taking 30 seconds to get it done. You can also buy it at the Good Hunter for 180 Mora each, up to 10 per day.
As for the raw meat, you can get it from animals like Boars or buy it from Draff in Springvale during the day for 240 Mora each, up to 10 per day. The tomatoes can be bought from any general goods shop for 120 Mora each, or 105 if you get a discount, with up to 100 per day.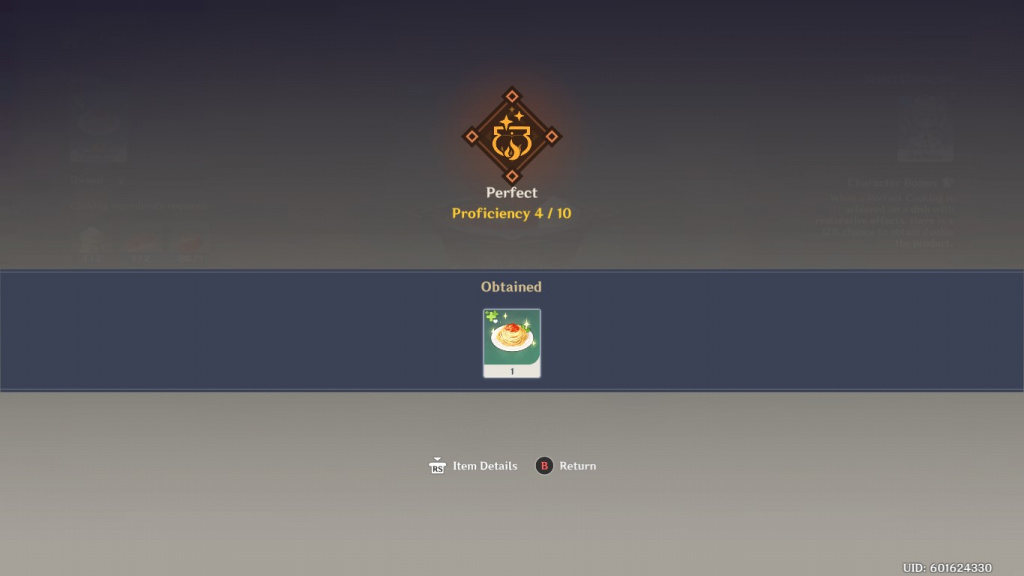 (Picture: miHoYo)
Finally, to get the Max Proficiency of this recipe you will have to cook it ten times perfectly, so you can get the best Flaming Red Bolognese possible each time you require it.
If you want to see more Genshin Impact tips, tricks and guides, don't forget to join our community of travellers on our dedicated Genshin Impact Twitter.