"We believe first and foremost in supporting players and encouraging them to engage and to speak out on the things about which they are most passionate."

Join us in welcoming the latest addition to our HS roster 🌩️

Welcome to the team, @blitzchungHS!https://t.co/EOHdmKQUOL pic.twitter.com/2XrffOuHlt

— Tempo Storm (@Tempo_Storm) October 31, 2019
Tempo Storm has signed the Hearthstone player Chung "blitzchung" Ng Wai in the wake of controversy that saw him banned from competitive play for the next six months.
After comments made in support of the Hong Kong protests, blitzchung suspended from professional Hearthstone initially for a year and had the prize money he had already earned denied.
Blizzard eventually lessened the punishment to a six-month ban and allowed blitzchung to keep his prize money, but many still felt that he should not have been banned in the move to seemingly appease China. Some staff staged walk outs, the community were uninstalling Battle.net and even the US Congress saw a cross-party letter sent to Blizzard in response to their actions.
Denial from Blizzard about Chinese influence was met with mockery after it was discovered that two different statements were put out to the community.
One of these statements was written in English for fans and the other directly to the Chinese community through Netease on Weibo had different tones and focuses. The latter mentions 'condemnation of the events' and a need to 'protect national dignity.'
Now under Tempo Storm, with an announcement Tweet reinforcing support for players being able to 'speak out on the things about which they are most passionate', blitzchung has the organisation in his bio above the message 'Fight for Freedom. Stand with Hong Kong.'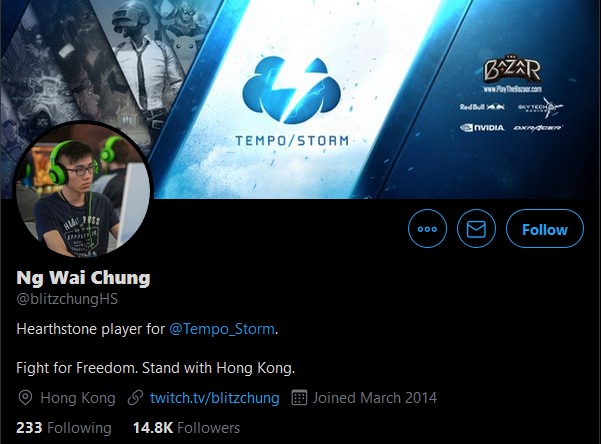 It is not known if the Grandmasters ban, blitzchung's continued support of the Hong Kong protests or other Tempo Storm players might be affected by this move.
A Grandmasters event or qualifier taking place in China could see potential conflict and/or protests, but this will not necessarily be avoided by hosting tournaments elsewhere in the Asia-Pacific.
Previously, Chinese authorities have stepped in to penalise esports players in the region. A Filipino Dota 2 player was banned from the Chongqing Major by its government this year for in-game behaviour ahead of the event.