We continue with the first week of the Spring Split of the League Championship Series, where the ten best teams in North America will compete to advance to the Mid-Season Showdown.
From GINX Esports we bring you the summary of everything that happened on the second day of competition.
FlyQuest vs Evil Geniuses
The first match started with good rotations against both top lanes early in the game, and several oversights on the part of FLY that gave away some kills in their attempts to get targets and increase the pressure.
EG demonstrated their great offensive power by having a slight elimination advantage, thanks to its good presence around the map, however, FLY was able to stay relevant within the game, by matching the gold score and kills in a team fight at minute 19.
Impact together with Jiizuke managed to dominate a good part of the game, thanks to their resilience and explosive power and being decisive stopping an attempt by Baron at minute 28, and then to secure the Mountain Dragon Soul a couple of minutes later.
Thus, after 33 minutes, with an improvement from Baron Nashor and a near-extermination in his favour, EG managed to completely dominate FLY, to get their first win of the season.
Dignitas vs Team Liquid
After their bad start yesterday, TL demonstrated their true power within the Rift by having a great game against Dignitas, since from the beginning of this TL was able to dominate both in the lane phase and also with the objectives of the jungle.
The game, which ended with a 10 thousand gold difference, showed great mastery of the map and time by the Lock In champions, being able to take three out of four dragons, in addition to a great difference in terms of structures destroyed.
On the part of DIG, the only remarkable things were their jungler Dardoch and their AD carry Neo, who achieved a few kills in addition to a Cloud dragon. However, none of this was enough to stop the cavalry, which after 27 minutes and with a Baron Nashor in their hands, destroyed the nexus and took their first point.
100 Thieves vs CLG
CLG got off to a great start to the game, capitalizing on serious 100T errors, taking a few early game kills and the first dragon.
CLG began to put great pressure on all the lines with a divided push, taking several targets in between, ending with a great hitch were an Ultimate by rjs together with one of Griffin, managed to exterminate almost all 100T while trying to make the Herald.
100T continued their attempts to push the lanes, while CLG advanced in a better way, thanks to their good control of the map that allowed them to catch their enemies badly again on several occasions.
One of the biggest clashes came at minute 31, when CLG managed to keep the Infernal Dragon Soul, however, 100T came out with their heads held high as they took almost all of CLG. The pace of the game continued aggressively with both teams making desperate tactics to end it until poor positioning by CLG ended up sentencing the 100T victory after 49 minutes.
Cloud9 vs TSM
C9 started this duel on the right foot, taking the first blood against Huni thanks to good coordination between Fudge and Blaber. This remained a constant throughout the game, with C9 dominating for most of the early game.
By the 23rd minute, despite a few stumbles, C9 maintained a great lead of more than 10,000 gold, which managed to skyrocket by taking Baron Nashor, many extra kills, and having three elemental dragons on hand.
The last great team fight came in the 26th minute, where an attempted hitch by TSM ended up hurting them, having been nearly exterminated and allowing C9 the opportunity to stay with the Baron. After this, it would only be enough an extermination on the part of C9 to destroy the base of TSM and take their second consecutive victory.
Immortals vs Golden Guardians
While this game started quietly for both teams, an engage at minute 6 from IMT managed to give them an early buff, taking three kills and the first dragon. After this, the game followed a passive course where both teams focused on their objectives.
This was the case until minute 18 when IMT made a successful rotation to the top lane, wherewith the help of a Herald they managed to bring down the two-lane towers. As the game progressed, GG began to aggressively respond to IMT's initiative, managing to have the lead in gold.
IMT tried to force fights on several occasions, but GG's better map control managed to give them a break until minute 33, when IMT was able to face them in a close match, then lay siege to the Baron. GG tried to close the game with a backdoor, but their opponents were able to stop them in time.
Reaching 40 minutes, GG was able to secure the Cloud Dragon Soul, while IMT found themselves pushing the lanes with no towers. Finally at 47 minutes, after taking a Baron and the Elder Dragon, GG was able to go all out at IMT to take their first victory.
LCS Spring 2021: Week 1 Day 3 Matches
For tomorrow, we will have the following matches: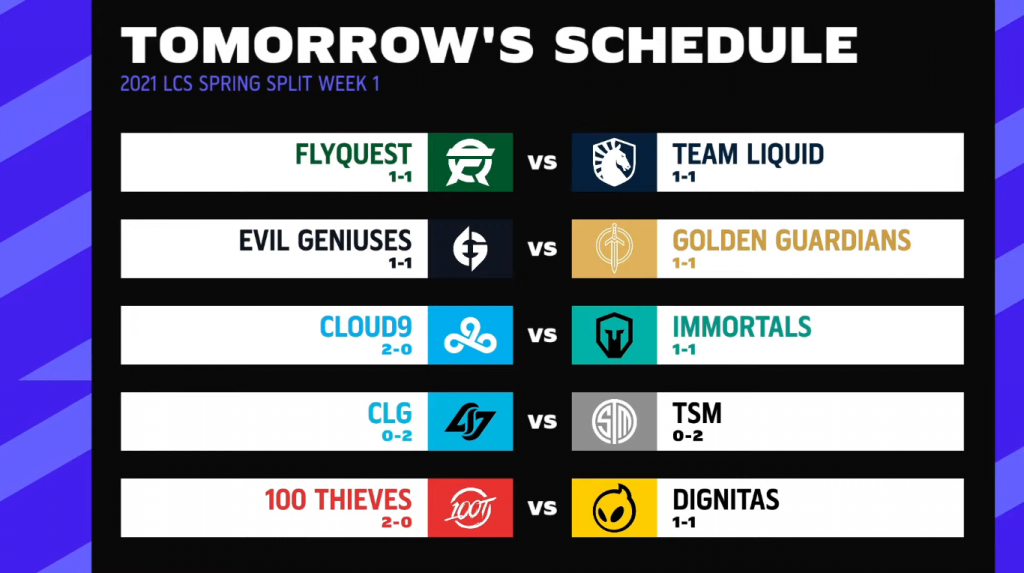 (Picture: LCS)