It has been two-months since China's League of Legends Pro League has held a match.  
The league was set to return on the 5th February after a two-week break for the Lunar New Year, however, growing concern over the Coronavirus (COVID-19) outbreak caused the return of the league to be postponed indefinitely. 
As the weeks went by, and the situation around the virus showed no signs of abating, the decision was made to play the matches online until the league can safely clear esports venues for use.  
With the LPL set to return on 9th March, We spoke with LPL English Language commentator, Joe "Munchables" Fenny, to find out what his experience has been throughout the outbreak. 
"I was in China already when we first started hearing news about the virus", Joe said. "At first it wasn't that significant. There certainly wasn't as much panic as there was just a couple of weeks after the news first started coming in." 
Joe first learned of a possible postponement during the Chinese New Year celebrations, when rumours circulated that a lengthy delay could be on the way. These fears were confirmed in late January when the league issued a statement confirming that the league would not take place until "[LPL] can ensure the safety and health of all players and fans". 
"When we found out the league was delayed, all of the English language talent got together to discuss what we were going to do," Joe said. "We spent three or four days debating whether or not we should stay in China or go home."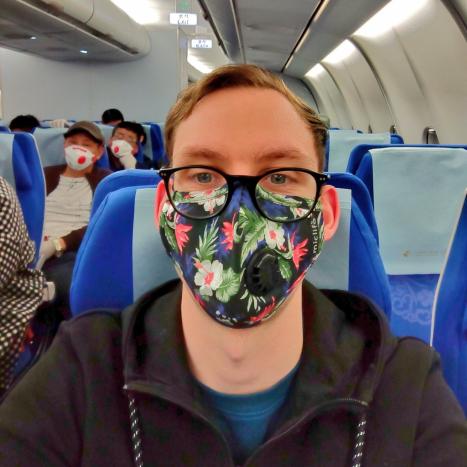 Joe "Munchables" Fenny don's his protective mask. (Picture: Joe Fenny)
"Ultimately, we chose to fly home, not out of fear of catching the virus itself, but just as a precaution. We didn't want to be locked in if the situation got worse and Shanghai went into a full quarantine or something. That wouldn't be an easy situation, especially for someone who doesn't speak the native language, like me.
"When we landed we called the NHS (National Health Service) and told them that we'd returned from China," Joe said. "Obviously it was very unlikely we had the virus, but they still told us to self-quarantine for two weeks. I even had to call my dad to pick me up from the airport because I couldn't get on the train or book a taxi!" 
For those who aren't aware of self-quarantine protocols, it is a voluntary process that involves staying at home with minimal-to-no contact with the public.  
Those in self-quarantine are advised not to visit shops, but instead, rely on food delivery services. If feeling unwell, rather than go to the hospital, they should call their doctor. 
"It was a little weird, obviously there was a case of cabin fever, but it wasn't that bad," recalled Joe. "I ended up just staying at a place in Derby for two weeks. We got our shopping online but had to tell the delivery guy through the door to leave the bags outside so we could get them after he'd left. 
"At the end of the day, I'm a nerd who loves video games, so I mostly just stayed inside and played video games. Not that interesting, really." 
The Coronavirus, which since its initial outbreak from Wuhan, China in January has spread to 117 countries and infected over 100,000 people, has sparked panic in governments, institutions and people throughout the world. 
However, Joe believes that there are a lot of misconceptions around the virus.  
"There was a lot of overreaction during that period," Joe said. "When we posted that video on Twitter to say that we were coming home, half the responses were very positive - 'safe travels' - things like that. But there were some comments saying: 'Stay in China, you're already infected, don't bring it back to us'. It was very weird. 
"But it turned out we didn't have the virus, as we'd known all along. And now we're back in China, ready for the LPL to start up - albeit without an audience - and to get commentating again after our second self-quarantine of the year."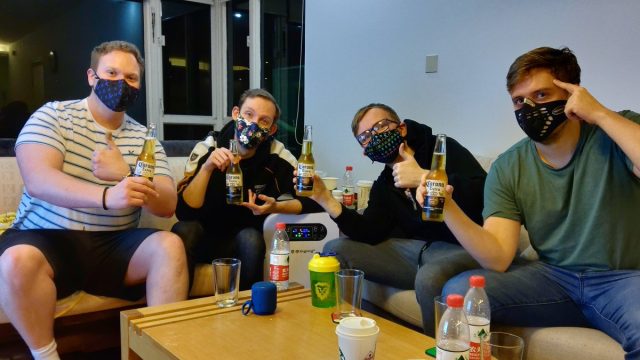 The LPL English broadcast team enjoy a beer amid the crisis. (Picture: Joe Fenny)
The LPL begins again on Monday 9th March, with matches set to take place online, rather than at the studio in Shanghai. The UK commentary team won't be back in action until the 14th March, after their self-quarantine ends.  
"Don't panic about the LPL and don't worry about us. Shanghai is doing fine right now. There are only 40 confirmed cases left in the city* and everyone is following the protocols - wearing masks, washing hands, and checking temperatures everywhere. 
"Other than that, things really are slowly returning to normal. And we're excited to get the LPL back underway in a safe manner." 
*Editor's Note: This interview was conducted on March 4th. Any information regarding the Coronavirus may be outdated.