Riot has announced a
new board game
, set within the lore of Runeterra, which they have dubbed an "unforgettable game of bluffing, strategy, and recollection." To win, they say, you need to focus on "playing the player, not the game."
The game, Tellstones: King's Gambit, is playable by 2 or 4 players and should take between 20-40 minutes. Gameplay hasn't been entirely revealed yet (the rules are mostly supposition right now), but the core of the game revolves around remembering the order of a number of face-down tiles - the Tellstones - as they are rearranged by you and your opponent. The aim is to get your opponent to slip up when you ask them what a particular face down tile is, without getting caught out yourself.
The announcement trailer shows this in exquisite detail, with a number of famous League of Legends faces from Demacia utilising various charms, wiles, and underhanded cunning to trick their opponents into losing track of "the line" of Tellstones. One particularly memorable moment has Quinn lose out to her companion, the bird Valor in amusing fashion, while the whole video is narrated by Legends of Runterra icon, Cithria the Bold, who tricks her own opponent into talking so much he forgets the line himself.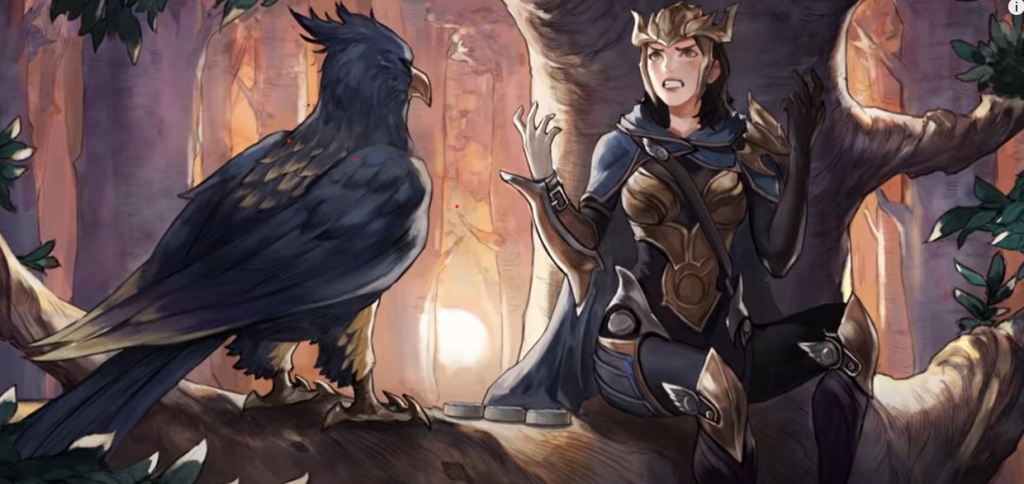 (Picture: Riot Games)
The game seems to tread that age-old line of simple to pick up, but with enough tricks and permutations to reward mastery, and casual enough to make for a fantastic bar game in the same vein as Skull, with its bluffing and bar mat cards. Then again, if you're playing to win, sobriety might be a better aim…
Tellstones: King's Gambit does not have a release date yet, but you can sign up for more information and updates at the www.tellstones.com.