As Week 7 of the Summer Split begins, two teams are tied for first place. Team Liquid and Cloud9 are both at 10-2, and have clinched their spots in playoffs. 
The two teams have forged a new rivalry in the past two years, with Cloud9 getting close but never quite knocking down the four-time finals champs. 
If that wasn't bad enough, Cloud9's former mid laner, Nicolaj "Jensen" Jensen, left his light blue jersey aside for a darker shade. Despite having done incredibly well at Worlds with his former team, Jensen was wanting more domestic dominance, which Team Liquid certainly gave him.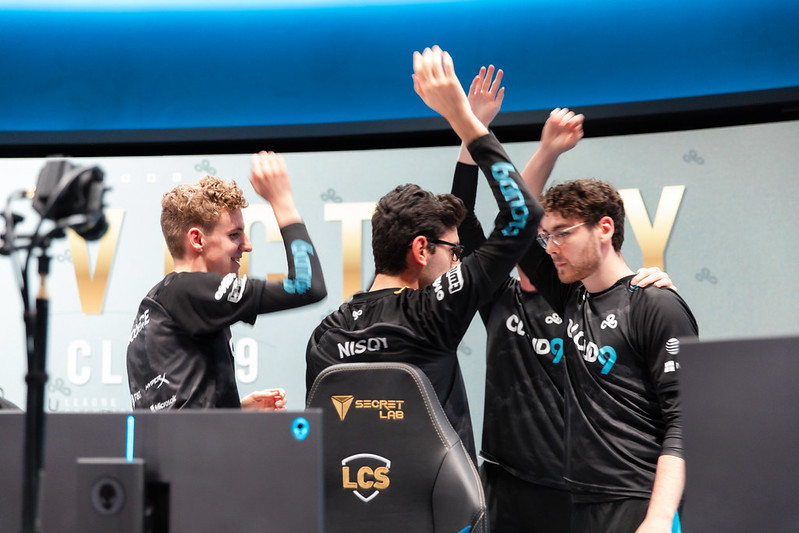 Cloud9 won the Spring Split 2020 (Picture: lolesports) 
In Spring 2020, all of that changed. Team Liquid experienced some trials in their new jungler, Mads "Broxah" Brock-Pedersen was having trouble securing his visa, not actually getting to play with his new teammates until Week 4. Their star ADC, Yiliang "Doublelift" Peng, also was having apparent motivation issues and wasn't at his best. The team could not find their footing or their synergy. 
Cloud9, however, having secured Jesper "Zven" Svenningsen and Philippe "Vulcan" Laflamme in the botlane and keeping Robert "Blaber" Huang in the jungle, seemed to be steamrolling through every team. They went 17-1 in the regular season and in a tense game that made the victory that much sweeter, even prevented Team Liquid from getting to playoffs at all. Team Liquid ended their split in 9th place.
Now, things have changed slightly for the reigning champs in Cloud9, who started the split going 9-0, but lost a couple of games to 100 Thieves and Evil Geniuses in the last two weeks. 
Team Liquid, who replaced Doublelift with rookie Edward "Tactical" Ra, have had a few shaky games, but are currently on a 7 game win streak that have culminated in tying with their former rivals for first place.
Now the question becomes, who will take the win? Based on the fact Cloud9 are coming off of two losses - despite a recent win against FlyQuest - and Team Liquid are on a massive win streak, the edge should go to Team Liquid.
While you could argue that Cloud9 were feeling overconfident and were trying to experiment in their gameplay and champions, one cannot miss the power that Team Liquid have displayed and therefore, they seem poised to take the win.
On Sunday 26th July, we'll know for sure.
You can catch Week 7 of the Summer Split starting 24th July. You can catch it on YouTube, Twitch, and lolesports.com. Be sure to catch more League content here on GINX Esports TV.